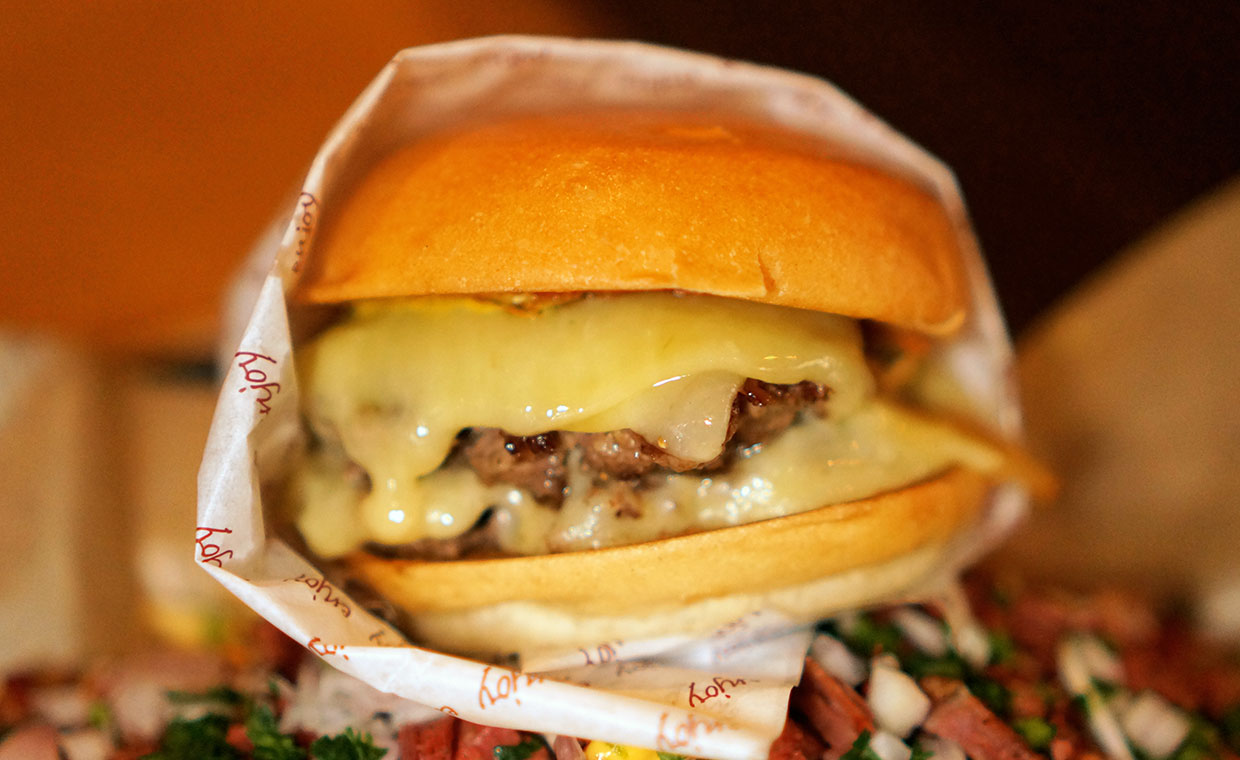 På Östermalm i Stockholm ligger nyöppnade Burgers and Pastrami – BAP. De profilerar sig som en lite lyxigare hamburgerkrog, med en modern och fräsch inredning som går i vitt och koppar. Fokus ligger på både hamburgare och deras egenlagade pastrami, något som är lite ovanligt i Sverige.
Vi beställde en dubbel Cheesy Twang för 145 kronor, med 200 gram kött, cheddarost, ketchup, senap, karamelliserad lök och pickles. Till detta beställde vi en rejäl portion BAP Frites för 75 kronor, som bestod av pommes frites med pastrami, ostsås, schalottenlök och jalapeños. Det finns dock ingen burgare som har toppats med just pastrami, inte ens Le Bap som namnet till trots endast innehåller kött, cheddarost, sås, sallad, lök och pickles. Deras BAP Frites var i alla fall goda, och det var kul att testa den goda pastramin utan att behöva köpa en hel portion – även om detta var ett tillbehör för två personer.
Själva hamburgaren var snyggt sammansatt, och det var uppenbart redan vid första tuggan att detta var en kvalitetsburgare. Köttet var saftigt och lätt rosa i mitten, men kunde visserligen ha saltats och pepprats lite mer. Smakerna var riktigt klassiska, och påminde faktiskt om en lyxig cheeseburgare från McDonald's (något som vi har sett hos både Snack Bar och The Bastard från Bastard Burgers), fast med avsevärt högre kvalitet på alla råvarorna såklart. Den enda riktiga nackdelen var att den karamelliserade löken mest var söt och mosig.
Vi är glada över att det fortfarande kommer nya burgarrestauranger med höga ambitionsnivåer, och rekommenderar helt klart ett besök på Burgers and Pastrami.
In English
The newly opened Burgers and Pastrami – BAP are located in Stockholm's Östermalm district, where they focus on … well, burgers and pastrami (as separate dishes, that is – there is no burger with pastrami on it). We ordered a double Cheesy Twang for 145 SEK, with a 200 gram patty, cheddar, ketchup, mustard, caramelised onions and pickles. The burger was nicely composed, and the classic tastes reminded us of an upscale fast-food cheeseburger. Not a bad thing at all when done properly like this. The only real setback was the mushy and sweet caramelised onions. We did get to try their pastrami when we ordered their BAP Fries for 75 SEK as well, which was a huge side-order for two with french fries, pastrami, cheese sauce, shallots and jalapeños. We really enjoyed our meal and definitely recommend a visit to Burgers and Pastrami.