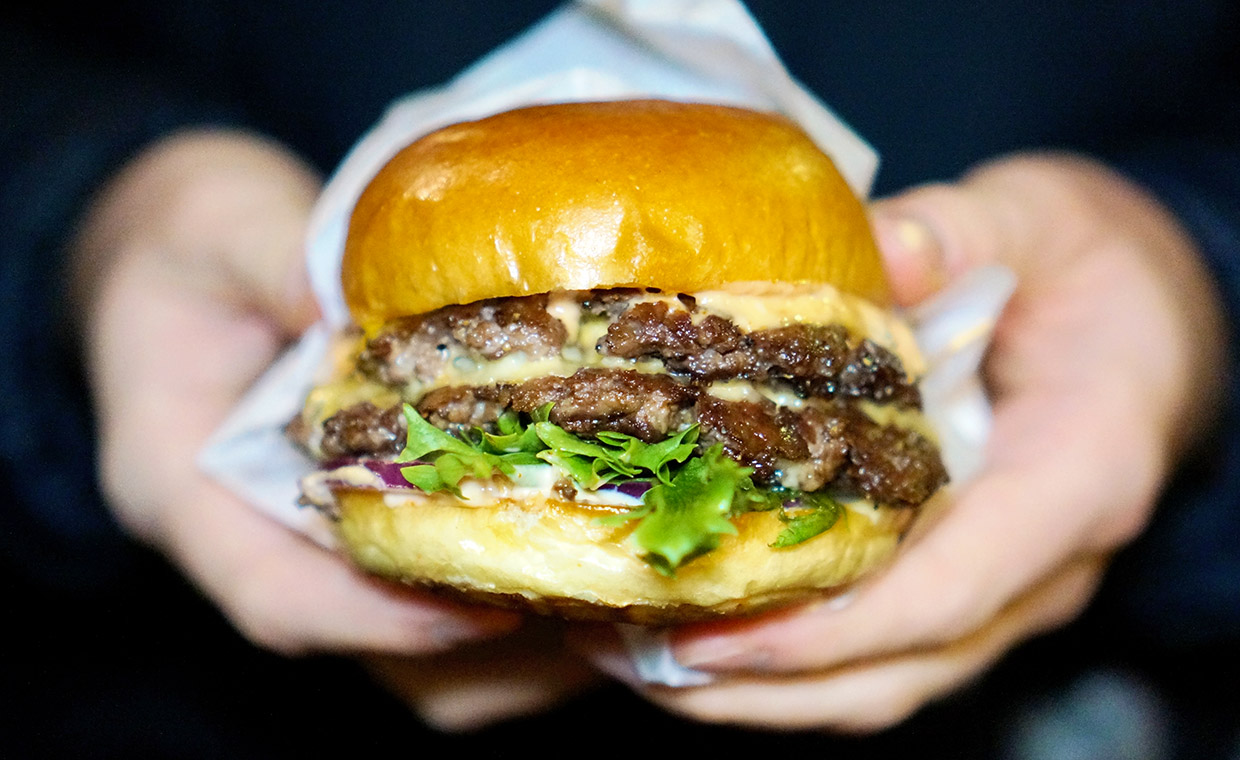 Moe's Burger har serverat burgare från sin lilla burgarvagn strax utanför Kista Galleria sedan slutet av 2020. Stilen på deras burgare för tankarna till andra ambitiösa och tongivande ställen som öppnat i områdena omkring Stockholm under de senaste åren (som Babas, Jett'z Burger, Burger Mansion och Bram's Burger). Öppettiderna är något begränsade, så håll koll på deras sociala medier.
Menyn bestod av fem burgare, som alla hade sin egen tydliga stil. Prisbilden är föredömligt låg med en enkel 100-gramsburgare för 90 kronor, och en dubbel för 110 kronor. I priset ingår en dricka samt en generös portion pommes frites. Sötpotatispommesfrites finns även som tillval. Vi beställde en dubbel Flamin' Moe med cheddarost, pepperjack-ost, het majonnäs, röd chili, sallad och rödlök samt en dubbel Smokey Moe med cheddarost, barbecuesås, majonnäs, lökringar och gul lök. Trots att allt var packat för takeaway så såg burgarna rätt snygga ut när vi tog upp dem. Brödet var glansigt, fluffigt och fint uppvärmt på insidan. Köttet var smashat med en tydlig stekyta, rejäl sälta och var ganska saftigt. Våra toppings kändes välbalanserade både i mängd och i smak. Undantaget var den stora mängden sås på våra burgare som tog över nästan hela smakbilden. Det enda som gav någon hetta alls på vår Flamin' Moe var dessutom chilin på toppen, så deras heta majonnäs var inte heller särskilt stark. Våra pommes frites hann bli lite mjuka efter en stund i en papperspåse, men de smakade gott och vi var ändå nöjda med dem.
Kvalitetsmässigt så ligger Moe's Burger på ungefär samma nivå som konkurrenterna vi nämnde i början av recensionen, och för oss burgarälskare är det bara att tacka och ta emot. För så länge som nytillskotten är så här bra så ser framtiden riktigt ljus ut!
In English
Moe's Burger opened their small burger wagon just outside Kista Galleria in the north part of Stockholm at the end of 2020. They serve the same kind of burgers that can be found in suburban parts of Sweden's capital since a few years back (at joints such as Babas, Jett'z Burger, Burger Mansion och Bram's Burger). Opening times can vary, so keep an eye on their socials for the latest updates.
Their menu consists of 5 different burgers with their own distinct styles. They're all nicely priced with a single 100-gram patty burger costing 90 SEK (11 USD) and a double 200-gram burger costing 110 SEK (13 USD). The price includes a soft drink and an order of fries as well, and they also offer sweet potato fries. We ordered a double Flamin' Moe with cheddar, pepper jack, hot mayo, red chili, lettuce and red onions plus a double Smokey Moe with cheddar, bbq sauce, mayo, onion rings and yellow onions. They packed everything in takeaway containers, but the burgers still looked pretty great when we unpacked them. The bun was shiny, fluffy and nicely toasted on the inside, and the beef patties were smashed. They were juicy, with a great crust and excellent seasoning. The toppings were nicely balanced, but quantity and flavourwise however, there was just too much sauce, to the point of it overpowering most of the other flavours. And the only thing that added heat to our Flamin' Moe was the red chili, so their hot mayo didn't add very much spiciness either. Our fries had become a bit soft after spending time in a paper bag, but they still tasted nice and didn't disappoint.
Quality wise, Moe's Burger place themselves at a similar level as their competitors we mentioned in the beginning of our review, and as burger lovers we really can't complain. If this is the level that new places can achieve right off the bat, then the future is looking very bright indeed.