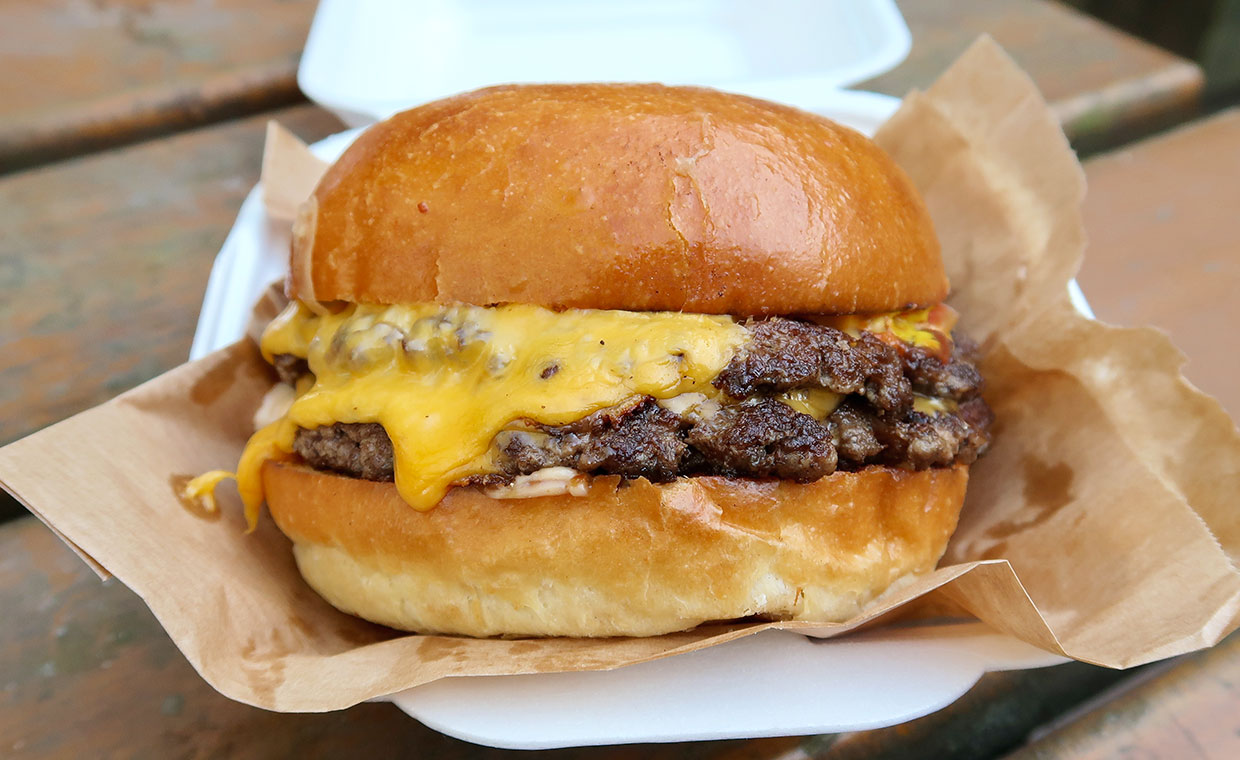 Burger Mansion är en foodtruck som brukar stå i förorten Rågsved i södra Stockholm. Menyn består av sex stycken burgare som kostar mellan 89 och 95 SEK – ett riktigt bra pris med tanke på att samtliga burgare innehåller två smashade 100-gramspuckar, samt att pommes frites ingår i priset. De har även vegetariska burgare för samma pris.
Vi testade flera av deras hamburgare, bland annat deras "Home Sweet Home"-burgare med cheddarost, pickles, hackad gul lök, karamelliserad lök, "comeback"-majonnäs, senap och ketchup. Burgaren serverades prydligt i en takeaway-låda, och såg riktigt fin ut med glänsande bröd, en rejäl stekyta och härligt smält ost.
Burgaren var rejäl, och vi fick kämpa litet grand för att lyckas ta en tillfredsställande tugga. Brödet, som bakas dagligen av ett lokalt bageri, var följsamt och lyckades oväntat bra med att hålla sig stabilt under hela måltiden. Köttet hade en utmärkt stekyta och spelade snyggt med det mjuka brödet. Köttsmaken var bra, men överröstades något av löken och de andra smakrika ingredienserna.
Vår största anmärkning är att mängden ingredienser var lite obalanserad. Vi hade till exempel gärna sett lite mindre lök, majonnäs, senap och ketchupen så att köttet och picklesen hade fått ta mer plats i smakupplevelsen. Men detta är egentligen bara finjusteringar, för vi var väldigt nöjda med vår måltid.
Burger Mansion serverar riktigt bra burgare till utmärkta priser. Inget gör oss gladare än att se nya burgarhak och foodtrucks som visar att de fattar grejen med vad som behövs för en bra burgare. Framtiden för burgare i Sverige ser sannerligen ljus ut, inte minst för Rågsved.
In English
Burger Mansion is a foodtruck that usually serves its burgers in Rågsved, a suburb in the south of Stockholm. Their menu consists of 6 different burgers costing 89-95 SEK (9-10 USD) – an excellent price considering that each hamburger has double 100 gram patties and an order of fries. They also have vegetarian burgers for the same price.
We ordered several of their hamburgers, including the "Home Sweet Home" with cheddar, pickles, chopped onions, "comeback" mayo, ketchup and mustard. Served in a takeaway box, it looked great with a shiny bun, a great crust and nicely melted cheese.
This was a really hefty burger, and we had to make a real effort to eat it. The bun, which is baked daily by a local bakery, had a great bite and held together remarkably well throughout our meal. The patty had an excellent sear and worked really well with the soft bun. We enjoyed the flavoursome meat, but it was somewhat overpowered by the onions and the other intense ingredients.
The ingredients were a bit unbalanced. We would have preferred a bit less onions, mayo, ketchup and mustard in order to give the meat and pickles a bit more space. But these are just minor adjustments, and overall we were very satisfied with our meal.
Burger Mansion serve really good burgers at an excellent price-point. Nothing makes us happier than new burger joints and foodtrucks that really have understood what's needed to make a great hamburger. Sweden's burger future is looking bright, especially for Rågsved.