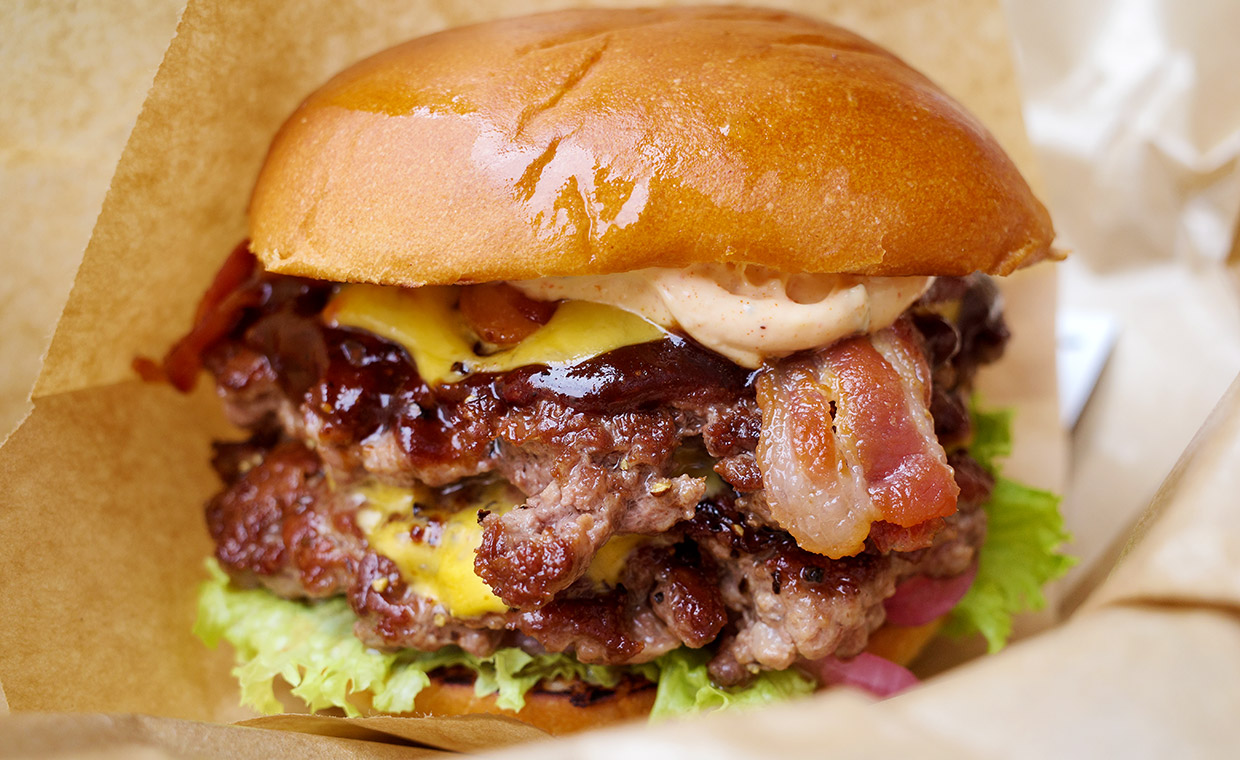 Franky's är en liten restaurang vid Rådmansgatan, som först låg i en liten grillkiosk utanför Hard Rock Café och som sedan flyttade till nya lokaler på Tegnérgatan. Här serveras en av Stockholms absolut bästa burgare, och hungriga burgarälskare som redan känner till dem fyller snabbt lokalen under lunchen. Kom gärna vid öppning om du vill få en av sittplatserna utan att behöva vänta för länge.
Hos Franky's handlar allt om maten. Här serveras enkla burgare tillsammans med klassiska tillbehör av allra högsta kvalitet. Det märks att ägaren har en brinnande passion för burgare, och det tummas inte på några detaljer. En enkelburgare är på 160 gram, medan dubbelburgaren har två 115-gramspuckar (eller två enkelburgare om du skulle vara superhungrig).
Högrevsfärsen som mals varje morgon är väldigt saftig och köttet har en rejäl stekyta, och det färska brödet omsluter köttet för att skapa en härligt mjuk helhet. Vår enda invändning är att burgaren kan bli lite väl mjuk ibland, men detta vägs ofta upp av krispigheten från den inlagda rödlöken och salladen. Pommes fritesen är dubbelfriterade med en god potatissmak.
Det är svårt att inte bli förälskad i Franky's. Den opretentiösa känslan, de supergoda burgarna, den passionerade kocken och den generösa prissättningen gör detta till en riktigt underbar upplevelse för burgarnörden.
In English
Franky's is a small restaurant close to the burger packed Rådmansgatan area in Stockholm. They moved to larger premises in 2017, after establising an almost cult-like following at their original restaurant spot. And with a larger kitchen and more serving space, they can truly shine. All the spots fill up quickly during their lunch hours, and we definitely recommend showing up when they open in order to get a seat by the bar or at the few tables.
It's clear to see that Franky's owner is detail-oriented and passionate about burgers. First, choose a single (160 gram patty) or a double (2 x 115 gram patties)  burger and enjoy the freshly ground chuck, that's been fried with a nice crust. The bun is airy and fits nicely around the ingredients as well. Our only real complaint is that the burger – from the patty to the bun to the bacon – can be a bit too soft sometimes, and that we miss some texture. Thankfully, the crispy lettuce and pickled red onions always help out. We also really like their double-fried french fries.
Franky's is still one of the best burger joints in Stockholm, and should not be missed!