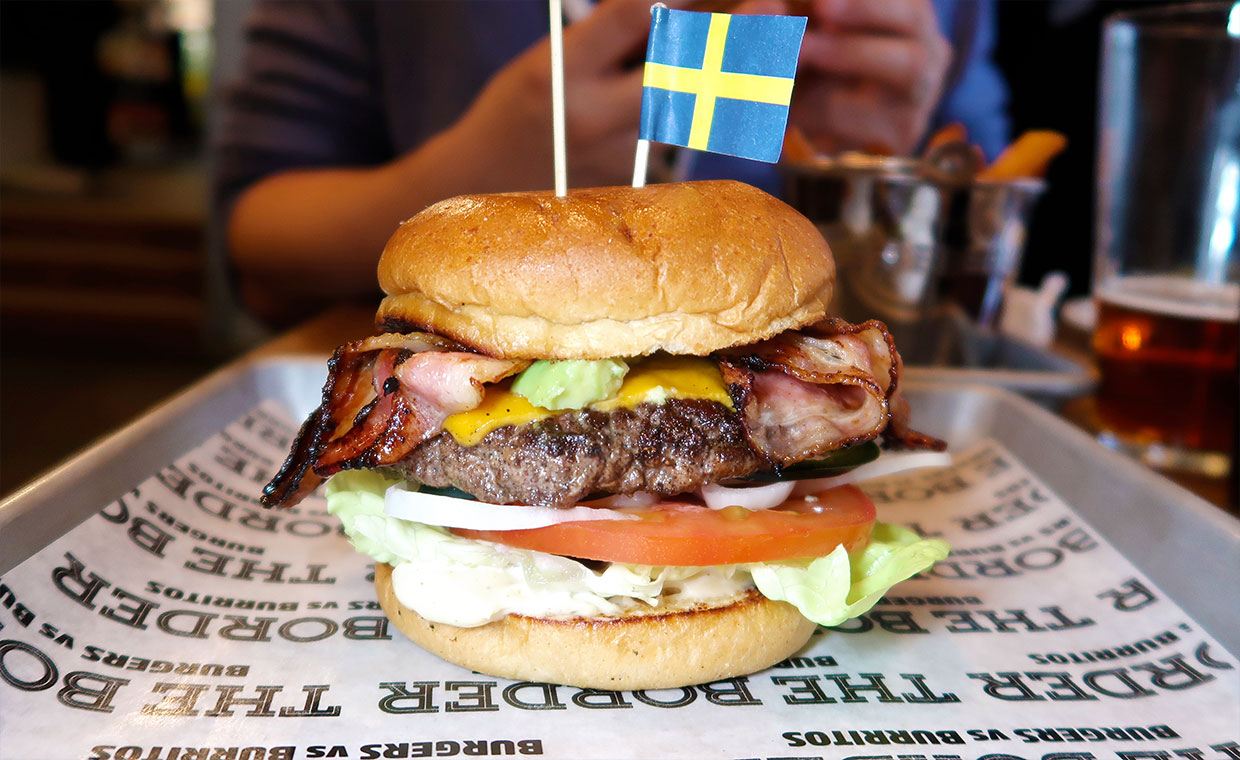 Vi recenserade The Border: Burgers vs Burritos för första gången i början av 2016, och de var redan då ett burgarställe med potential. Under de tre åren som har gått har de öppnat ytterligare en lokal på Kungsholmen i Stockholm, och efter några informella besök har vi känt att det är hög tid för en uppdaterad recension.
Den nya lokalen är tydligt indelad i två delar: en amerikansk och en mexikansk för att matcha menyns uppdelning mellan burgare och burritos. Burgarna kostar mellan 99-129 kronor för en 150-grammare (2×100 gram kostar mellan 119-149 kronor), om du bortser från wagyu-burgaren som med sitt fina kött och sina lite mer speciella toppings drar iväg till 255 kronor. Vi beställde en enkel ABC Burger för 129 SEK – där abc står för avokado, bacon och cheddar. Utöver dessa ingredienser hittade vi även sallad, tomat, jalapeños, silverlök och husets dressing på burgaren.
Det märktes direkt att det var köttet som var stjärnan här, och det behandlades därefter. Den ekologiska högreven var utmärkt stekt med en krispig karamelliserad yta och en saftig mitt som verkligen framhävde köttets smaker. Till skillnad från vår förra recension så uppskattade vi den enkla burgaren framför en dubbel denna gång, just för att köttets karaktär märktes tydligare i den större pucken. Brödet var lagom mjukt och följsamt, och höll köttet och dess toppings på plats. Sedan vårt första besök har de bytt sallad från en strimlad variant till ett helt blad, men den var fortfarande aningen väl tilltagen. Konstruktionen blev lite instabil, men höll i alla fall ihop. Vi hade dock föredragit en mer genomtänkt uppbyggnad utan en pinne som perforerade burgaren.
The Border: Burgers vs Burritos fokus på kvalitetsingredienser har bara blivit tydligare de senaste åren, och nu har de verkligen tagit sig över gränsen till en högre kvalitetsnivå.
In English
We first reviewed The Border: Burgers vs Burritos back in 2016, and we thought that their burgers had potential back then too. And during the three years that have passed they've opened a second restaurant in Stockholm's Kungsholmen district, and after a few informal visits we've decided to update our review.
We visited their new location, which is clearly divided into American and Mexican parts which match their two menu items: burgers and burritos. Their burgers cost between 99-129 SEK (10-13 USD) for a 150 gram patty (with 2×100 grams costing 119-149 SEK (12-15 USD)) – in addition to a wagyu beef burger with exclusive toppings that costs 255 SEK (26 USD). We stayed on our regular side and ordered a single ABC Burger for 129 SEK (13 USD), with ABC standing for avocado, bacon and cheddar. In addition to these ingredients it also contained lettuce, tomato, jalapeños, white onions and a house sauce.
It was immediately obvious that the meat was the star here, and it had been handled with utmost care. The organic chuck had been excellently seared. It had a crispy and caramellised char on the outside while being juicy on the inside, which really accentuated its flavours. And in contrast to our last visits, the thicker, single patty did a better job of showcasing the meatiness. The bun was nicely soft and squishy, and kept everything in place.
They've changed their lettuce since our first review from a shredded variety to a whole leaf, but the proportions were still a bit too much. This made the construction a bit wobbly, but it stayed in one piece. However, we would have preferred a more structurally sound burger that didn't require it being skewered with a stick.
The Border: Burgers vs Burritos' focus on quality ingredients has become more and more clear over the last few years, and they've definitely crossed the border to the next quality level.