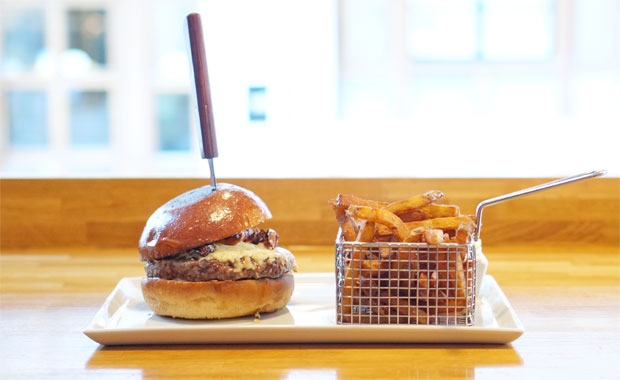 2112 öppnade redan 2011, och bakom restaurangen står två av de hårdrockande medlemmarna i bandet In Flames. Namnet är hämtat från de kanadensiska rockarna Rushs klassiska album från 1976 och rocktemat går igen i menyn. Vad sägs exempelvis om en The Number of the Beast som innehåller 666 gram kött?
Utbudet består av burgare och ett par vegetariska alternativ, och vi kör på en klassisk bacon & cheese-burgare. Redan från första tuggan förstår vi varför de i princip endast serverar burgare, för det här är riktigt bra. Köttet är jämnt rosa och saftigt, osten ger smak utan att ta över, baconet är härligt rökigt och löken tillför en mild sötma som rundar av smakerna. Brödet ger blandade känslor – och vi förbluffas av att de har stekt det hårt på utsidan och inte alls på insidan. Men det är egentligen en petitess då burgaren i stort bländar.
Resten av måltiden är dock försumbar, då pommes fritesen är snäppet bättre än genomsnittet och coleslawen borde ha bytts ut mot en dippsås.
En vanlig burgare går på 189 kronor (en extra köttpuck på ytterligare 180 gram lägger till 90 kronor på notan). Prisnivån och de bleka tillbehören påverkar upplevelsen, men det går inte att blunda för kvaliteten – 2112 serverar en av Göteborgs absolut bästa burgare.
In English
2112 was opened in 2011 by two members of the heavy metal band In Flames. Their focus is fine dine burgers and the result is delicious with excellent meat and bacon. The bread is a bit unevenly roasted though, and the sides are so-so, but they serve some of the best burgers Gothenburg has to offer. Despite the quite high price-point we totally recommend a visit.