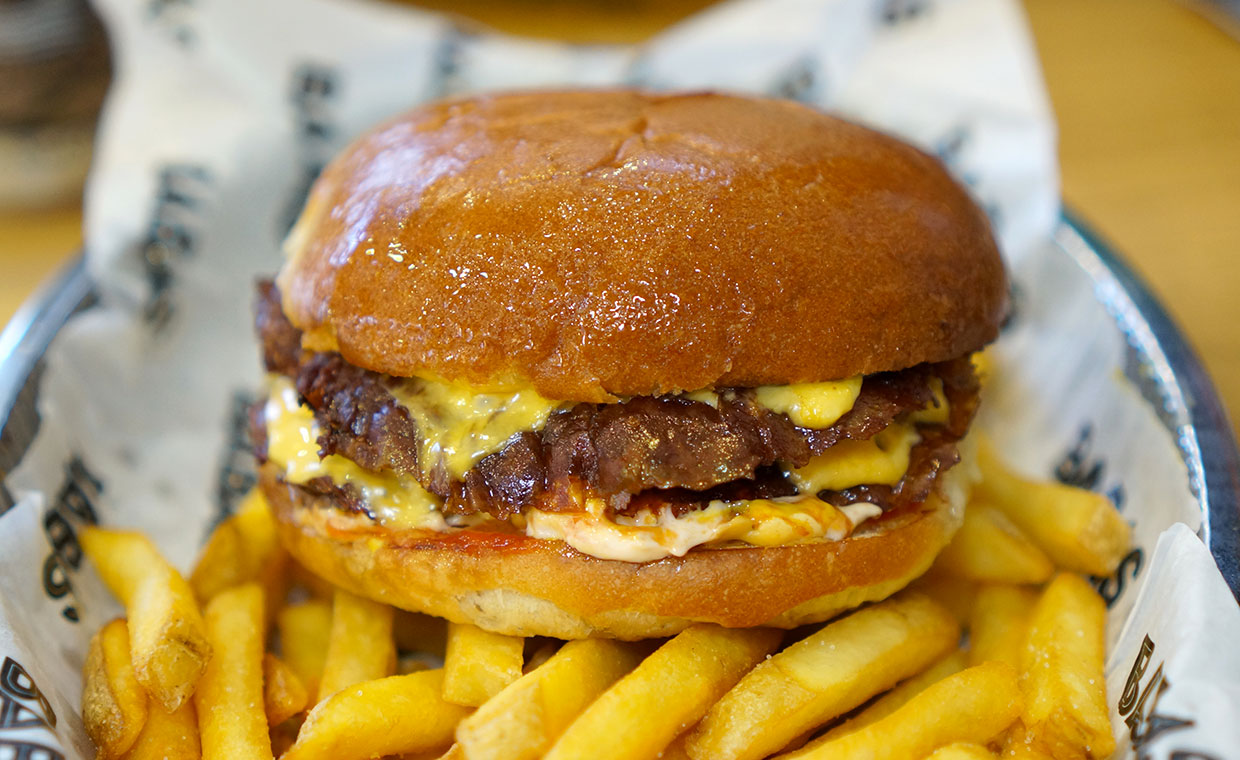 Det har hänt en hel del sedan vår första recension av Babas Burgers & Bites i början av 2015, vilket ni läsare påtalat för oss ofta och länge. De bytte ägare för ett par år sedan, och arbetade då fram en ny meny och nya recept. Vi har äntligen gjort ett nytt besök på deras restaurang i Nacka Forum, och blev riktigt imponerade.
Vi beställde in deras Cheese Burger (med cheddarost, picklad gurka, hamburgerdressing, senap och ketchup) för 95 kronor inklusive pommes frites och läsk, samt Cataleya (med cheddarost, avokadoröra, krispsallad, picklad gurka, lök, tomat och rökig majonäs) för 110 kronor inklusive pommes frites. Båda dessa hade två smashade 100-gramspuckar, med andra ord 200 gram kött vardera.
Det märktes direkt att kvaliteten har höjts sedan sist, då burgarna hade tydliga smaker och kändes som varma, mjuka helheter där allt samarbetade. Köttet var saftigt och smakrikt, och brödet var härligt omfamnande. Ingredienserna fungerade bra; cheeseburgaren var klassiskt smaksatt medan den  andra var krämigt god. Vi tyckte visserligen att båda burgarna – särskilt cheeseburgaren – var lite för flottiga och mäktiga, och lämnade vissa av oss i tung matkoma efteråt. Men med det sagt så var även pommes fritesen riktigt bra, och måltiden som helhet kändes helt klart prisvärd.
Vi höjer såklart vårt betyg, och rekommenderar varmt ett besök då de serverar en av Stockholms bättre burgare. Babas Burgers & Bites serverar fastfoodburgare av bästa sorten; enkel och prisvärd utan att kompromissa med kvaliteten.
In English
A lot has happened since our first review of Babas Burgers & Bites back in early 2015, which you readers have reminded us about quite a lot. They got new owners a few years ago, and they've made changes to their menu and concept. Now we've finally visited their newish location in Nacka Forum, just in the outskirts of Stockholm, and we were really impressed.
We ordered their Cheese Burger (with cheddar, pickles, dressing, mustard and ketchup) for 95 SEK including fries and a soda, and a Cataleya (cheddar, crushed avocado, lettuce, pickles, onions, tomato and a smokey mayo) for 110 SEK including fries. Both burgers had two smashed 100 gram patties, i.e. 200 grams of meat each.
It was obvious from our first bite that the quality had improved a lot since our last visit. Both burgers had distinct flavours, and the well-composed ingredients worked together to create a warm and soft flavour explosion. The meat was juicy and flavoursome, and the bun contained everything really well. We enjoyed both the clean and classic cheeseburger and Cataleya was nice and creamy. They may have been a bit on the greasy side – especially the cheeseburger – as we were a bit out of it after our meal. But with that being said, we enjoyed the fries as well, and the meal was definitely well worth the money.
We're of course raising our review grade, and now rank Babas Burgers & Bites as one of the best burger joints in Stockholm. This really is our favourite kind of fast food – simple and cheap without compromising on quality.