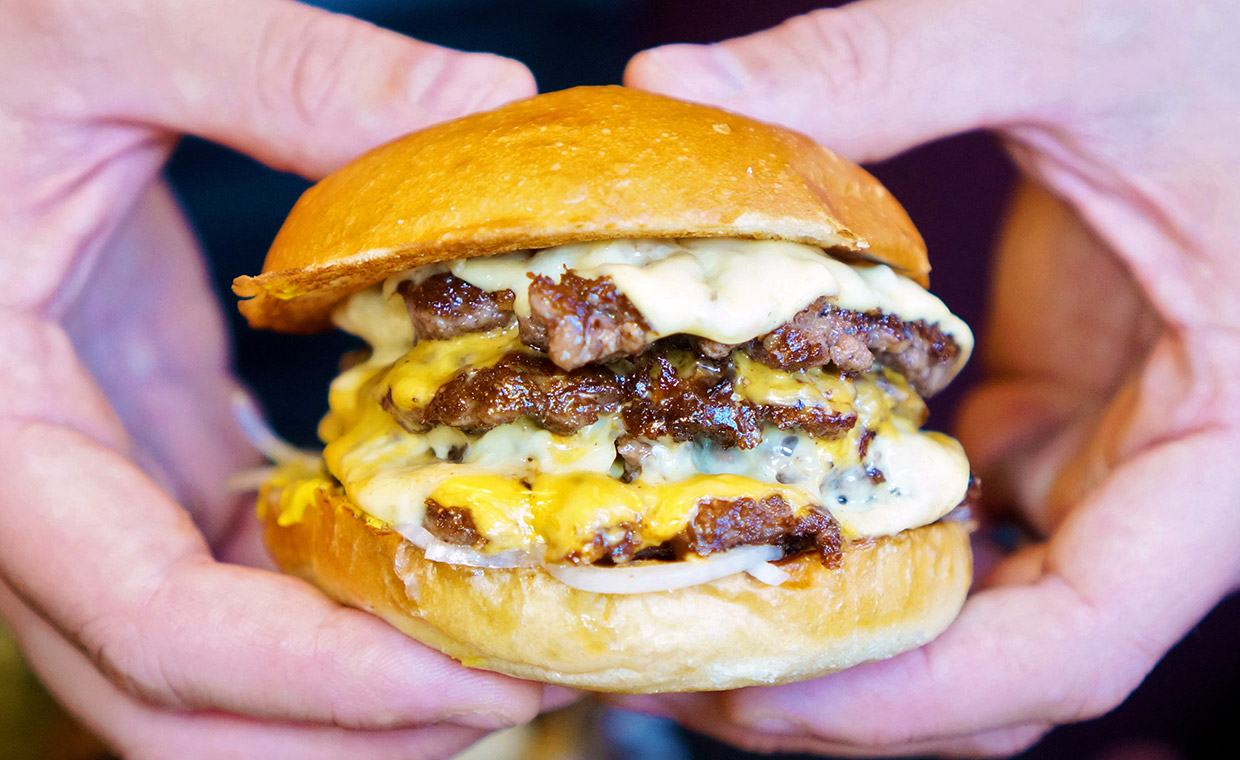 Man kan säga att Sveriges intåg i burgarvärlden inleddes med att Flippin' Burgers lanserades under våren 2012. Trycket har varit enormt sedan dess, men flytten till större lokaler vid Odenplan lyckades inte stävja köerna nämnvärt. Kön ringlar sig ofta lång – särskilt på helgerna – och vi rekommenderar att du kommer 10 minuter innan öppning för att minimera väntetiden.
Fast väntan är befogad, för det här är en sann hantverksburgare. Här samsas (ofta ekologiskt) blumenthalmalt kött med färskbakat, saftigt, ekologiskt och lätt uppvärmt bröd från Magnus Johansson Bageri. En enkelburgare är 150 gram och en dubbelburgare består av två 100-gramspuckar, och de är smashade med rejäl stekyta samtidigt som de lyckas med konststycket att vara lite rosa i mitten. Några av favoriterna på menyn innefattar klassikern Flippin', nytillskottet B.C.P. med bacon, cheddar och pickles samt den hemliga burgaren Flimpy, som inte står på menyn men som består av fyra 50-gramspuckar för maximalt med stekyta och ost.
Helhetstänket på Flippin' Burgers är imponerande, och ölutbudet imponerar. Med snart över sex år under bältet så kan vi glatt konstatera att de fortfarande är Stockholms – ja, till och med Sveriges – bästa hamburgerhak.
In English
It's fair to say that Flippin' Burgers paved the way for the Swedish burger scene when they opened back in 2012. Their restaurant by Odenplan in central Stockholm is always packed, and we recommend that you go there just before they open to avoid the worst wait, especially during weekends.
Mind you, these are burgers well worth waiting for. The high-quality meat is ground according to the Blumenthal method, and is served as one 150 gram patty or two 100 gram patties for optimal beef-to-bun ratio. They are smashed for maximum taste and a nice crust, but still manages to have a nice pink centre. The bun is baked daily by a well-renowned artisanal baker, and fits the patties perfectly. And the other ingredients are usually well-balanced to complement the burger nicely.
Their B.C.P. has super-crunchy bacon, crispy pickles and creamy cheese, and the Flippin' is a simple and great cheeseburger. We're also very fond of their off-menu Flimpy, with four 50 gram patties for maximum crust and cheesyness.
At the end of the day, it's the holistic approach from Flippin' Burgers that sets them apart from the competition, and their impressive beer selection is just another reason to love them. Simply put, they're still Stockholms – and Swedens – best burger joint.