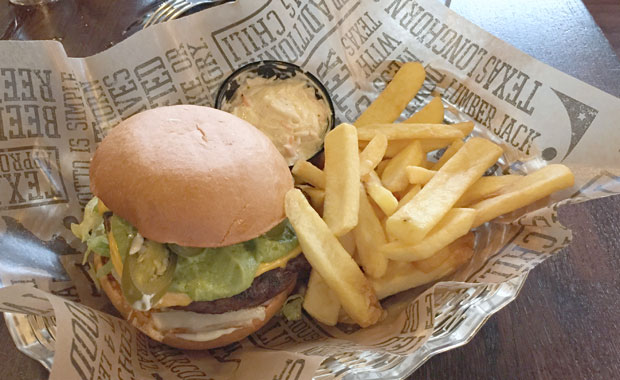 För några år sedan gick det inte att få en särskilt mycket bättre burgare i Stockholm än vad som serverades hos köttrestaurangkedjan Texas Longhorn, som numera har funnits i mer än 20 år. Det är lite knäppt när man tänker efter, för efter Flippin' Burgers lansering 2012 förändrades hela burgarlandskapet över en natt. Nya burgarställen öppnade stup i kvarten, och genomsnittskvaliteten i Stockholm är numera riktigt hög.
Tyvärr har Texas Longhorn inte gjort särskilt mycket för att hinna ikapp sina nya konkurrenter, förutom att öppna några renodlade hamburgerrestauranger kallade Texas Longhorn Burgers & Deli. Köttpucken i deras hamburgare är fortfarande hård, genomstekt och smaklös. Även de grovhuggna pommes fritesen hade en kartongliknande smak, och allt fick dränkas i deras – visserligen goda – barbecuesås för att få smak. Som tur var har de åtminstone börjat servera burgaren i ett godare och ganska saftigt bröd, och menyn är väldigt varierad med toppings som guacamole och jalapeños.
Trots en ganska låg prislapp runt hundralappen för en burgare med pommes frites (och en intetsägande coleslaw) blir det svårt att rekommendera Texas Longhorns hamburgare, det nya brödet till trots. Besök hellre en av deras ordinarie restauranger och beställ en stek.
In English
Texas Longhorn Burgers & Deli is the steakhouse veteran's way of satisfying Stockholm's burger-hungry crowds, but their attempt is a failed one. Despite being quite cheap (about 100 SEK for a burger with fries) the patty is hard and tasteless, and the thickly-cut fries are tasteless and require lashes of barbecue sauce to taste anything. Do yourself a favour and visit one of their regular steakhouses instead.