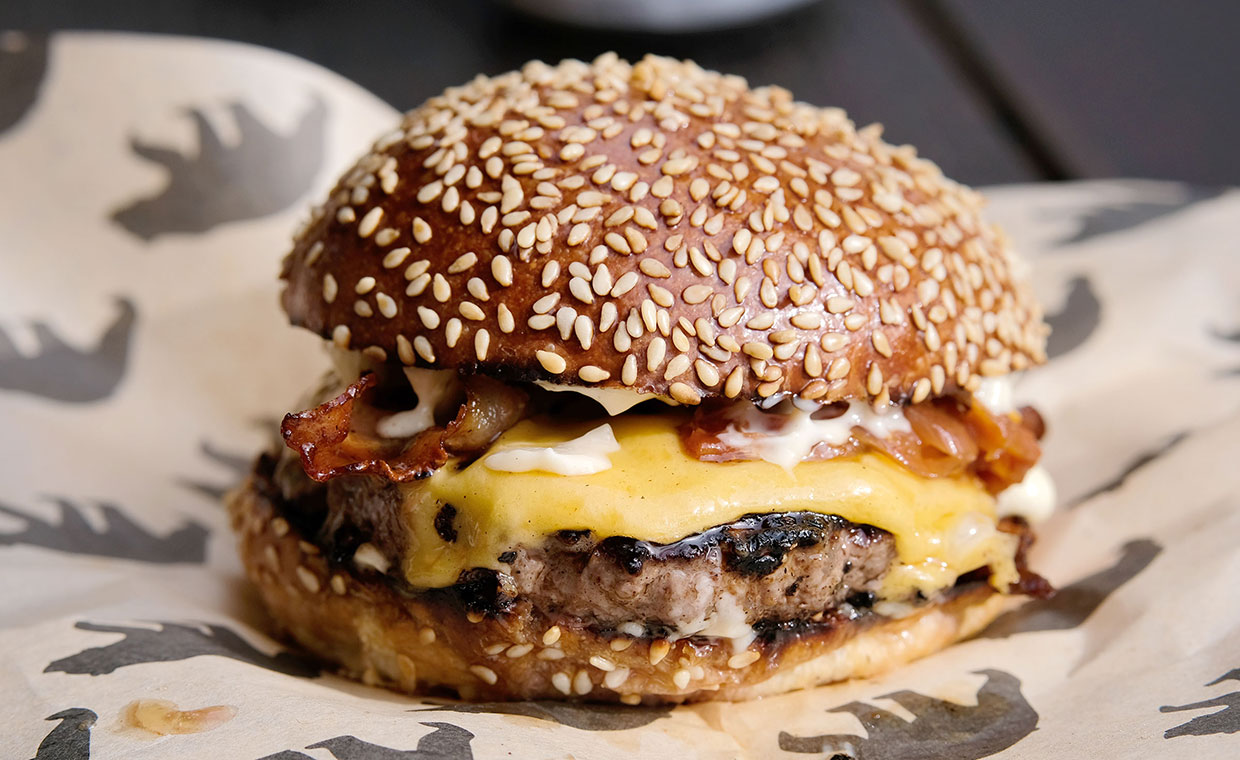 Black Bear Burger gjorde sitt intåg på Londons burgarscen under 2016, och har sedan dess slagit staden (och Instagram) med häpnad med sina ruskigt snygga hamburgare. Nu har de även öppnat sin första semi-permanenta restaurang i Shoreditchs Boxpark-område.
Vi fick äntligen tillfälle att testa dem på National Burger Day 2017, där de ställde upp med skapelsen "The 74". Den bestod av en köttpuck på hängmörad biff, en glaze, ost, sylt på rostad tomat och lök, pancettabacon och en majonnäs med rökt vitlök. Allt detta fick sedan plats i ett sesamfrötäckt briochebröd, och det var en otroligt vacker skapelse.
Den härligt brända ytan såg ut att bjuda på en rejäl smakupplevelse, men ärligt talat så var burgaren lite tam – i alla fall i början. Det mediumstekta köttet var lite för hårt grillat, och kom inte till sin rätt förrän efter halva burgaren. Brödet hade dessutom för mycket sesamfrö, då det tog över smakerna och gjorde det lite för knaprigt. Pancettabaconet var dock en riktig höjdare, med en härligt bräcklig sälta.
Black Bear Burger serverar en riktigt god burgare, även om de inte riktigt platsar bland toppskiktet i Europas bästa burgarstad. Men om du befinner dig i Shoreditch och redan har testat några av de andra guldkornen i området rekommenderar vi helt klart ett besök.
In English
Black Bear Burger have taken London (and Instagram) by storm since they opened. We finally got a chance to visit them at National Burger Day 2017 where they sold their "The 74" burger, with an aged beef patty, beef trimming glaze, cheese, roasted tomato and onion jam, pancetta bacon and smoked garlic mayo. And it was a thing of beauty, with a nice char. However, we were a bit underwhelmed with the flavours, and the amount of sesame seeds was a bit too overwhelming (making the bun a bit too crunchy). The patty was a bit too burnt on the outside, but after a few bites things started to pick up and the meat flavours really came into their own. We also really liked their pancetta bacon and the creamy garlic mayo. Black Bear Burger may need a bit more work to reach the top tier in Europe's best burger city, but they're well worth a visit if you're in Shoreditch.