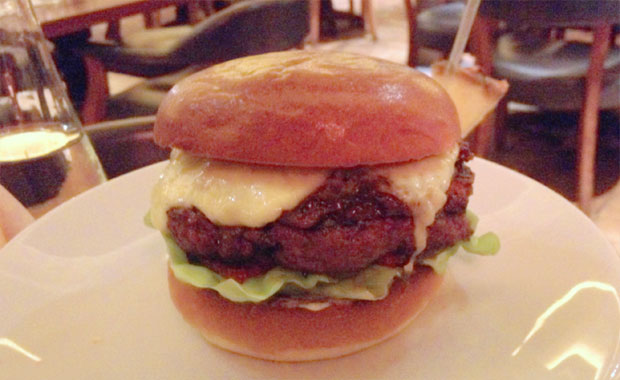 Köttrestaurangen Hawksmoor i London är kanske mest kända för sina stekar och cocktails, men på senare tid har de även lockat till sig burgarsugna gäster med sin kombination av förstklassigt kött, spännande smaker och stilrena inredning.
Och det är mycket som imponerar. För runt 180 kronor får du en rejäl burgare med pommes frites, och det finns främst två varianter att välja mellan. Under recensionstillfället blev det en kimchi-burgare som toppats med chilifermenterad, koreansk kål som verkligen lyfte smakerna. Ogleshield-osten var dessvärre något övermäktig (hur den hade blivit med stilton-alternativet vågar vi knappt ens tänka på), men allt sögs upp av det fluffiga och aningen söta hamburgerbrödet.
Det gick att välja trippelfriterade potatisklyftor, men valet föll på de köttsaftsdrypande pommes fritesen som nog kunde ha smakat lite mer.
Smakerna är det inget fel på, men konkurrensen i London är stenhård och det går att få likvärdiga upplevelser för nästan halva priset. Och om man ändå har lyckats få ett bord på Hawksmoor är kanske en renodlad köttbit mer passande för ändamålet.
In English
Enjoy a flavoursome kimchi burger in an amazing setting, but be aware that the Ogleshield (or Stilton) cheese may be somewhat overpowering. The beef dripping fries could do with a bit more taste though. But with so much choice in London, the somewhat high price makes the mouth-watering steak a more interesting option.