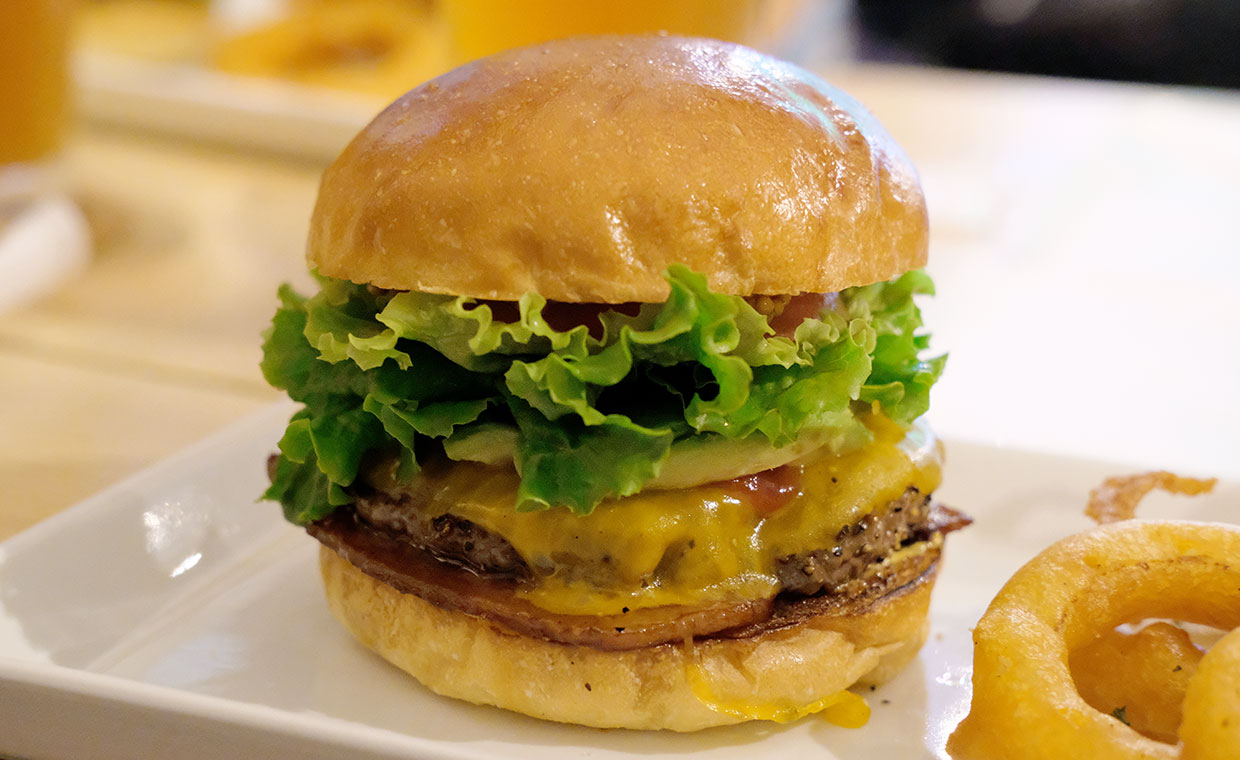 I det amerikaniserade stadsområdet Ame-mur i Osaka ligger det prisbelönta burgarhaket Craft Burger Co. som nyligen röstades fram som det bästa burgarhaket i Kansai-regionen. Inte illa om man tar i beaktning att det bor nästan 22 miljoner människor i området.
Deras lokal är precis som de flesta andra burgarhaken i Japan, liten men trevlig och fräsch. Deras hylla var fylld med nördiga burgarböcker och alla utmärkelser de har mottagit under åren, något som ingav ett lugn hos oss burgarnördar.
Vi beställde deras Craft Burger Deluxe med pommes frites för 1450 yen, vilket är ungefär 110 kronor – ganska dyrt för en burgare i Japan. Hamburgaren som serverades var välkomponerad och innehöll bacon, avokado, cheddarost, sallad, tomat, ketchup och tasmansk senap.
Brödet hade en fin stuns och gjorde ett tappert jobb med att suga upp alla safter, även om det gav upp alldeles mot slutet av måltiden. Tyvärr upplevde vi inte att köttet var av lika hög kvalitet, utan det kändes alldeles för kompakt. Stjärnan här var oväntat nog den smakrika senapen som både gav burgaren ett välbehövligt sting och en härlig sötma.
Craft Burger Co. serverar en godkänd burgare, men vi skulle inte säga att det är den bästa – varken i Osaka eller Kansai-regionen.
In English
Craft Burger Co. are locaded in the Americanized Ame-mur area in Osaka. We ordered their Craft Burger Deluxe with fries for 1450 yen, which is quite pricey for a burger in Japan. The burger was nicely assembled and easily fit in our hands. The high quality bun did quite a good job of holding everything together, but the patty was a disappointment and felt compact and quite boring. Surprisingly, the star of the show was the Tasmanian seed mustard that gave the burger a nice sweetness and heat. Overall, Craft Burger Co. serve a good burger, and they're worth checking out if you're in the Kansai area.