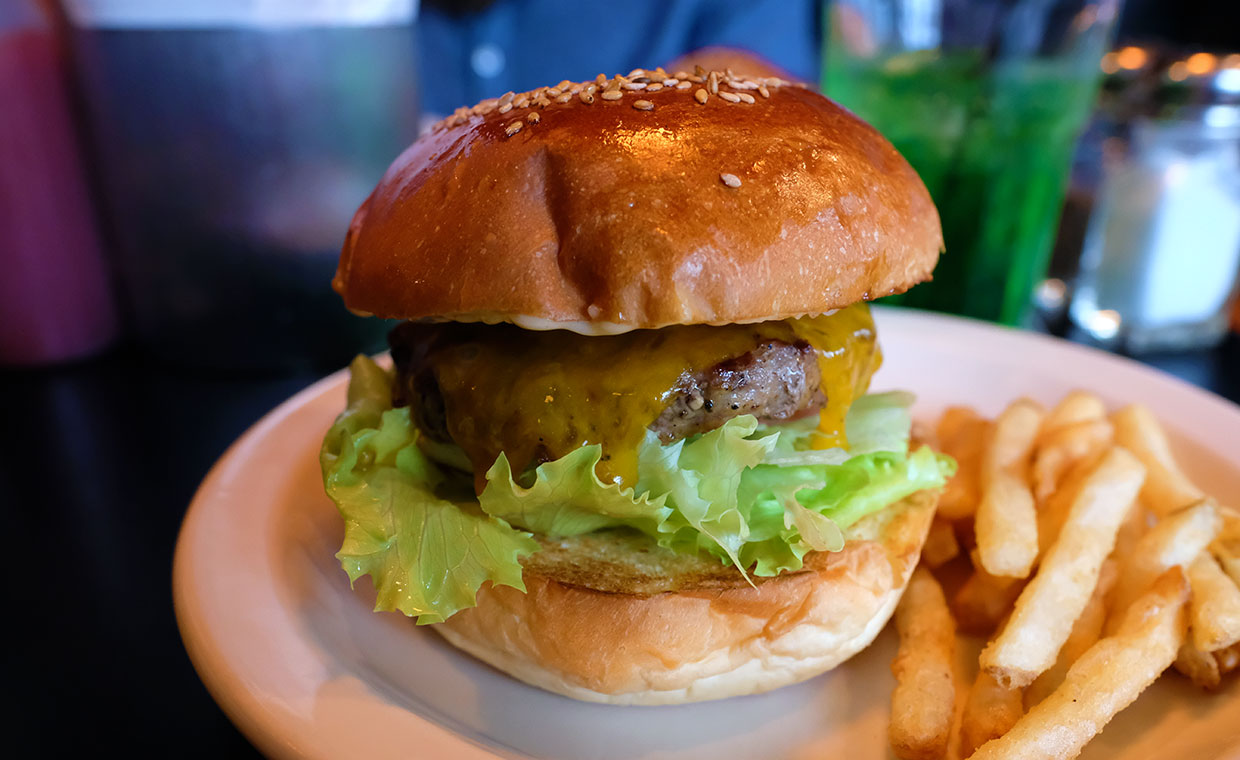 I det alltid lika energiska Harajuku i Tokyo ligger restaurangen San Francisco Peaks. Här serveras inte bara burgare utan även annan amerikansk dinermat som korv, pannkakor och omeletter. Men med 16 olika typer av burgare förstår man att de tar sina hamburgare på allvar.
Vi beställde en cheeseburgare med bacon tillsammans med pommes frites för motsvarande 125 kronor. Burgaren vi serverades var snyggt presenterad i klassisk japansk stil, alltså med ett stort fluffigt bröd och en mindre köttpuck. Brödet var som det nästan alltid är i Japan, nästintill perfekt med bra sötma och fluffighet. Baconet på burgaren var även det riktigt bra med rätt mängd och god smak.
Tyvärr upplevde vi att den grillade köttpucken var lite för torr och tuggig. Det kändes att det var bra råvaror, men det hjälper tyvärr inte när det inte behandlas på rätt sätt. Burgaren hade även för mycket sallad för vår smak, vilket tyvärr förstörde burgarens övergripande textur. Pommes fritesen som ingick i måltiden var däremot riktigt goda med helt rätt krispighet och potatissmak.
Det finns absolut bättre burgarhak i Tokyo, men om du har tillbringat en heldag med shoppande i Harajuku kan detta ett bra ställe för att varva ner på och äta en helt okej burgare – även om det finns flera andra bra ställen i närheten.
In English
San Francisco Peaks is located in the buzzing Harajuku area in Tokyo. The burgers here are presented in classic Japanese style with a big fluffy bun and a smaller patty. The bun was nearly perfect with a great sweet taste and fluffiness. But the grilled patty, despite coming from high quality meat, was too dry and compact. We also thought the burgers had too much lettuce which messed up the overall texture of the burger. We really liked the fries though, with their nice crispiness and nice potato flavour. San Francisco Peaks still serve a decent burger, and are good for a visit after a long day of shopping in Harajuku.