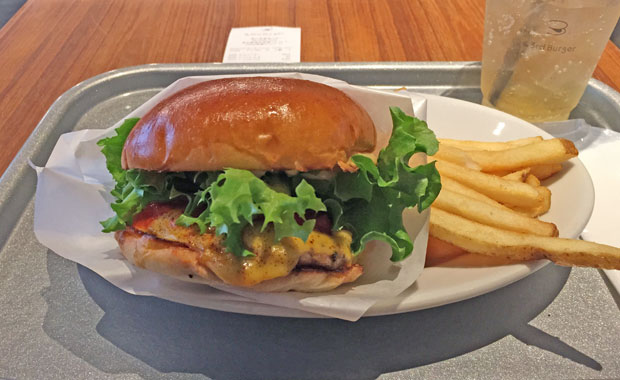 The 3rd Burger har tre restauranger i Tokyo, och den vi besökte ligger i fashionabla Aoyama inte långt ifrån Fellows. Här ligger fokus på att servera högklassiga och fräscha snabbmatsburgare till låga priser. En burgare med både pommes frites och dryck kostar drygt 70 kronor.
Det som får dem att sticka ut från mängden är att brödet är egenbakat och fantastiskt mjukt, och att köttet alltid är färskmalet. I den luftiga och ljust avskalade lokalen visas filmer med tillagningsprocessen, och det är imponerande att se en kedja ta kvalitetsaspekten på så stort allvar som de gör.
Den lilla munsbiten jag fick in var god, med ett underbart mjukt och lättrostat bröd. Fast jag hade klarat mig utan såväl remouladsåsen som tomatpurén som låg ovanpå den genomstekta köttpucken, även om det säkert går att välja bort dessa vid framtida besök. Prisvärt var det i alla fall, och The 3rd Burger är helt klart värt ett besök om du befinner dig i Tokyo.
In English
The 3rd Burger have an inspiring approach to Tokyo's fast food burger scene, with fluffy bread and freshly ground patties at an extremely low price (less than 1000 yen for a burger with fries and a drink). We could have done without the remoulade sauce and tomato purée though, but we definitely recommend a visit for the sleek interiors alone.