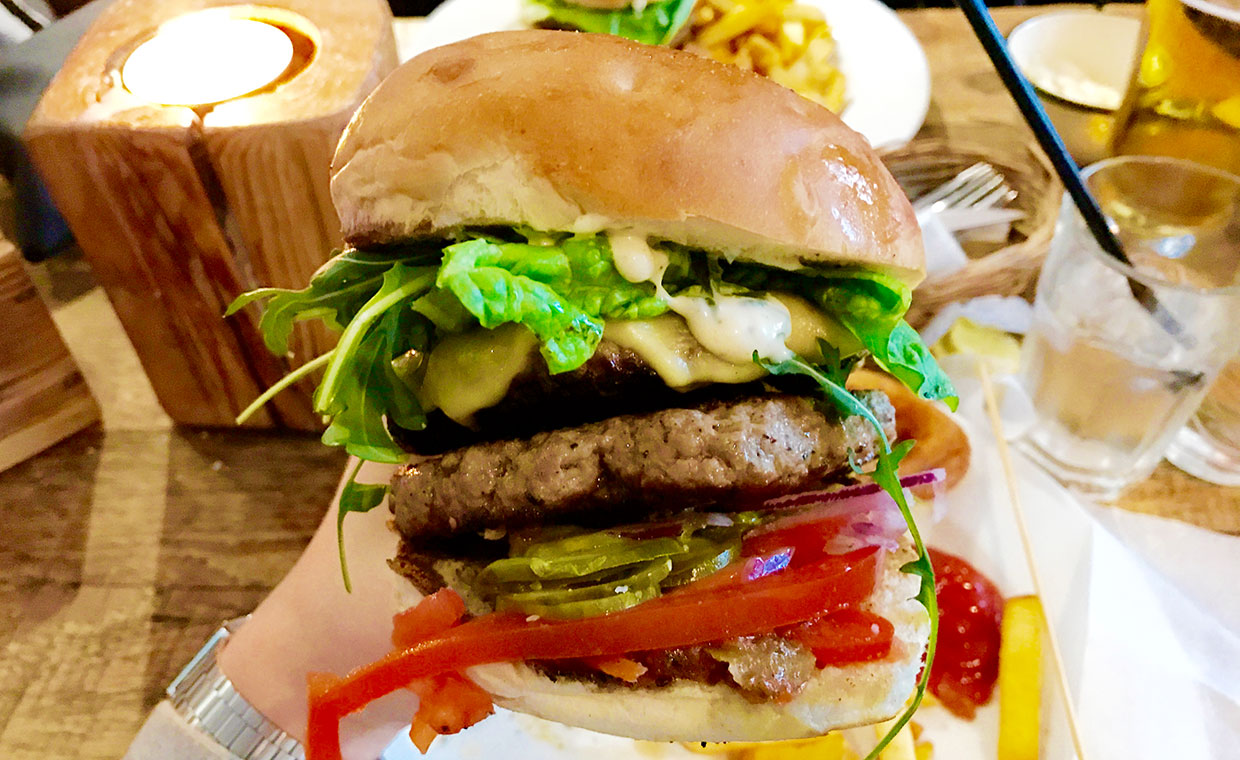 I den charmiga staden Gdansk i Polen finns det gott om restauranger, och bland dem finns det några som fokuserar på burgare. Original Burger är en av dem, med en väldigt charmig lokal med musik- och filmrekvisita som pryder väggarna. Restaurangens stämning och miljö gav oss stora förhoppningar.
Vi beställde en dubbel cheeseburgare med sallad, majonnäs, senap, cheddarost, ketchup, tomat, picklad gurka och rödlök. Vi beställde även pommes frites, en vitlöksdipp och deras egenlagade ölfriterade lökringar. Alla dessa tillbehör var riktigt goda, men själva burgaren visade sig vara en katastrof redan vid första tuggan.
Köttet var kompakt, torrt och hade det inte varit för den tydliga smaken av salt och peppar så skulle vi nästan trott att den kom från en snabbmatsrestaurang. Brödet var något av det sämsta vi fått till en burgare. Det var stort, torrt och föll snabbt isär. Till slut fick vi avsluta måltiden med bestick eftersom allt låg utspritt över tallriken.
Original Burger har i dagsläget allt förutom en bra burgare. Lokalen var trevlig, tillbehören underbart goda och priserna väldigt låga. En meny med dryck och tillbehör kostade cirka 70 svenska kronor, vilket är löjligt billigt. Men det är ändå tråkigt att behöva se en så pass dålig burgare serveras på en restaurang som borde kunna prestera så mycket bättre. Det är tydligt att de lagt fokus på helt fel saker.
In English
Original Burger is located in the charming city of Gdansk, Poland. The restaurant gave us high hopes with its welcoming environment and atmosphere, but unfortunately the burger itself was anything but good. The patty was dry and compact, and looked like something from a fast food restaurant. The bun was among the worst we've had; too big, super dry and fell apart almost immediately. We ended up finishing our meal with a knife and fork. But apart from the terrible burger, Original Burger has everything going for it. The restaurant itself was very nice, their sides were delicious and their meals were excellently priced. We just can't understand why they haven't made an effort to serve a good burger as well.