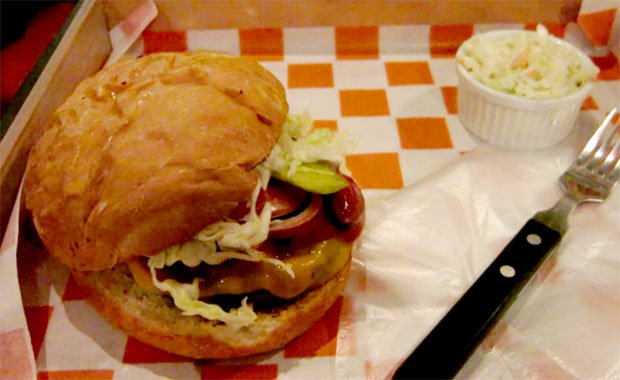 Brooklyn Burgers & Wings är ett relativt nyöppnat snabbmatshak som har blivit en favorit bland Warszawaborna. Det första intrycket av stället var tyvärr ingen höjdare på grund av den höga ljudnivån, den trista inredningen och den minst sagt spretiga menyn.
Men efter ha avnjutit en oväntat bra klassisk cheeseburgare förstod jag varför den lokala befolkningen talar så varmt om stället. Burgarna är inte gjorda med en kirurgisk precision, men man känner att det är bra råvaror som har tillagats på ett bra sätt. Inte illa när man betalar mellan 40-65 kr för en burgare med pommes frites.
En uppskattad detalj var att varje burgare serverades med ett par platshandskar; en detalj som fler etablissemang borde anamma.
In English
Serving burgers with complimentary plastic gloves is a trend that ought to catch on, and this is just one of the things that makes this Warszaw burger joint so popular among its visitors (the low price and high quality ingredients are two others). The bad acoustics and unfocused menu detracts a bit from the experience though.