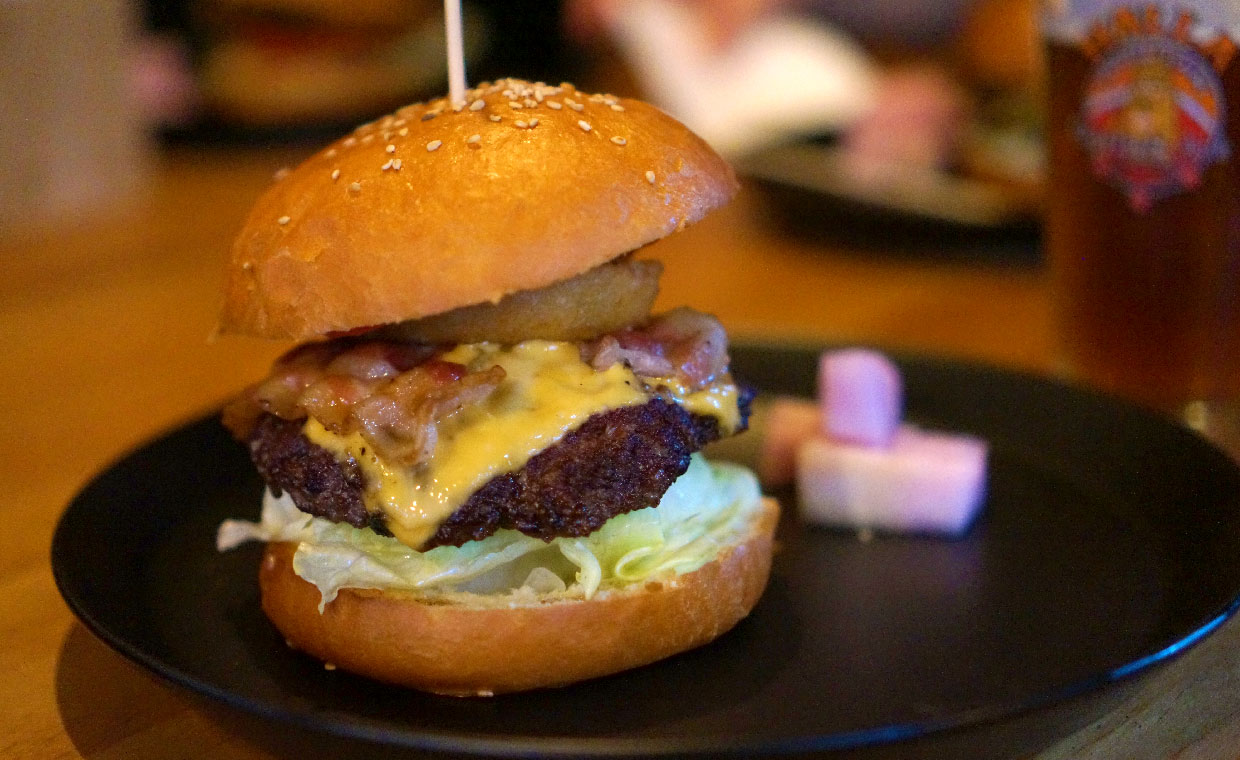 Burgartrenden har slagit igenom rejält i Seoul de senaste åren. En av aktörerna som har seglat upp bland de mest omtalade är burgarhaket med det annorlunda namnet Burger Guru 72.
Burger Guru 72, beläget i det franska området Seorae Village, huserar i en gemytlig och trevligt inredd lokal. Menyn erbjuder elva olika burgare, med nötkött, lax och kyckling. Vi valde att testa deras "O.B. Cheeseburger" gjord på 200 gram mald wagyubiff från Australien.
Burgaren serverades snyggt och var välkomponerad. Det första som fångade vår uppmärksamhet var den fyrkantiga rättikan, kkakdugi, som låg bredvid hamburgaren. Helt klart annorlunda, men inte fel, då den gav en uppskattad fräsch smak efter att vi hade förtärt burgaren.
Hamburgaren i sig serverades i ett sött och lagom fluffigt bröd som höll ihop exemplariskt. Mellan bröden hade vi köttpucken, en stor lökring, bacon, ost och majonnäs. Tyvärr hade alla dessa komponenter samma problem; de smakade nästintill ingenting.
Måltiden blev en otroligt tråkig upplevelse som tyvärr såg bättre ut på pappret än i verkligheten. De pluspoäng vi kan ge dem var att pommes fritesen var helt okej, att de hade ett roligt ölutbud och att de hade våtservetter vid bordet.
Sammanfattningsvis kan vi konstatera att det finns mycket bättre burgare än denna i Sydkoreas huvudstad.
In English
The burger trend has reached Seoul in full effect and there's a wide selection of gourmet burger joints to choose from. One of the most recommended ones is Burger Guru 72, located in the area Seorae Village just south of the Han River. Their burgers are made from daily grounded Australian Wagyu beef, and we chose their O.B. Cheeseburger with onion rings, bacon, cheese and mayo. The burger had a really nice look to it, but unfortunately it was utterly tasteless and boring. On the plus side we really liked the sweet and fluffy bun, their fries and their selection of craft beers. But that's not enough for us to make a recommendation.