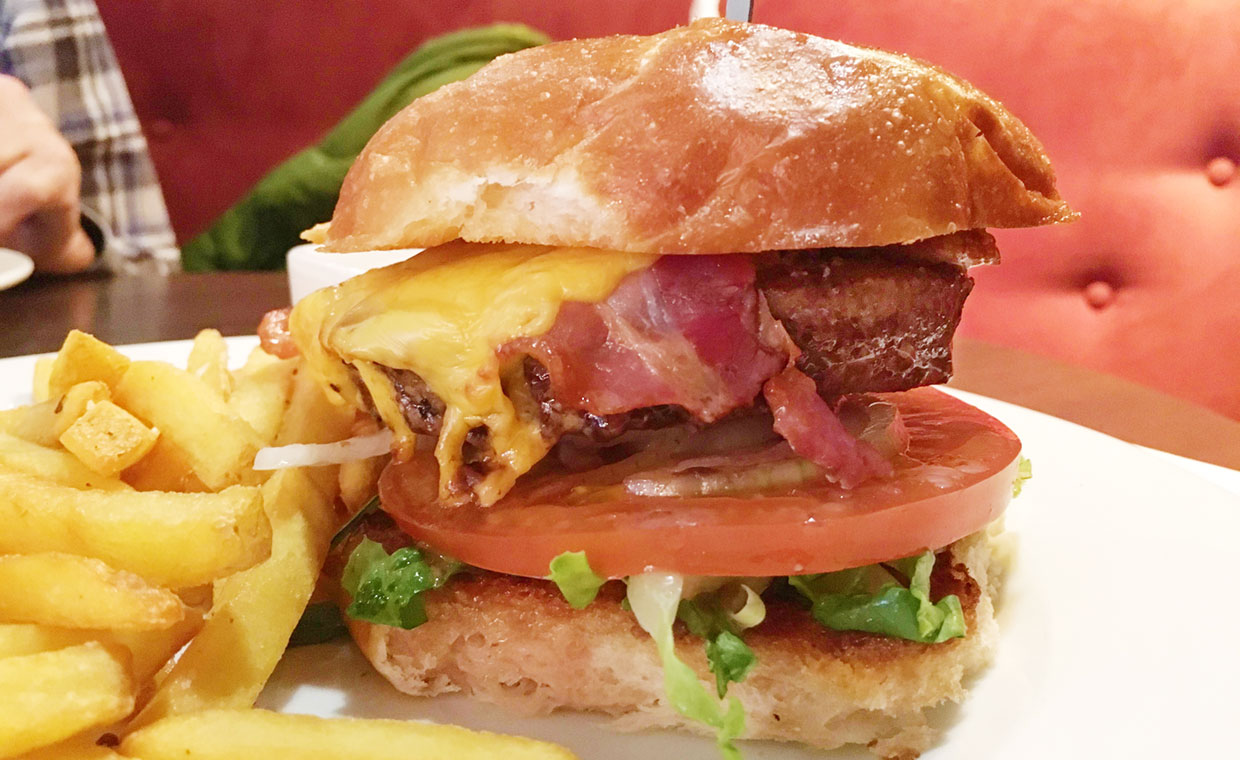 Linköping är inte lika lyckligt lottad som sin grannstad Norrköping när det kommer till utmärkta burgarhak, men under den senare tiden har detta börjat ändra på sig.
Restaurangen Beer & Burger huserar i ett Best Western-hotell i centrala Linköping och serverar både lunch samt middag. På middagsmenyn har de tio burgare, men under luncherna serverar de endast en burgare. När vi var där var det deras ost- och baconburgare "The Uncle Sam" som fanns på lunchmenyn för 155 kronor.
Burgaren kom snabbt till vårt bord. Första intrycket var att presentationen var ganska slarvigt utförd. Vi är inga stora fantaster av burgare som hålls ihop av en träpinne då det nästan alltid är ett tecken på en dålig konstruktion. Köttet från Ydres gårdsbutik var gott och smakrikt, men kunde ha stekts lite mindre för att behålla saftigheten.
Brödet var det som vi hade störst problem med. Den övre delen hade en tunn skorpa runt sig, som tyvärr förstörde texturen. Att underdelen dessutom blev alldeles soggig på grund av en för kort rostning var inte heller någon succé. Grönsakerna var tyvärr kylskåpskalla, men burgarens dressing och resterande tillbehör tillfredsställde oss.
Överlag är det onödigt slarv som sänker betyget för Beer & Burger. Om brödet och grönsakerna börjar hanteras på rätt sätt i framtiden har de potential att servera riktigt bra burgare.
In English
Beer & Burger is located in a Best Western hotel in central Linköping. The burger we tried was "The Uncle Sam" with cheddar cheese and bacon. The presentation felt somewhat sloppy based on the giant toothpick that held everything together. The patty had a good meaty taste to it, but could have been a bit more rare to preserve the juiciness. The biggest problem for this burger was the bun. The top part of the bun had a crust on it and the bottom part became really soggy because of the lack of roasting. The vegetables was unfortunately ice-cold, but we liked the dressing and the fries. Overall we really think that their burgers has potential to be really good, they just need to handle their buns and the vegetable with more care.