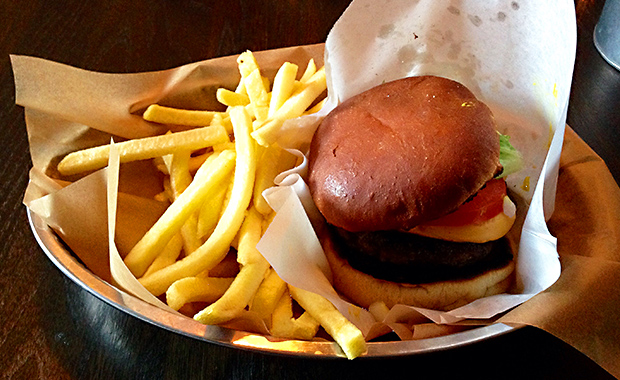 Uppdatering: Angry Diner har nu stängt för gott!
Under sommaren 2014 öppnade tv-personligheten Anders Öfvergård, även känd som Arga snickaren, dörrarna till sin restaurang Angry Diner. Angry Diner som huserar i Sjögräs gamla lokaler på Timmermansgatan är både fräsch och inbjudande. Värt att notera är att de enbart serverar lunch på torsdagar och fredagar, och under dessa dagar har de alltid ett fast utbud på tre burgare.
De tre alternativen består av en cheeseburgare, en portabelloburgare samt en intressant högrev- och pastramiburgare. Vi valde att testa deras cheeseburgare, eller Angry Cheeseburger som den kallas, tillsammans med pommes frites för 95 kronor. Observera att priserna höjs avsevärt när det är middagstid, och då landar priset för en Angry Cheeseburger på 165 kronor.
Burgaren som serverades var över förväntan. Högrevspucken på 150 gram var precis som vi vill ha den med en fin stekyta och ett rosa inre. Den gick dessutom äta med händerna utan falla sönder, vilket alltid är ett stort plus i kanten. Brödet var fluffigt och gott, men tyvärr aningen bränt. Pommes fritesen var helt godkända, bra saltade och tillräckligt krispiga.
Angry Diner imponerade med sina burgare och vi kommer garanterat göra ett återbesök för en lunchburgare i framtiden.
In English
Please note that Angry Diner has closed for good — The Angry Diner near Mariatorget in Södermalm offer great lunch burgers at an affordable price (95 SEK) on Thursdays and Fridays. The burgers are done just right with a juicy patty together with a fluffy bun. The fries are not the greatest, but they are still above average in tastiness. This is the best burger on Södermalm at the moment.