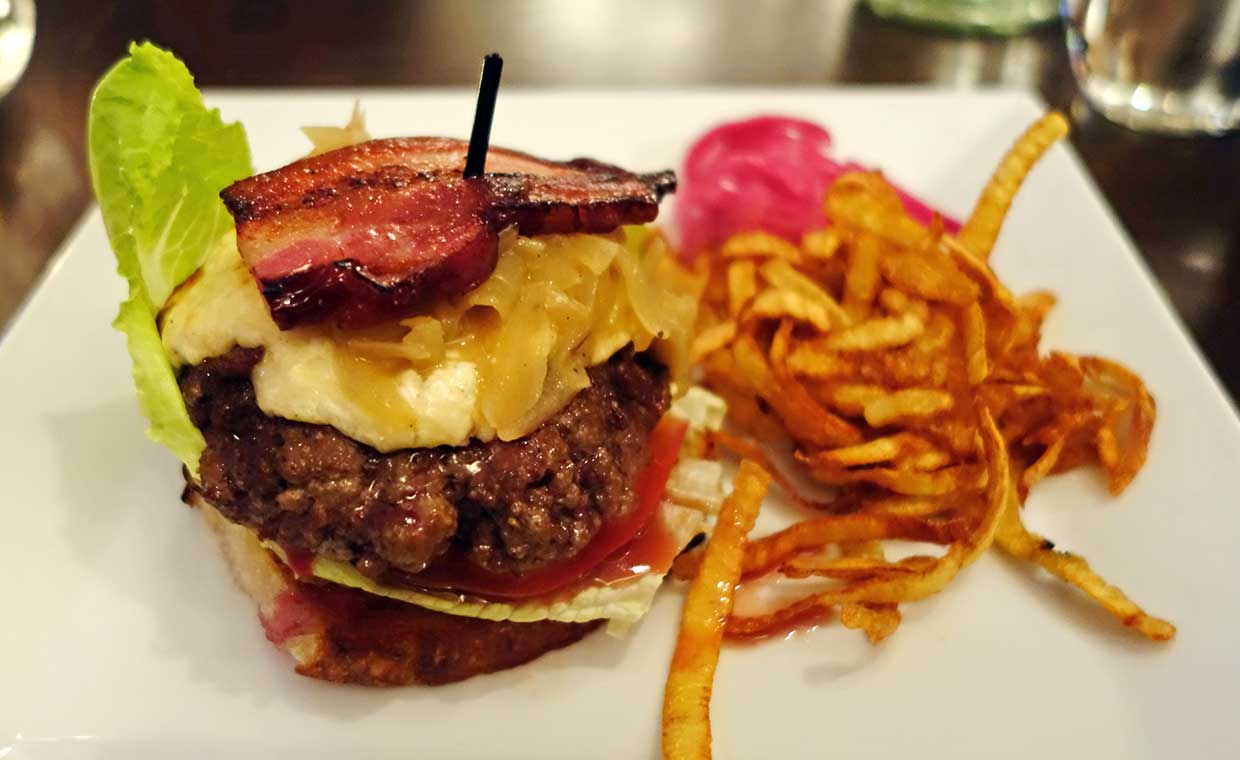 Uppdatering september 2016: Bistro Mammsen har nu stängt för gott. En annan restaurang ligger på samma adress.
Bistro Mammsen har basunerat ut i sociala medier att de minsann serverar Stockholms bästa burgare, och detta är ju ett utmärkt sätt att få vår uppmärksamhet. Bakom den enkla fasaden på Rosenlundsgatan döljer sig en riktigt trevlig bistro, med en vidsträckt mat- och ölmeny.
Den trevliga servitören berättade stolt att burgaren bestod av egenmalt kött, egengjord majonnäs, bacon, ost och surdegsbröd från ett närliggande bageri. Det sistnämnda fick oss att höja på ögonbrynen, men vi antog att det var ett hamburgerbröd av surdegstyp. Tyvärr visade det sig att brödet var en skiva levainbröd, och att de övriga ingredienserna låg staplade ovanpå den.
Det här tvingade oss att äta måltiden med kniv och gaffel, vilket är något vi verkligen drar oss för. Lustigt nog var pommes fritesen mer som friterat potatisskav som inte kunde ätas med bestick, så vi fick ändå äta en del av maten med händerna.
Det hela var otroligt frustrerande då själva smakerna var riktigt bra. Köttet var saftigt och utmärkt stekt, men det här var snarare en köttsmörgås än en hamburgare. När vi lämnat restaurangen gick vi i stället snett över gatan till Mormors lilla kök (3/5) och stillade vårt burgarbegär. Vi återvänder gärna till Bistro Mammsen i framtiden, men då kommer vi att beställa en annan rätt.
In English
Update: September 2016 – Bistro Mammsen have now closed. Another restaurant has opened at the same location.
Few things are so frustrating as when restaurants get the basics wrong. Bistro Mammsen in Stockholm's Södermalm district serve a burger with excellent meat and tasty cheese, but on a slice of sourdough bread instead of in a bun. Sure, it tastes good, but it isn't a burger. Amusingly enough the fries are more like potato shavings and have to be eaten with your hands, so we don't understand why we're forced to use a knife and fork in the first place. After leaving the restaurant we walked across the road and had a burger at Mormors lilla kök instead. "Ceci n'est pas un hamburger", as Magritte might have said.