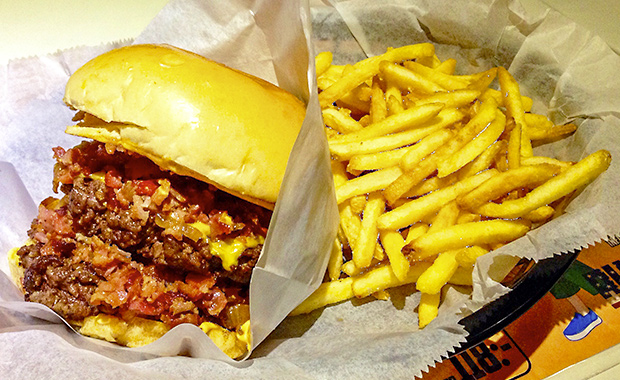 Uppdatering 2018-02-01: Burger Bistron har nu stängt för gott
Obs! Ej att förväxla med Burger Bistro i centrala Stockholm.
Längst ut på pendeltåglinjen och ett stenkast från pendeltågsstationen i Märsta, hittar vi hamburgerhaket Burger Bistron. Haket öppnade sina dörrar tidigare i år, och har redan skapat sig ett etablerat rykte att servera riktigt bra burgare till förmånliga priser.
Menyn består av tre ordinarie burgare och en veckospecial som samtliga är gjorda på kött av 70 % högrev samt 30 % oxbringa. Dessa serveras med dagsfärskt hamburgarbröd från RC Chocolat i Sigtuna, egengjord dressing, stekt lök, sallad och inlagd tomat.
Priset på de ordinarie burgarna kostar precis under hundralappen medan veckans burgare är lite dyrare med 118 kronor. Om man vill ha extra kött, som ni ser på bilden ovan, kostar det 35 kronor extra. Värt att nämna är att pommes fritesen ingår i detta pris.
Burgaren är mycket god och alla ingredienser fungerar harmoniskt tillsammans. Det fluffiga brödet passar perfekt till det saftiga köttet som har en väldigt fin stekyta och god kryddning. Dressingen balanserar och rundar av smaken, precis som det ska vara. Det enda negativa är att de icke-egengjorda pommes fritesen kändes ganska tråkiga och trötta, men det är ett litet minus bland många stora plus. Och de ingår ju i priset.
En solklar rekommendation om ni befinner er i Märsta och dess omnejd.
In English
At the end of the commuter line in Märsta we find the much talked about burger joint Burger Bistron. They serve their burgers with a juicy patty cooked just right together with a fluffy bread made from high quality ingredients. The pricing is very generous, by Stockholm standards, and you can get a burger with fries for only 95 SEK. We highly recommend a visit if you are in the area - perhaps if you're spending a few hours too many at airport in Arlanda.