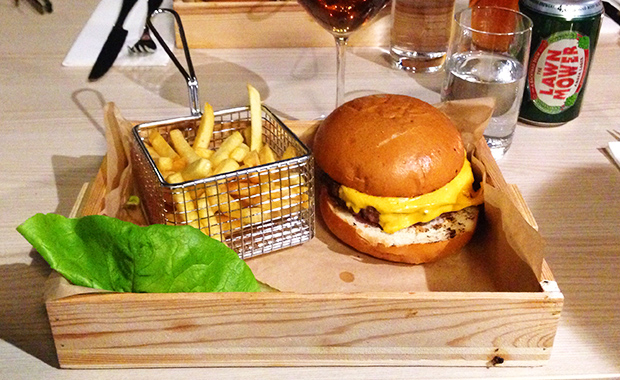 Kan en hotellrestaurang mitt i city leverera en bra burgare? Med lika delar skepsis och nyfikenhet begav vi oss till Hearts, beläget vid Arlanda Express vid T-Centralen, för att se om de förtjänar sin hype.
Servitrisen berättade att kocken rekommenderar burgaren "medium rare", och det är alltid ett bra tecken när stekgraden behandlas vid beställningen. Med burgaren kom en korg med bland annat barbecuesås och majonnäs. Och våtservetter! Fler pluspoäng. Burgaren serverades med en skiva smält ost, medan resterande salladstillbehör låg separat och väntade. Vi uppskattar det enkla och ärliga sättet att se till att vi fick vår burgare på det sätt vi ville ha den.
Själva burgaren bestod av 160 gram blumenthalmald bringa och högrev. Den var bra stekt och hade god smak – även utan tillbehör. Brödet bjöd dock på visst tuggmotstånd och pommes fritesen var medioker. Med det sagt: Hearts har känsla för detaljer och hjärtat på rätta stället, så även om de inte får full pott är de väl värda ett besök.
In English
Hearts is part of Nordic C Hotel, located next to Stockholms Central Station and the Arlanda Express train. They serve a deconstructed burger of high quality, with a blumenthal ground patty of brisket and chuck tender steak cooked according to your taste. The bun and the fries have room for improvement, but all in all Hearts deliver a really good burger experience.