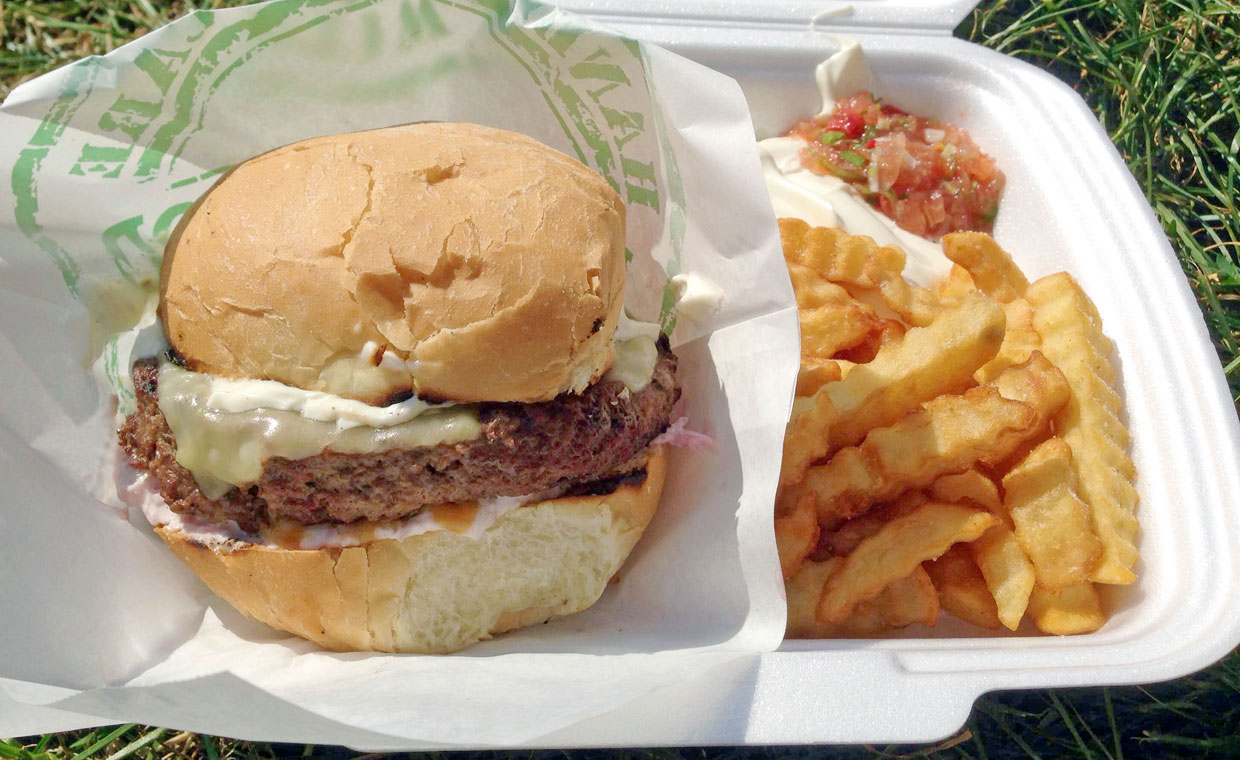 Stockholm har  sin beskärda del av högkvalitativa foodtrucks, och de ökar ständigt i antal. Variationen är stor och all världens kök finns representerade. Nu när burgare säljer som smör i solsken vill alla aktörer hoppa på tåget och göra sina egna burgare med inspiration från just sin egen matkultur.
Foodtrucken Kitchen On The Road serverar vanligtvis maträtter med inspiration från matkulturen i Chile, och har nu komponerat sin egna burgare. För 85 kronor får du en 200-gramsburgare med ost, saltgurka, coleslaw, limemajonnäs, jalapeños och salsa. Pommes frites ingår också i det priset.
Mängden mat du får måste berömmas, men tyvärr känns det som hela måltiden går efter devisen kvantitet framför kvalitet. Brödet är mer som en fralla än någonting annat och är ganska torr, samtidigt som köttet är för kompakt. Pommes fritesen är även de ganska tråkiga med en mjölig konsistens. Däremot uppskattar vi salsan och dippen som serveras till pommes fritesen. Även limemajonnäsen fungerar riktigt bra ihop med burgaren i övrigt och bidrar med en härligt syrlig smak.
Detta är kanske inget för en burgarnörd, men om du vill ha mycket mat till ett hyggligt pris kan Kitchen On The Road åtminstone vara ett hyggligt alternativ.
In English
Stockholm has its share of high-quality foodtrucks and nearly all of them have their own burger nowadays. The foodtruck Kitchen On The Road specializes in Chilean cuisine is no exception, and for 85 SEK you get a 200 gram burger with cheese, jalapeños, lime mayo, salsa and fries. Unfortunately the bun is quite stale and the patty is too compact. Thankfully we really like their dip sauce for the fries, and the lime mayo also gives the burger a fresh taste. If you're a burger connoisseur you don't have to pay any attention to their whereabouts, but if you stumble across them and want a large meal for a good price you could do worse than visiting their food truck.