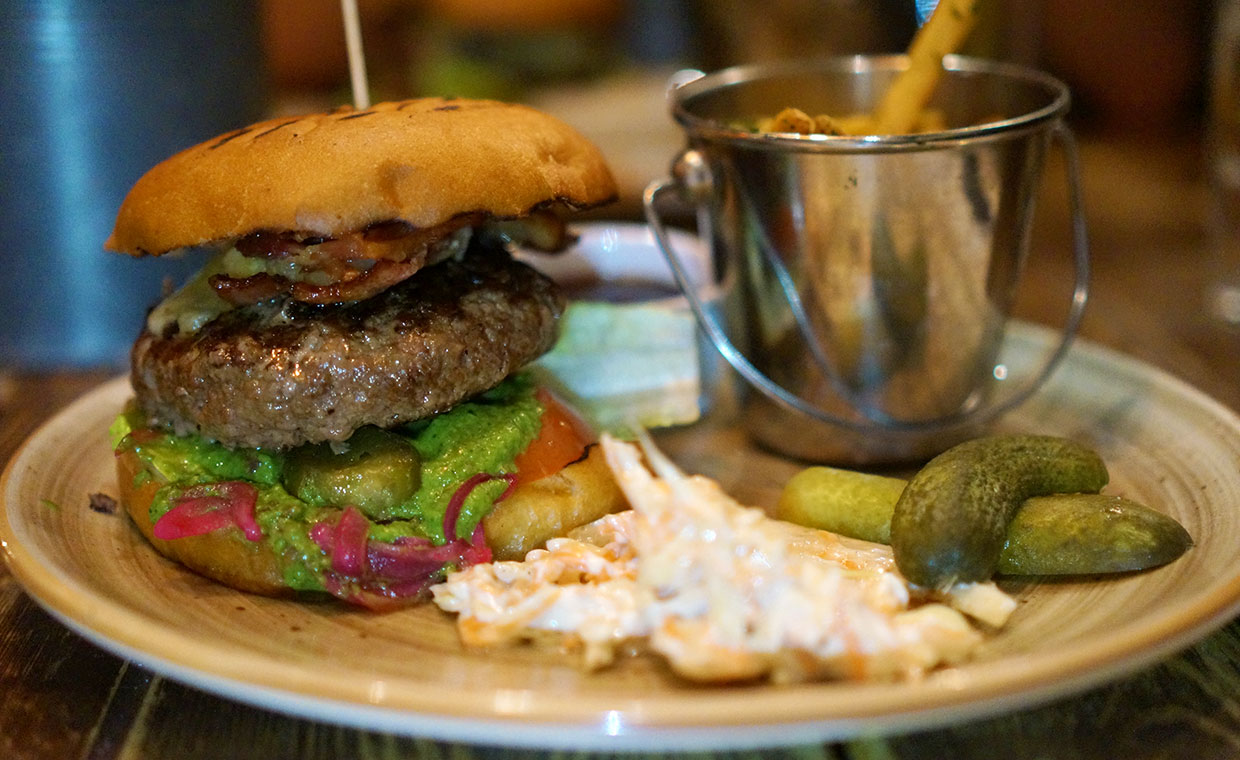 Köttmästarn ligger där Tegnérgatan korsar Drottninggatan i Stockholm, med en butik och restaurang som fokuserar på alla tänkbara köttdetaljer. De delar dessutom kök med den minst lika köttfokuserade restaurangen Grill, och det är faktiskt de som tillagar burgaren som finns på menyn. Det var kanske inte det klokaste beslutet, då själva burgaren håller mycket lägre klass än allt annat de serverar.
"Mästercheese"-burgaren kostar 185 kronor, och då ingår även pommes frites. Den rejäla hamburgaren består av 200 gram högrev, cheddarost, bacon, jalapeños, picklad rödlök och barbecusesås, och på pappret är detta en riktig succéburgare. Det vattnades verkligen i munnen när vi beställde den – mediumstekt enligt servitörens löfte.
Döm då av vår förvåning när hela sällskapet fick in burgare som var helt genomstekta. Recensionsburgaren skickades faktiskt tillbaka och kom ut mediumstekt efter en kort väntan. Köttsmaken var åtminstone klart godkänd då, men alla burgare led av ett torrt bröd som snabbt föll isär. Barbecuesåsen var alldeles för söt och tog över helt, så det var svårt att känna särskilt mycket annan smak. Pommes fritesen var dessutom för hårt friterade, vilket resulterade i att de hade en fet, krispig yta och i princip var ihåliga inuti.
Det känns riktigt tråkigt att Köttmästarn (och i förlängningen även Grill) mest har behandlat sin burgare som en eftertanke – som restauranger brukade göra förr i tiden – och inte har gett den samma kärlek som de andra kötträtterna på menyn har fått.
In English
Köttmästarn means "The Meat Master" in Swedish, and are located in the central parts of Stockholm. They share their kitchen with Grill – another classic meat restaurant – who cook the burgers for both restaurants. This was perhaps not an optimal choice. The first burger we were served was overcooked (the replacement burger was nicely medium at least) with a dry and crumbly bun and an overpoweringly sweet barbecue sauce. The french fries had been deep fried for too long, resulting in a hard shell with practically nothing on the inside. This felt more like a restaurant burger from another day and age than a masterfully created burger, and we were left disappointed – especially since the other meat dishes on their menu are excellent.