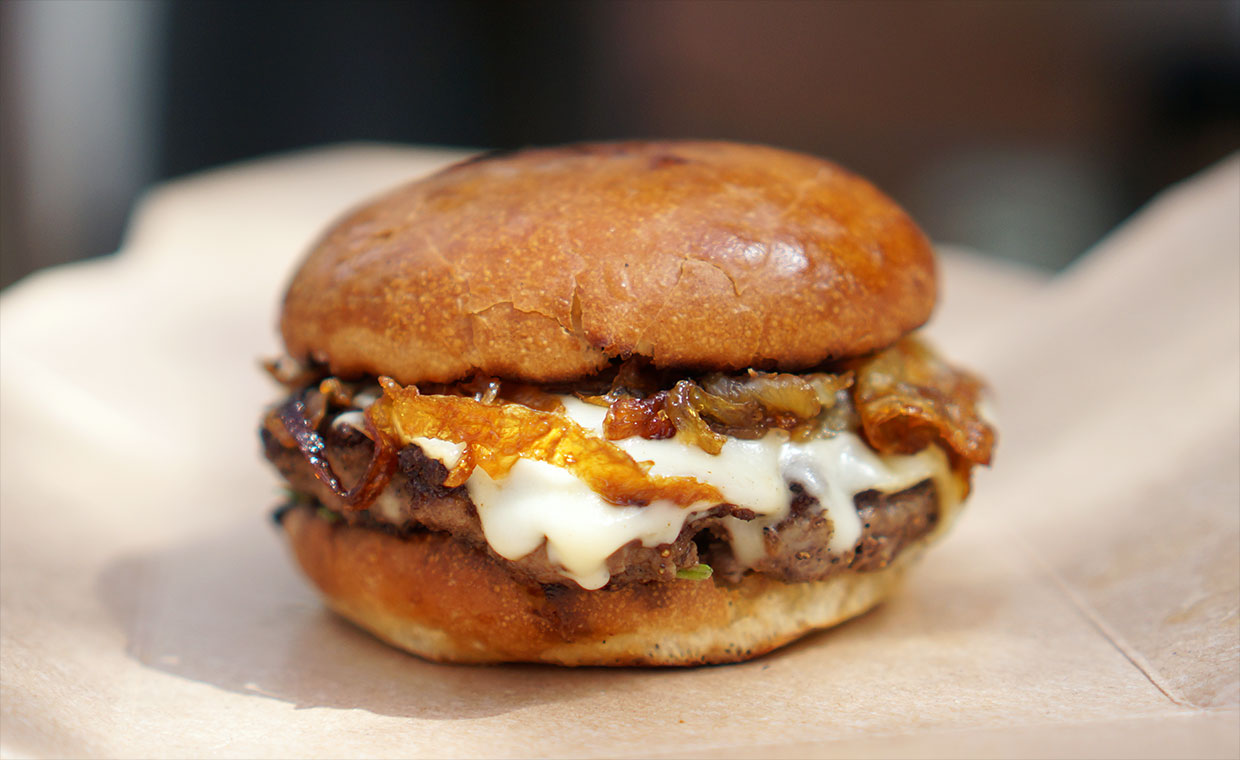 Via den numera nedlagda foodtrucken Two Buns & Meat i Göteborg, och en restaurang i Verbier i Schweiz (som fortfarande har öppet delar av året) har nu gänget bakom Le Shed kommit till Humlegården i Stockholm för att köra en popup-restaruang under sommaren 2017.
Burgarna har sett ungefär likadana ut sen foodtruck-dagarna, men en ny stad innebär alltid en inkörningsperiod. Med briochebröd efter eget recept från Bakery & Spice, färskmalt högrevshjärta och ett par modiga smakval så känner de själva att de hittat rätt nu, och vi är benägna att hålla med.
Vi testade deras Greta med ost, friterad lök, "hemlig sås", deras egen barbecuesåsliknande ketchup och ruccolasallad. Från början körde de cheddarost på sina burgare, men vid vårt besök höll de på att byta till Svarta Sara istället – en ost med betydligt större personlighet. Det är flera tydliga smaker som tävlar om uppmärksamheten, men de går väl ihop och kompletterar varandra bra. Pommes fritesen var helt okej, och det finns lite olika toppings som lyfter upplevelsen ytterligare. Prismässigt ligger de i nivå med övriga burgarställen i city, och kostar mellan 125 för en enkel burgare och 145 kronor för en dubbel.
Vi rekommenderar att du passar på att testa Le Shed nästa gång du har vägarna förbi. De har öppet fram till i slutet av augusti 2017, och ryktet säger att det kan bli längre än så om sommaren och värmen håller i sig.
In English
After running the food truck Two Buns & Meat in Gothenburg and opening a restaurant in Verbier, Switzerland, the guys behind Le Shed have now arrived in Stockholm's in Humlegården park to run a popup restaurant all summer. They are passionate about burgers, and it shows. We tried the Greta with cheese, deep fried onions, "secret sauce", rocket salad and their own ketchup with a BBQ sauce flavour. The patty is made with chuck eye, the center part of the chuck roll. The Svarta Sara cheese has a lot of personality, and several of the toppings bring strong flavours, but they balance each other out in a good way. It's not a perfect burger, but it's tasty and well executed. They also offer some different sides, and fries with different toppings. Price-wise they are similar to other restaurants in the city area, costing 120-145 SEK. The popup will stay open at least until the end of August, so if you are in Stockholm this summer we recommend a visit.