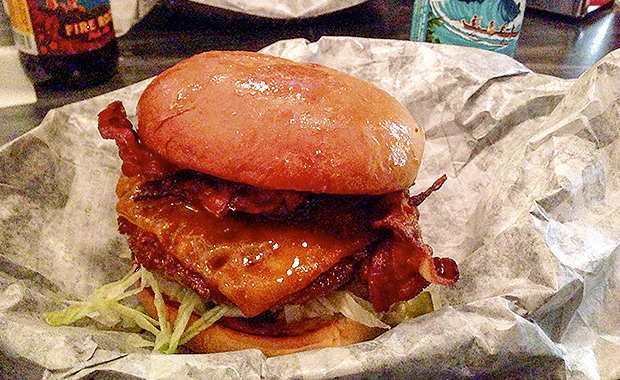 Lily's Burger är ett omtalat burgarhak, som sedan öppningen på Kungsholmen 2013 mottagit spretiga recensioner av sina hungriga besökare. Sedan öppningen har de expanderat med nya restauranger i både Stockholm och Örebro.
Vårt första intryck är ett lättsamt sådant, med sin väldigt kitschiga inredning i dinerstuk, breda utbud av klassiskt amerikanskt godis och ett spännande sortiment av öl. Den opretentiösa burgarmenyn består av fyra burgare som alla går att beställa i ett vegetariskt utförande eller med kycklingkött.
Originalburgaren är den vi gillar allra bäst, även om den är långt från perfekt. Burgaren innehåller mediumstekt nötkött, majonnäs, sallad, lök och saltgurka. Vi beställde burgaren med extra topping i form av bacon samt cheddarost, som kostade tio kronor styck.
Burgaren ger ett väldigt blandat intryck, inget är direkt dåligt men samtidigt undrar man "är det allt?". Köttet och brödet är lite torrt och burgaren har svårt att hålla samman under vår måltid. Tyvärr var pommes fritesen också tråkiga och påminde mer om gatukökspommes än om något annat.
Ett bra försök, men det finns många fler ställen i Sverige som är bättre.
In English
Tucked away in the recently built Hornsberg area in Stockholm lies Lily's Burger, who do their best to entice americana loving visitors with their diner interiors and varied beer list. The meal itself could do with a bit more love though. The original burger was slightly dry, but tasted perfectly fine. The fries were a disappointment though. All in all, Phil's Burger still reigns supreme in the Kungsholmen district.