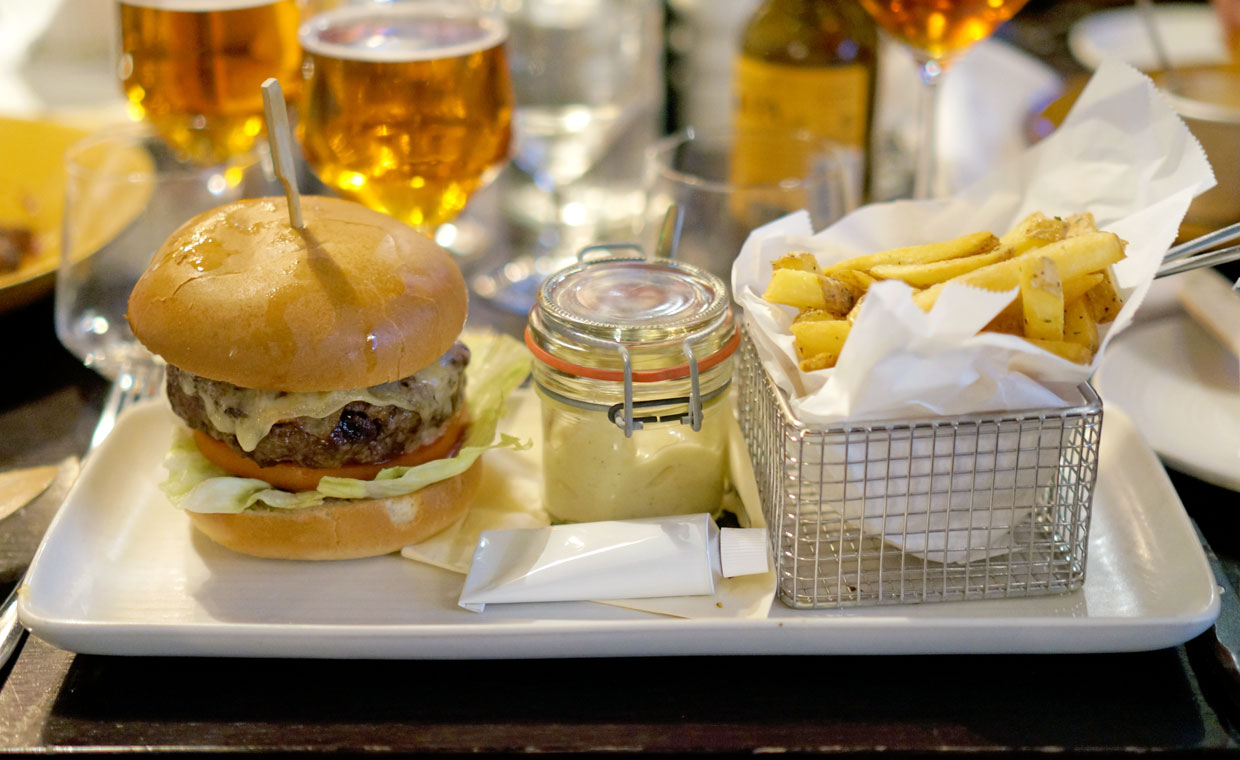 Restaurangen Nosh and Chow i Stockholm ligger inom krogsfären runt Stureplan, och deras kök erbjuder maträtter från världens alla hörn. Mitt bland örtbakad fjordlax, black angus-entrécôte och krämig gnocci hittar vi deras exklusiva burgare.
Till ett saftigt pris på 225 kronor får du en burgare som består av färskmalt högrev med äppelrökt bacon och gruyèreost tillsammans med pommes frites och en tillhörande tryffeldipp. Burgaren presenteras fint och allt verkade lovande, men en hög prislapp garanterar inte inte alltid en felfri burgare.
Det saftiga och medium rare-stekta köttet fint tillagat men den hade gärna ha fått kryddas lite mer för att framhäva smakerna. Dessutom borde brödet ha rostats aningen mer – särskilt underdelen som väldigt snabbt blev uppblött av alla köttsafter. De äppelrökta baconskivorna fick verkligen kämpa för att höja smakupplevelsen, men de var lite för anonyma.
Pommes fritesen var dock väldigt bra både när det gällde smak och konsistens. I slutändan önskar vi oss lite mer smak överlag, för det här hade varit en riktig succé om brödet hade fått lite mer kärlek och köttet hade kryddats bättre.
Om du vill unna dig en exklusiv burgare i Stockholm rekommenderar vi att du besöker Tweed, Oljebaren eller The Flying Elk istället.
In English
Nosh and Chow is located just around the corner from the never-tiring nightlife of Stockholm's Stureplan area. Their menu spans cousines from every corner of the world, and of course they serve a hamburger as well. The burger with freshly-ground chuck roll, gruyère cheese, applewood-smoked bacon and fries comes with quite a hefty price of 225 SEK. Unfortunately the burger has some basic issues; the medium-rare patty could have been more flavoursome and the bun should have been toasted a bit longer in order to cope better with all the meat juices. The fries and the truffle dipping sauce was a delight though, and overall we're pretty happy. But if you're willing to pay that much for a burger, there are better alternatives in Stockholm.