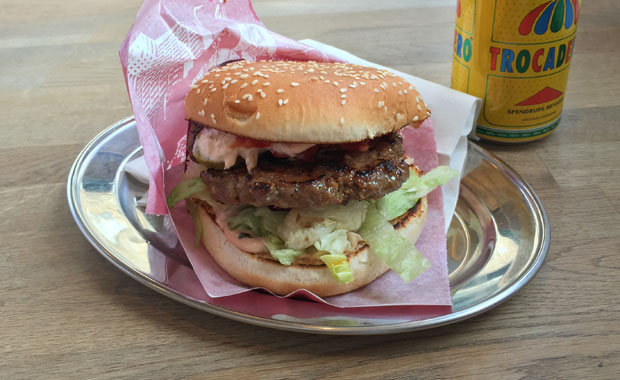 Vi brukar inte recensera vanliga gatukök här på Burgerdudes, främst på grund av att alla beståndsdelar brukar vara inköpta från grossister. Men efter att ha läst en häpnadsväckande positiv recension av Tullfritt Söders egengjorda hamburgare var vi tvungna att kolla upp dem, och när det visade sig att de gjorde egna köttpuckar hade vi inget annat val än att besöka dem.
Den lilla glaslokalen ligger mitt på Gullmarsplans torgområde, och det är deras hemgjorda hamburgare som gäller. Prismässigt ligger den bra till, och kostar endast 70 kronor med tillhörande läsk.
Tyvärr visade det sig att de inte maler sitt eget kött, och deras burgare består av köpt köttfärs som de själva kryddar och pressar till en burgare. Alla andra komponenter är förtillverkade. Salladen var kylskåpskall, brödet hade legat för länge på stekhällen och burgaren fullkomligen dröp av dressing, steppsallad och såser. Den egengjorda köttpucken smakade dessutom mest grillkrydda.
Som grillkäk är den hemgjorda burgaren från Tullfritt Söder helt okej, men det här är så långt ifrån en kvalitetsburgare man kan komma. Till och med E4-baren maler sitt eget kött, vilket åtminstone får ses som ett minimikrav om man inte har några andra kvalitetskomponenter.
In English
After hearing that Tullfritt Söder serve home-made burgers we had to give them a visit, but it turned out that they just use pre-ground mince meat to make their patties. All of the other components are bought from wholesalers, and the burger itself is only marginally better than what you get at any Swedish food stall. It may be cheap, but this is as far away from a gourmet burger as you can get.