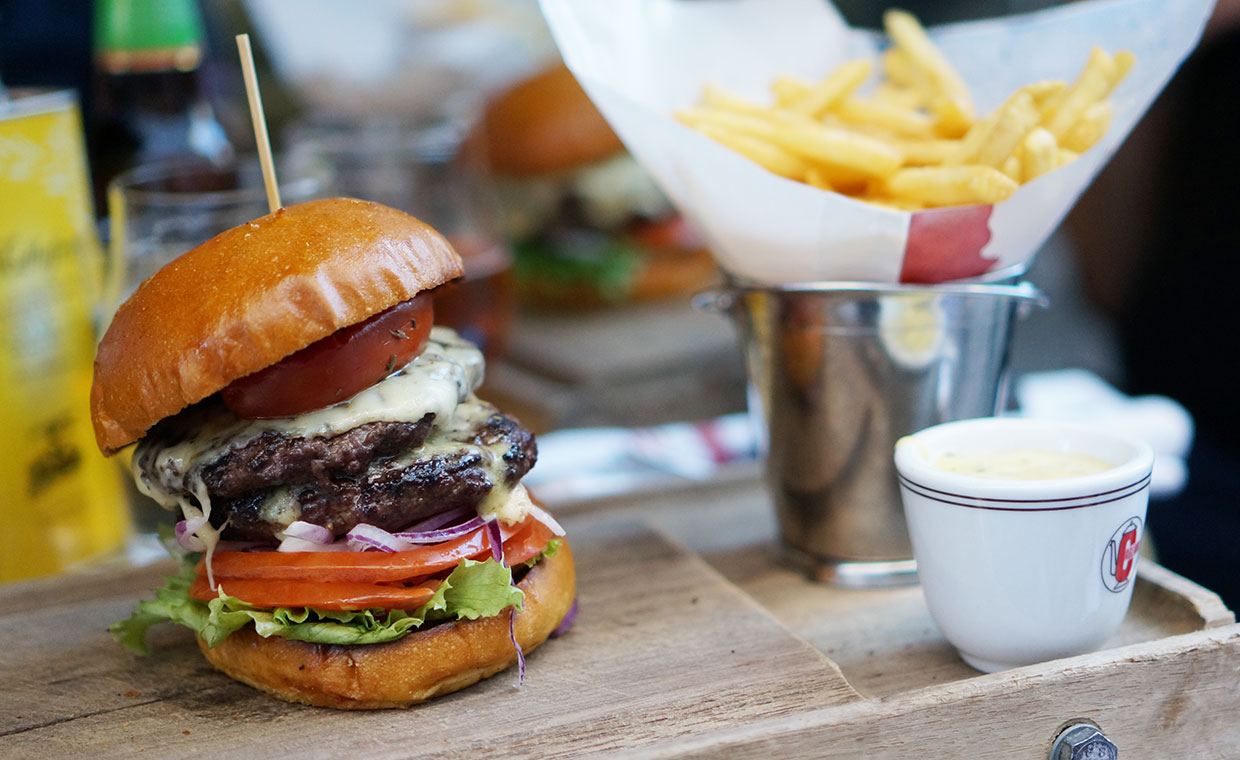 När vi besökte Zink Grill på Biblioteksgatan i Stockholm fanns endast en burgare på menyn, döpt till Forsburgare efter hockeylegenden Peter Forsberg, som tagit fram burgaren tillsammans med kökschefen och krogveteranen Peter Nordin.
Vi beställde in varsin burgare, och blev lite förvånade över att ingen frågade om vår önskade stekgrad. Skapelsen vi fick in var stor nog att mätta vilken hungrig hockeyspelare som helst, med dubbla köttpuckar på totalt 280 gram och tre olika typer av tomatskivor. Den innehöll dessutom ost, stekt lök, bacon och bearnaisesås, och serverades på ett vackert gult bröd av briochetyp. Köttet hade en bra grillsmak, men var lika kompakt som två hockeypuckar och segt som foppatofflor. Okej, vi överdriver kanske något, men faktum är att vi hade förväntat oss betydligt bättre kött från en restaurang som denna, särskilt med tanke på prislappen på 239 kronor.
De många ingredienserna gjorde dessutom burgaren svår att äta med händerna, vilket aldrig är positivt. Brödet som såg så lovande ut hade en ganska hård skorpa på ovansidan och var blött på insidan, och att deras "extrafina" pommes frites visade sig vara vanliga fryspommes med en generös dos salt var som att hälla ytterligare salt i såren.
Smakerna skvallrar om att de har använt bra råvaror, men att de har hanterats respektlöst. En gourmetprislapp ska innebära en matupplevelse, men tyvärr fick vi bara en alldeles vanlig burgare till ett högre än vanligt pris.
In English
Zink Grill is located on Biblioteksgatan in central Stockholm. The two patties at 140 grams each, three slices of tomato, cheese, bacon and béarnaise sauce made it hard to eat, but it will definitely fill you up. The meat has a nice grilled flavor, but it is cooked way too hard. The bun was beautiful, but the top was kind of dry and the bottom soggy. And their extra fine fries were ordinary store bought fries with too much salt. Everything tasted quite good, but it was way too ordinary and there were too many mistakes here to justify the 239 SEK price tag.