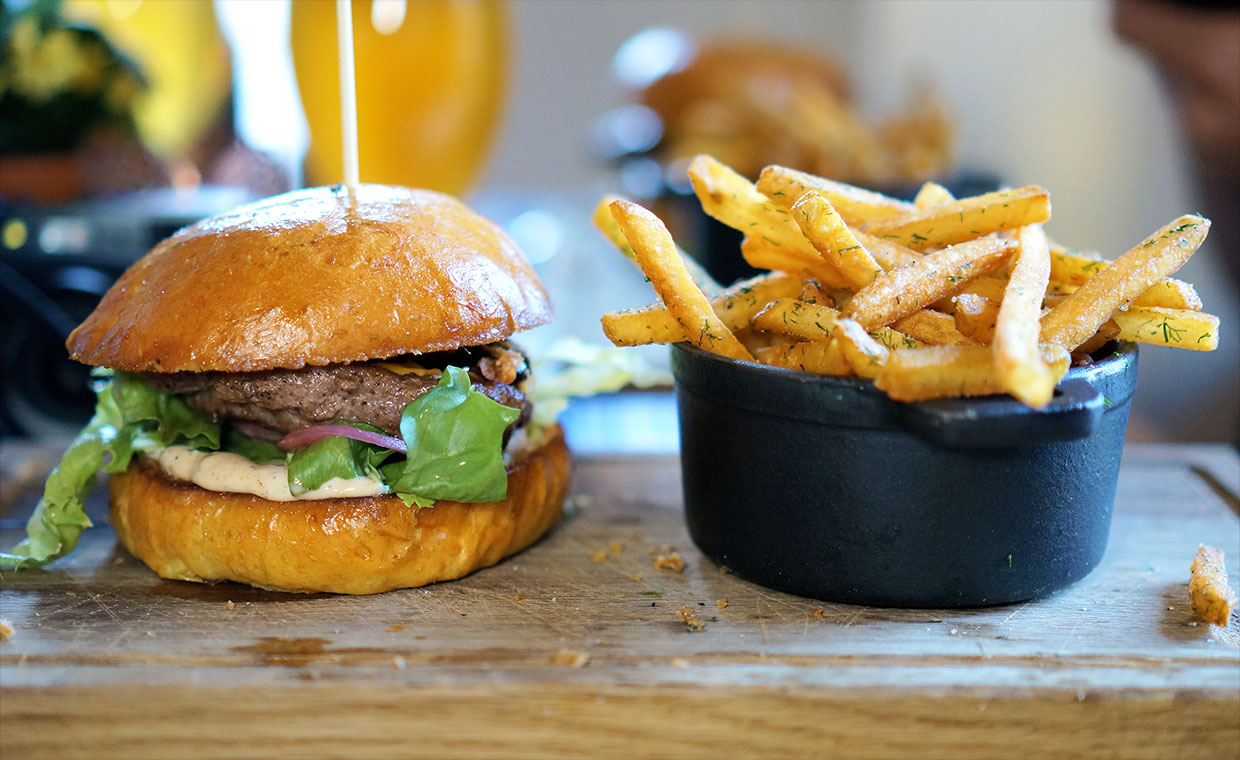 Ölbistron no. 50 är ett litet mysigt litet ställe på östra Södermalm i Stockholm som rätt uppenbart har fokuserat på god öl i en lite lugnare miljö. Den lilla lokalen har en uteservering som får sol hela dagen, och som passar perfekt för ett besök på sommaren.
Deras hamburgare går att få med en eller två köttpuckar, alternativt halloumi. Den serveras med sallad, tomat, picklad rödlök, rostad lök, barbecuesås och dressing, samt en portion dillkryddad pommes frites. Priset är 125 eller 155 kronor, beroende på storlek.
Inledningsvis så kändes det lovande, med ett fluffigt bröd och en bra blandning av smaker och texturer från den söta barbecuesåsen och de olika löksorterna. Men tyvärr så dröjde det inte länge förrän vi märkte att något inte stod helt rätt till. Det som förstörde upplevelsen var nämligen köttet som var segt på det där sättet som det alltid är när restaurangerna använder färdigformade fryspuckar. Kött som kan rivas isär som en bit kartong känns helt enkelt inte kul att äta.
Om Ölbistron no. 50 åtminstone lade ned samma engagemang på hamburgerköttet som de gjort med resten av burgaren så hade betyget inte varit underkänt, men som det är nu så rekommenderar vi egentligen endast ett besök för att testa deras trevliga ölutbud. En god hamburgare får du äta någon annanstans.
In English
Ölbistron no. 50 is a small beer-focused restaurant in Stockholm's Södermalm district. Their burger with ground chuck comes with a single or double patty, costing 125 or 155 SEK, and is served with dill seasoned fries. We initially liked the combination of flavours and textures from the fluffy bun, the sweet BBQ sauce, pickled red onion and roasted onions, but it quickly became clear that the meat wasn't up to par. It had that stiff and chewy texture that you get from preformed, frozen patties. It's never a good sign when you can rip the patty in two like a piece of cardboard. If they had given the meat the same level of attention as the rest of the burger we would easily have given them a thumbs up, but at the moment we'd only recommend a visit to try out their impressive beer selection. You'll have to find a better burger elsewhere, we're afraid.