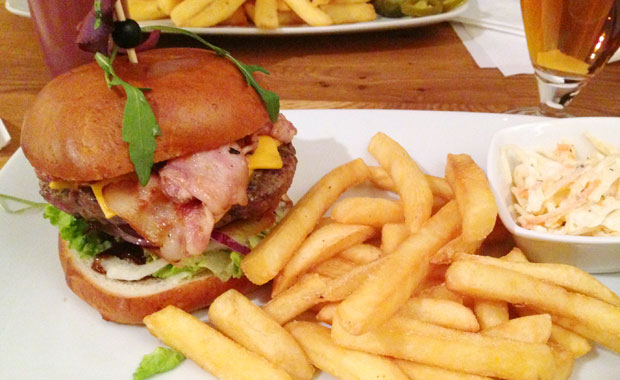 The Meating BBQ öppnade i augusti 2014 och ligger ett stenkast från Gullmarsplans myller, men lokalen var trots detta tom när vi kom förbi för en burgare. Det är synd med tanke på att Meating utan tvekan serverar den bästa hamburgaren du får i det här området (närmaste konkurrenten Tullfritt Söder har inget att komma med).
Ost- och baconburgaren vi fick in smakade gott, men det var snarare tillbehören som stack ut än själva köttet. Köttpucken var visserligen väl tilltagen, men köttet var hårt, kompakt och ganska smaklöst. Baconet och osten höjde dock upplevelsen med gott om smak, och att hamburgaren dessutom serverades med rödlök var en positiv touch. Tyvärr kändes det torra brödet dagsgammalt och serverades kallt, vilket gjorde oss besvikna.
De rejäla pommes fritesen var välsmakande och hade både ett krispigt yttre och ett krämigt inre med helt rätt friteringslängd. Barbecuesåsen var dessutom väldigt smakrik, och att jalapeños serverades med pommes fritesen var ett stort plus.
98 kronor för en burgare med pommes frites är rätt bra valuta för pengarna, men trots detta lämnade upplevelsen en del att önska på bröd- och köttfronten. Vi hoppas att detta åtgärdas snarast.
In English
The Meating BBQ's burger is quite tasty, but sadly the meat and the bread are the least enjoyable parts. The bun was served cold and felt a little hard and the meat was cooked all the way through. Thankfully the toppings – such as the yummy cheese and bacon – lift this burger. The fries were good, and the jalapeño and barbecue sauce were a real treat. We just hope that they'd step their patty and bun game up.