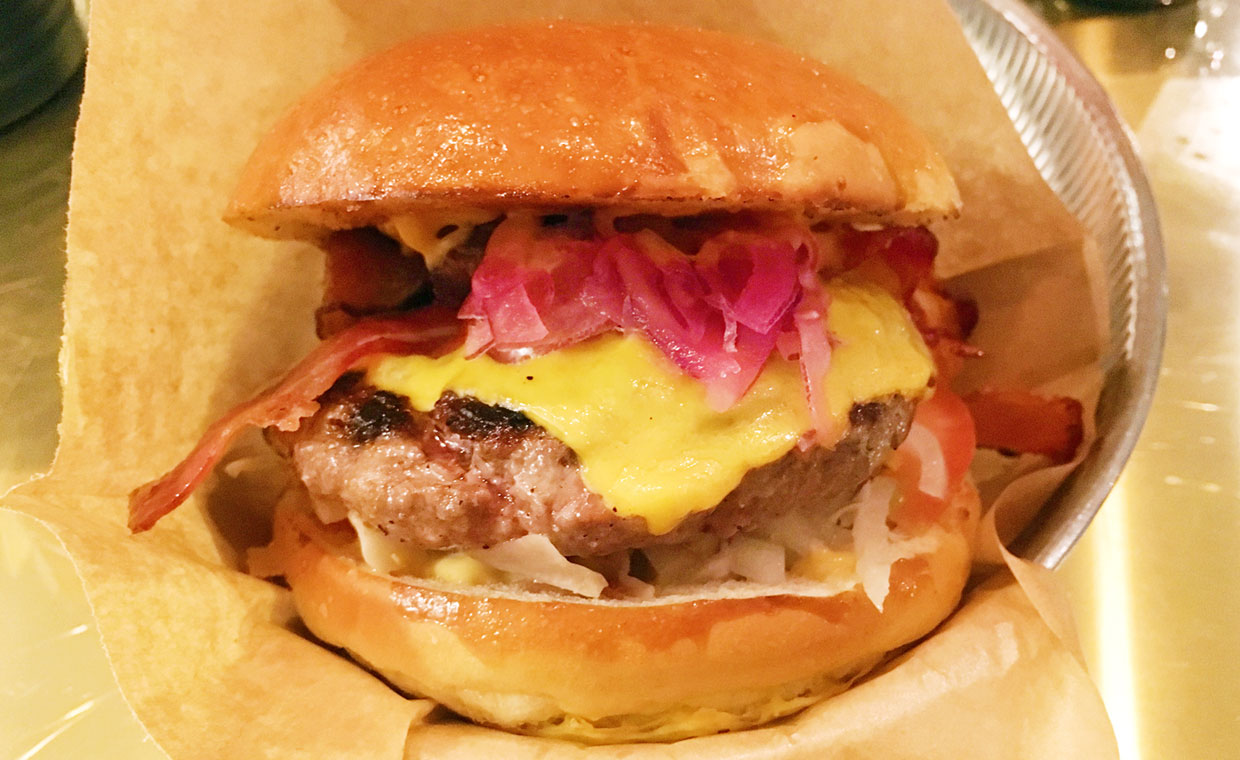 Uppdatering, februari 2018: Ben & Sam's har nu stängt för gott.
Vasastan har länge varit ett av de allra bästa områdena att besöka om man söker efter en bra burgare i Stockholm. Detta medför att konkurrensen här är stenhård, och därför blev vi nyfikna när Ben & Sam's öppnade sin restaurang ett ynka stenkast bort från högkvalitativa burgarhak som Flippin' Burgers och Franky's.
Den nyrenoverade lokalen har en stilren och välplanerad inredning som påminner om ett charkuteri. Vi fick snabbt beställa vår mat och vårt val föll på deras bacon- och ostburgare – en "Ben n' Sam" för 115 SEK.
Burgaren presenterades väl i en pappersficka och hade bra proportioner för att ätas med händerna. Brödet, som bakas av ett litet bageri från Kungsholmen, var härligt fluffigt och penslat med fett. Köttet var stekt medium-rare med en fin yta, saftighet och köttsmak. Den syrade rödlöken, osten och dressingen samarbetade väl tillsammans.
Det enda riktiga misstaget med burgaren var att den råa löken under köttet var alldeles för kall jämfört med resten av ingredienserna. Detta är en liten detalj, men den drar tyvärr ner helhetsintrycket något.
Men med det sagt serverar Ben & Sam's riktigt bra burgare, och vi tycker de är ett roligt tillskott till den ständigt växande burgarscenen i Stockholm.
In English
Vasastan is maybe the best area to visit in Stockholm when you are looking for good burgers. Here you'll find great burger joints as Flippin' Burgers and Franky's which of course makes the competition fierce. Ben & Sam's had the courage to open their business in the area and we were immediately intrigued. We tried their bacon and cheese burger for 115 SEK. The bun was fluffy with good texture and the patty was cooked medium-rare with an nice crust. The bacon, pickled red onion, cheese and dressing complemented each other nicely. Our only complaint was that the raw onion under the patty was way too cold, and unfortunately this ruined the overall impression somewhat. But other than this small misstake they served a really good burger and we think this is a really nice addition to the ever-growing burger scene in Stockholm.