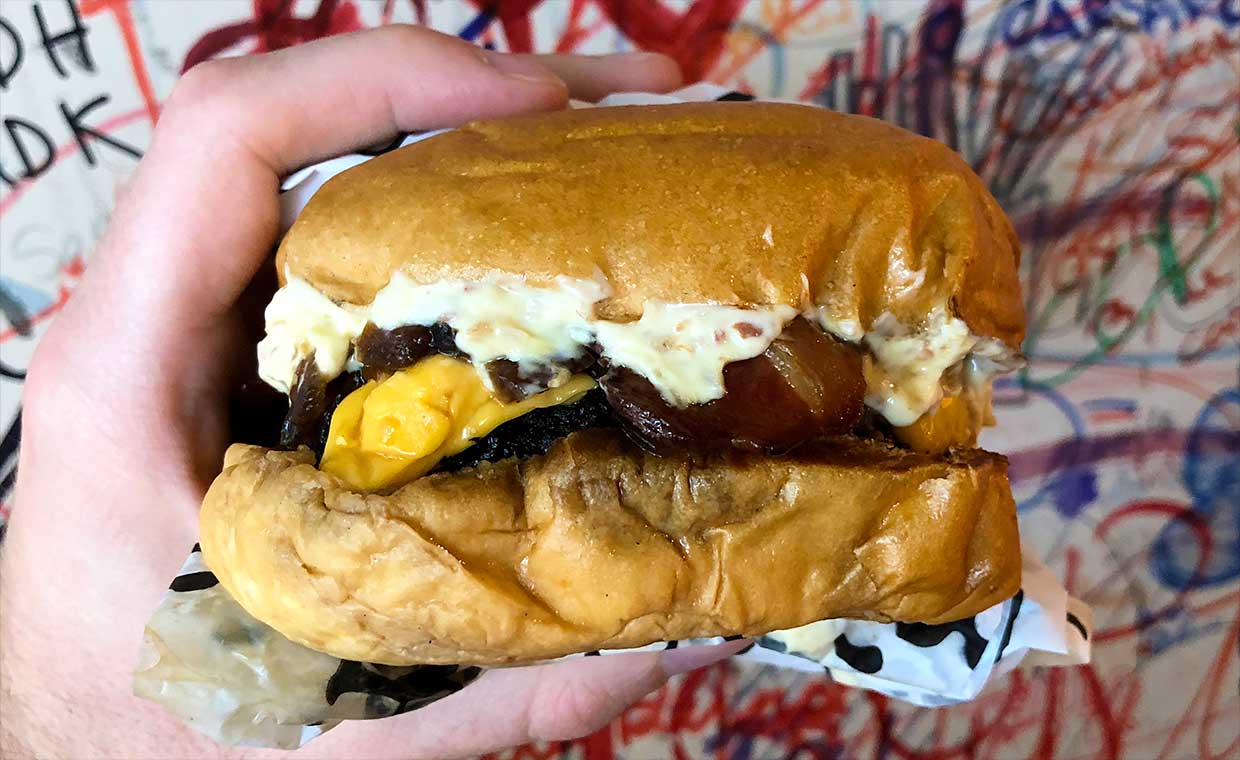 B, de Burger är en franchisekedja i Brasilien som just nu har restauranger i Rio de Janeiro och Brasília. Vi besökte deras restaurang i Ipanema i Rio de Janeiro, inte långt ifrån parken Praça General Osório.
Deras meny bestod av tio burgare som var prissatta från 36 upp till 47 reais (mellan 85-115 kronor), vilket är ett helt okej pris i staden. Vårt val av burgare blev signaturburgaren B, de Burger som innehöll cheddarost, baconmajonnäs och karamelliserad lök. Vid beställningen fick vi bestämma önskad stekgrad vilket naturligtvis uppskattas, och vi valde "ao ponto" – medium rare.
Burgarna på B, de Burger serverades invirade i papper, vilket gav en härlig och kladdig fastfood-känsla. Detta har dock konsekvenser för burgarna, då brödet var helt genomblött köttsafterna och majonnäsen redan från början. Köttet hade en fin rödrosa färg i mitten precis som vi beställde den, och smakade riktigt gott. Däremot upplevde vi att kanterna var något brända vilket förstörde en hel del av köttsmaken. Det största problemet var dock att löken som hade karamelliserats i mörk öl tog över alldeles för mycket rent smakmässigt, och var för söt för att samspela med resterna av smakerna.
Pommes fritesen med tillhörande wasabidipp var i alla fall oväntat god, med lagom sötma och godkänd hetta. Överlag serverar B, de Burger godkända burgare som med små medel hade kunnat nå riktigt högt.
In English
B, de Burger is a Brazilian burger franchise with restaurants in Rio de Janeiro and Brasília. We visited their Ipanema restaurant in Rio de Janeiro, not far from the Praça General Osório park.
Their menu consists of 10 burger, priced at 36 to 47 reais (about 10-13 USD), which is an alright price for Rio. We ordered their signature burger "B, de Burger" with cheddar, bacon mayo and caramelized onions. They asked us how we wanted our burger cooked, which is always appreciated, and we chose "ao ponto" – medium rare.
The burgers at B, de Burger were wrapped in paper, giving them a real fast food feel. However, this also meant that the bun was completely drenched in meat juices and mayo before our first bite. The patty was nice and pink in the middle, just like we ordered it, and tasted really nice. It was a bit burnt on the outside though. But the biggest problem was that the onions had been caramelized in dark beer, giving them an overpoweringly sweet taste that didn't complement the burger at all.
On the other hand, we liked the french fries with its wasabi dip that was both hot and sweet. Overall, B, de Burger serve pretty good burgers that would have been even better if they'd made more of an effort.