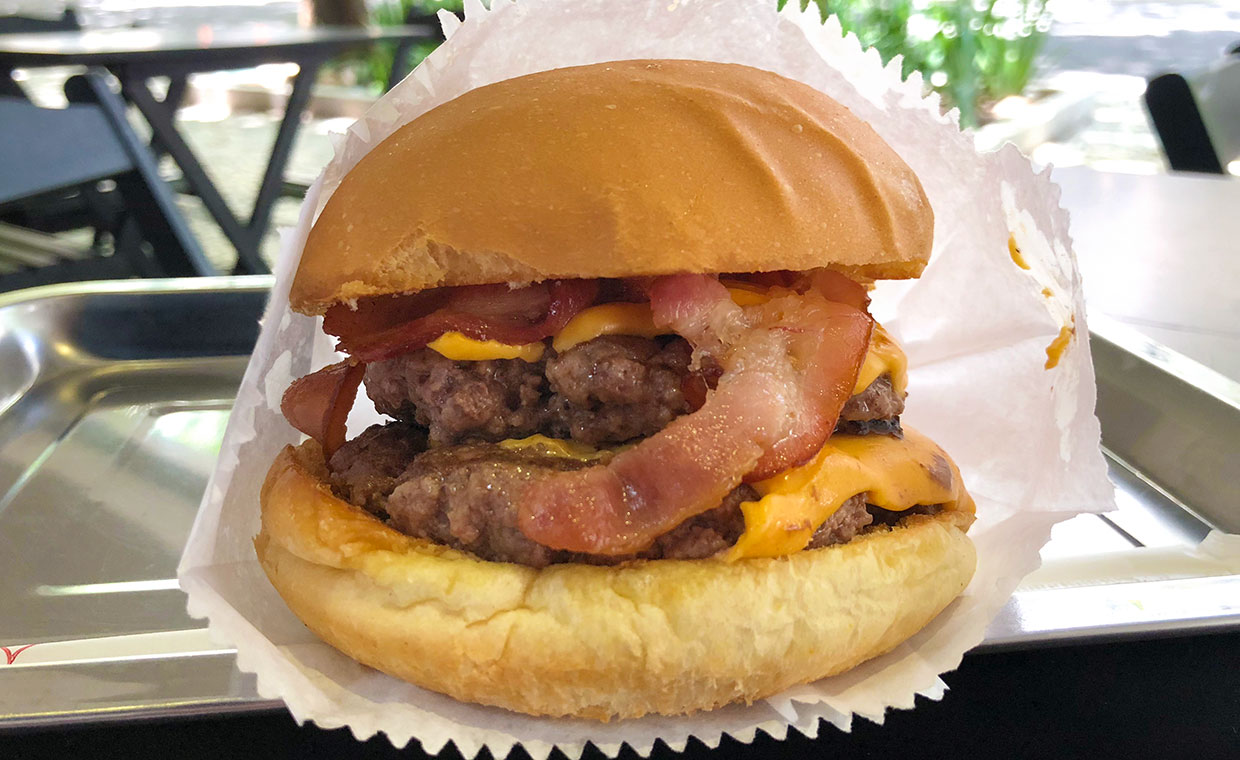 Burgers är ett nyöppnat burgarhak i Ipanema, Rio de Janeiro som enligt egen utsago levererar smashburgare med mottot "enkelt, ärligt och well done". Vi är, som många av våra trogna läsare vet, stora fans av smashtekniken som ger burgarna en härlig karamelliserad stekyta.
Deras meny var enkel, och vi beställde deras dubbla cheeseburgare med bacon för 32 reais (ca 80 SEK) tillsammans med pommes frites för ytterligare 12 reais (ca 30 SEK). Burgaren serverades i en pappersficka, med majonnäsen vid sidan om – en vanlig företeelse i Brasilien.
Vi reagerade ganska snabbt på att burgaren såg ganska blek ut, och köttet hade en gråaktig färg och saknade stekyta. När vi tog vårt första bett kunde vi konstatera att köttet var ganska torrt och saknade den där härliga krispiga stekytan vi längtade efter. Trots detta så hade köttet åtminstone kryddats väl, och hade en rejäl smak.
Brödet var lite för tuggigt med ett tunt skal som vittrade sönder, men var mjukt undertill och höll annars ihop bra. Baconet skulle ha mått väldigt bra av några sekunder till på stekbordet, och majonnäsen som serverades vid sidan hade smaksatts med en kryddblandning som vi inte riktigt gillade. När det kom till pommes fritesen så var de relativt intetsägande, och det enda påtagliga var den lite för starka vinägersmaken.
Ambitionen att servera en god burgare finns där hos Burgers – det märks tydligt på deras kommunikation – och trots alla slarvfel serverar de faktiskt en godkänd burgare. Vi får helt enkelt göra ett återbesök nästa gång vi är i Rio de Janeiro.
In English
Burgers is a newly opened burger joint in Rio de Janeiro's Ipanema district, serving smash burgers that they claim are "simple, honest and well done". As you probably know, we love the smash burger technique, since it gives the patty an amazing char.
We ordered a double cheeseburger from their short menu for 32 reais (about 9 USD) and a side order of french fries for 12 reais (about 3 USD). The burger was served in a paper pocket with mayo on the side – something we've become accustomed to in Brazilian burger places.
Our first impression was that the patty looked quite pale and grey, without any significant maillard reaction, and our first bite confirmed that the meat was pretty dry and soft. Thankfully, it tasted pretty great thanks to proper seasoning.
The bun was a bit chewy as well and had a thin, crumbly crust that thankfully gave way to a soft interior. The bacon was a bit undercooked as well, and we weren't too fond of how the mayo had been seasoned. The french fries were alright, but tasted a bit too much of vinegar for our tasting.
It's obvious from Burgers.' communication that they have their sight set on greatness, but at the end of the day they have just barely reached an acceptable quality. We'll see if they can manage to up their game next time we return to Rio de Janeiro.