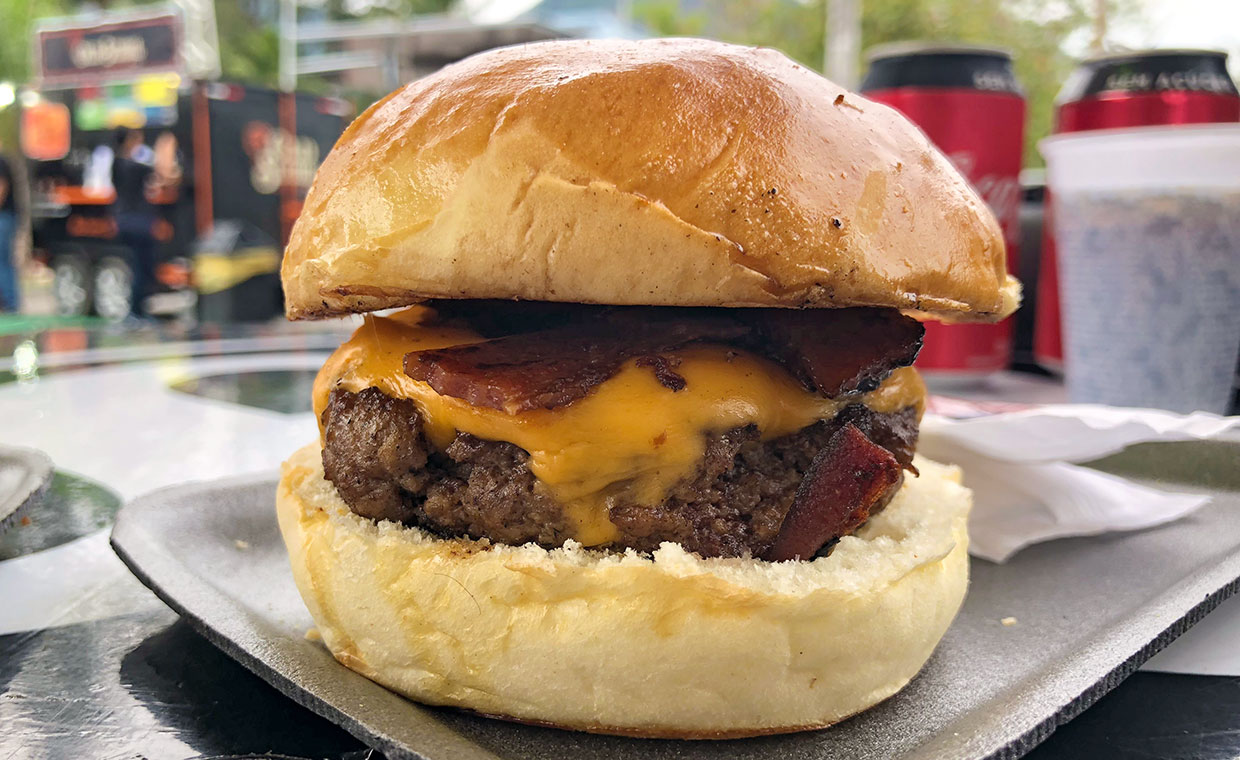 Burgueiros Insanos är ett brasilianskt burgarhak från Nova Iguaçu som frekvent besöker olika matmarknader i Rio de Janeiro under helgerna. Vi fick chansen att testa deras burgare på hipstermarknaden Babilônia Feira Hype, där de hade tre burgare på menyn.
Vi valde en klassisk cheeseburgare med extra bacon för det förmånliga priset 23 reais (ungefär 55 SEK). Burgaren serverades härligt opretentiöst på en papptallrik tillsammans med en liten plastkopp med majonnäs, vilket kan ses som standard i Brasilien.
Redan vid första anblick oroade vi oss för att den skulle vara väldigt torr, och detta visade sig tyvärr vara sant. Detta gällde särskilt den hårt packade köttpucken på 180 gram. Baconet var dessvärre också torrt, och kan nog lämpligast beskrivas som sönderstekt. Den ensamma ostskivan utförde inte något mirakel, och inte heller majonnäsen kunde rädda vår måltid.
Det bästa på burgaren var brödet som faktiskt hade rostats fint. Det kändes tillräckligt följsamt för att vara bekväm i handen, men det var tyvärr det enda som vi tyckte var bra med Burgueiros Insanos burgare. Det var billigt men inte prisvärt – ibland får man helt enkelt vad man betalar för.
In English
Burgueiros Insanos is a Brazilian burger joint from Nova Iguaçu that frequently visit different food markets in Rio de Janeiro during the weekends. We visited them at the hipster market Babilônia Feira Hype, where they had three burgers on the menu.
We ordered a classic cheeseburger with extra bacon for just 23 reais (about 6 USD). It came served on a paper plate with mayonnaise in a small plastic cup – which is normal in Brazil.
But we could immediately see that it looked really dry, and our first bite confirmed this. The compact 6 oz patty was super dry, and the bacon was completely overcooked. The lone cheese slice couldn't perform any miracles, and the mayo wasn't able to rescue our meal either.
The best thing with the burger was the bun, which was nicely toasted and felt great to hold. But that was the only really good thing about Burgueiros Insanos' burgers. That and the price, we guess. Sometimes you get what you pay for.