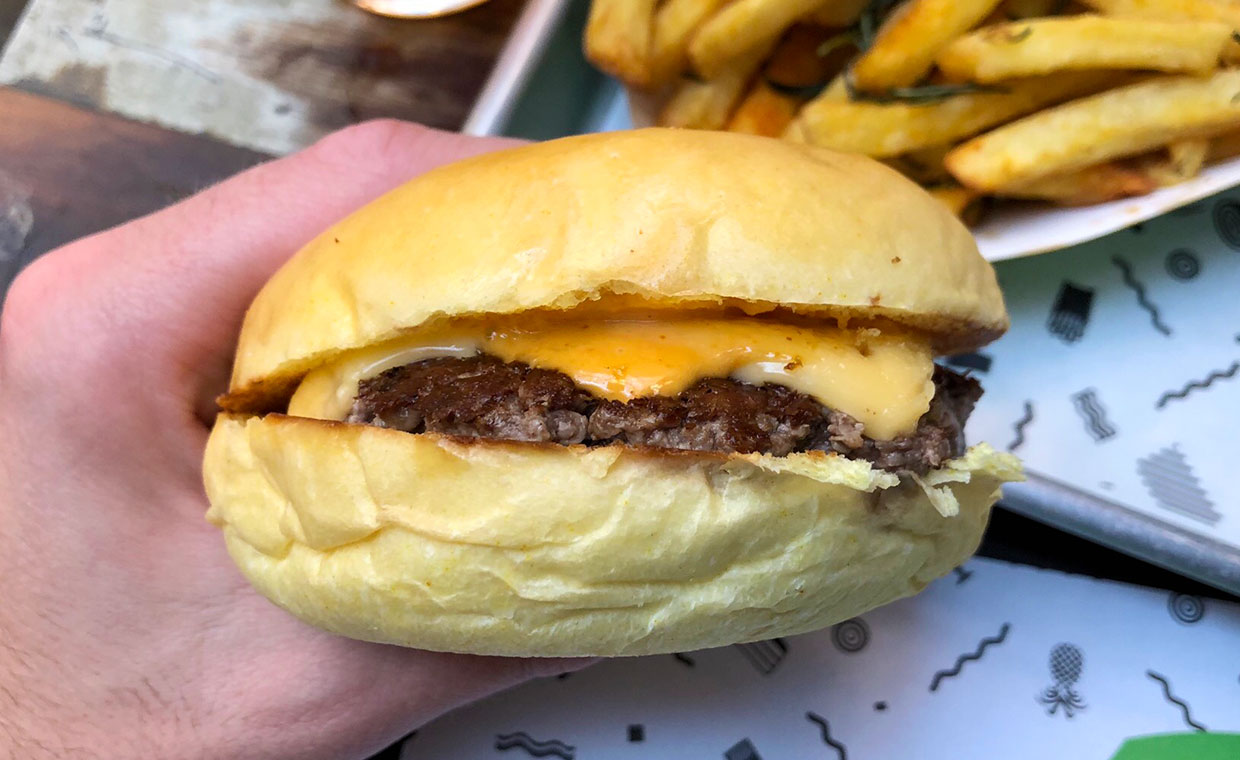 På exklusiva Rua Oscar Freire i centrala São Paulo har burgarkedjan Cabana Burger en av sina restauranger. Deras koncept kan enklast liknas med Shake Shack; det vill säga en mix av gourmet- och snabbmatsburgare.
Deras meny var gedigen och hade bra alternativ både för köttälskare och vegetarianer. Vi beställde deras spartanska PCQ-burgare med cheddarost och deras egen Cabana-sås för motsvarande 45 kronor, tillsammans med deras rosmarinkryddade pommes frites för ytterligare 22 kronor.
Burgaren som serverades på vårt bord var en rejält fluffig skapelse. Brödet var supermjukt och härligt, samt fint rostat. Den smashade pucken på Anguskött hade ett rosa inre, en fin saftighet och en bra smak. Bröd-mot-köttration var lite obalanserad, men det kan lätt åtgärdas genom att beställa en dubbelburgare istället för en singel. Även deras pommes frites var riktigt goda med en fin krispighet och tillfredsställande konsistens.
Det enda vi kan anmärka på är att burgaren nästan var för mjuk och fluffig för sitt eget bästa; det skulle behövas något mer som tillförde textur. Men med sagt var detta en höjdarburgare, och om du någonsin befinner dig i São Paulo eller Rio de Janiero är Cabana Burger ett givet besök.
In English
We visited Cabana Burger's restaurant at the exclusive Oscar Freire street in central São Paulo. The vibe and concept feels a lot like Shake Shack and we felt at home right away. We tried their PCQ burger with cheddar cheese and their own Cabana sauce. The bun was fluffy and was roasted nicely. The smashed patty of Angus meat had a good taste and a nice pink center. The bun and patty ratio was a bit off, but that can easily be corrected by ordering a double burger instead of a single one. Their rosemary fries was equally great. If we are gonna nitpick we would like the burgers to have some more texture, now it's a bit too fluffy and soft. But with that said, if you ever are in São Paulo or Rio de Janiero Cabana Burger is a must-visit.