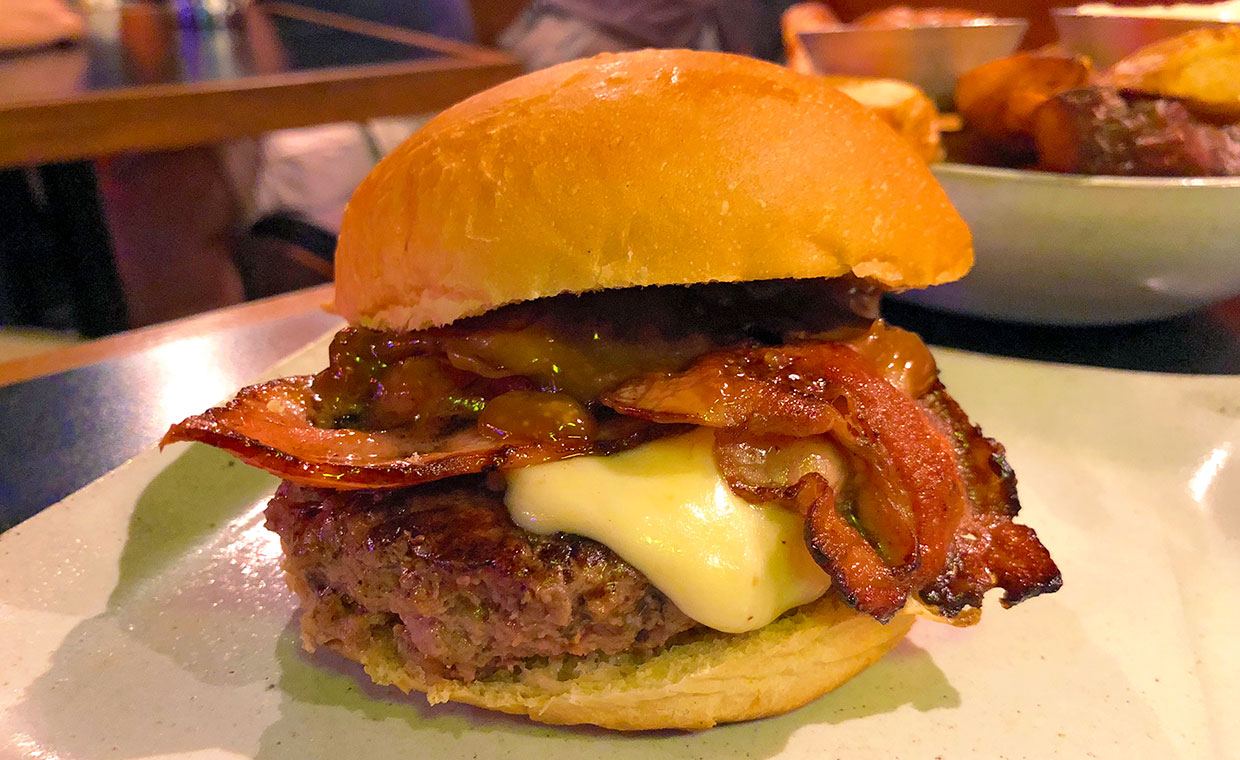 Caverna är en trendig bar i Rio de Janeiros hippa Botafogo-distrikt. Här spelas hög punkrock, och väggarna är fyllda med populärkulturella affischer och memorabilia. Det är helt enkelt ett riktigt coolt ställe, och vi kände snabbt att vi ville hänga kvar här en bra stund.
Men vi var såklart där för deras burgare i första hand, och de har enbart en burgare på menyn, som ändras veckovis. Burgaren kostar 30 reais (ungefär 70 SEK), och går även att beställa som vegetarisk. När vi var där hade de en burgare med ost, karamelliserad balsamico och bacon vilket lät som en riktigt hit på pappret.
Burgaren var en rejäl bjässe, men så fort vi tog upp den så kände vi hur stel burgaren var. Köttet såg riktigt kompakt ut, och brödet var inte alls följsamt. Det kändes helt enkelt som att vi höll i en stor kloss, och när vi väl började äta så kände vi hur torrt allt var. Och trots torrheten så blöttes ändå bottenbrödet ner av köttsafterna, vilket gjorde måltiden väldigt komplicerad att äta. Den stora skålen med tjocka pommes frites som vi beställde till för 28 reais (cirka 65 SEK) var god, men påminde mer om klyftpotatis än pommes frites.
Sammanfattningsvis kan vi tyvärr inte rekommendera burgaren på Caverna alls. Men vi rekommenderar ändå ett besök för stämningen och deras goda egenproducerade öl.
In English
Caverna is a trendy bar in Rio de Janeiro's hip Botafogo area. They play loud punk music, and the walls are covered with pop-culture posters and memorabilia. Simply put, the place is really cool, and we immediately looked forward to spending a lot of time here.
But first, burgers! They only have one burger on the menu, and it changes every week. It costs 30 reais (appx 8 USD) and you can choose between a meat patty and a vegetarian option. Our burger has cheese, caramelised balsamico and bacon, which sounded really great.
The burger was a real beast, but it was also very rigid. The patty was super compact, and the bun was pretty hard. The dryness was apparent from the first bite, but despite this the bottom bun still managed to get soaked by the meat juices. The large bowl of thick french fries for 28 reais (appx 6 USD) tasted good though.
It's difficult to recommend the burger at Caverna, but we're still looking forward to returning to soak up the great atmosphere and sample their tasty and homebrewed beers.