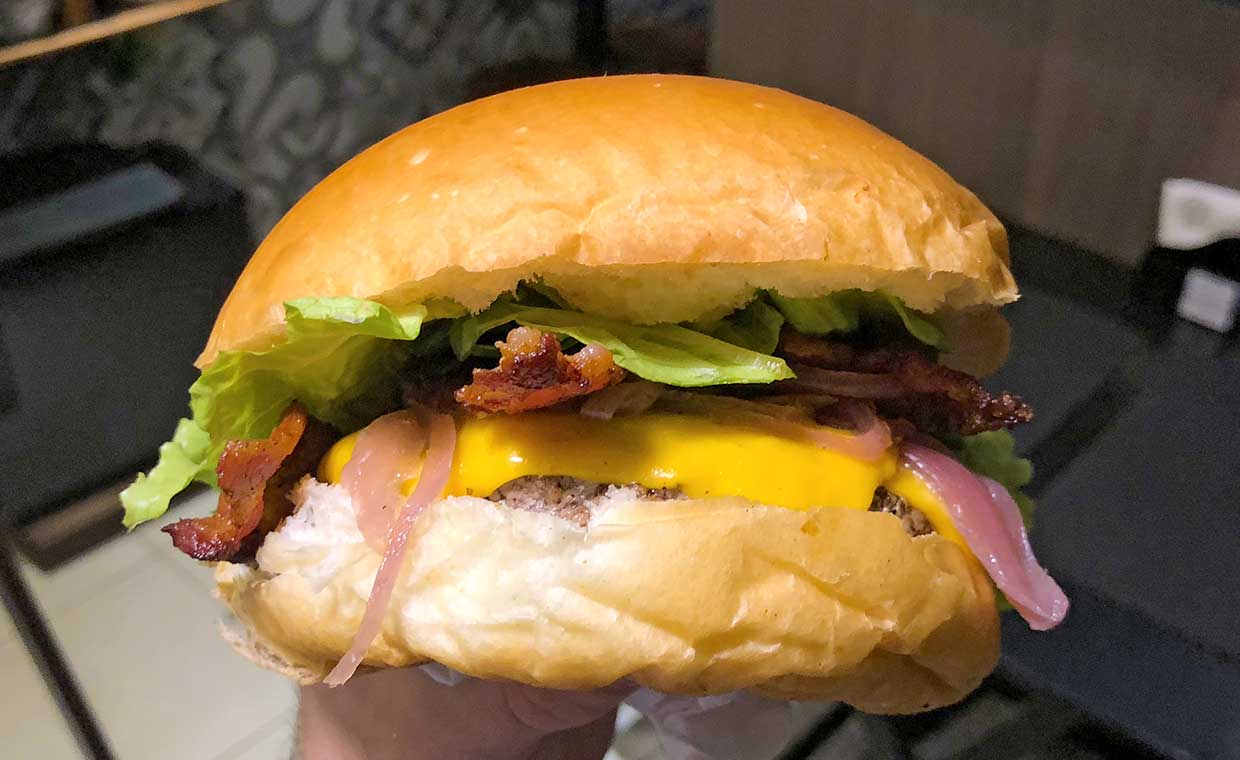 Djalma Burger Bistrô är ett litet burgarhak i Rio de Janeiros stadsdel Copacabana, och ligger ett frisbeekast bort från den världskända stranden med samma namn. Deras lokal är enkel, och deras burgare är generöst prissatta för runt 30 reais (ca 75 SEK) och uppåt.
Vi valde att testa deras 163 burger med en köttpuck gjord på 210 gram anguskött, med cheddarost, karamelliserad lök, bacon, sallad och majonnäs. Detta tillsammans med pommes frites och en läsk kostade totalt 44 reais (ca 100 SEK).
Burgaren serverades fint på en träbricka, och såg ganska fin ut trots att brödet vara alldeles för stort. Den alltid viktiga första tuggan avslöjade att detta var en helt okej burgare, men att den även led av ganska stora problem. Köttet var ganska hårt packat, men hade som tur var en god smak. Baconet däremot var nästintill sönderstekt och stenhårt. Det orostade bottenbrödet klarade inte av att hantera vare sig köttet, majonnäsen eller den intetsägande karamelliserade löken. Detta resulterade därför i ett väldigt blött och kladdigt bröd. Pommes fritesen var kryddade med oregano, och trots att det var kul att de experimenterade lite så tyckte vi inte att det passade särskilt bra till burgarens andra smaker.
Tyvärr var det för många och för stora fel för att vi ska godkänna burgarna hos Djalma Burger Bistrô. Det är synd, för de har ett guldläge, trevlig personal och en bra prissättning. Men i slutändan är det alltid burgaren som räknas.
In English
Djalma Burger Bistrô is a small burger joint in Rio de Janeiros' Copacabana district, located a frisbee throw away from the famous beach. This unassuming restaurant sells reasonably priced burgers, from 30 reais (about 7 USD) and up. We ordered their 163 burger with an 8 oz angus patty, cheddar, caramelised onions, bacon, lettuce and mayo, costing 44 reais (10 USD) with fries and a soft drink.
The burger came nicely served on a wooden tray, and despite the oversized bun it looked quite good. The oh-so-important first bite revealed a burger that ticked most of the boxes, but revealed several problems. The patty was overworked and chewy, but thankfully tasted pretty good. However, the bacon was hard and almost burnt, and the bottom bun hadn't been toasted – turning it into a soggy mess from the meat juices and the caramelised onions. The fries had been seasoned with oregano, and even though we always appreciate an adventurous touch, the flavours didn't work that well together with the burger.
Djalma Burger Bistrô made a few mistakes too many for us to recommend them. It's a pity, since the location, staff and pricing is excellent. But at the end of the day, it's the burger that matters the most.