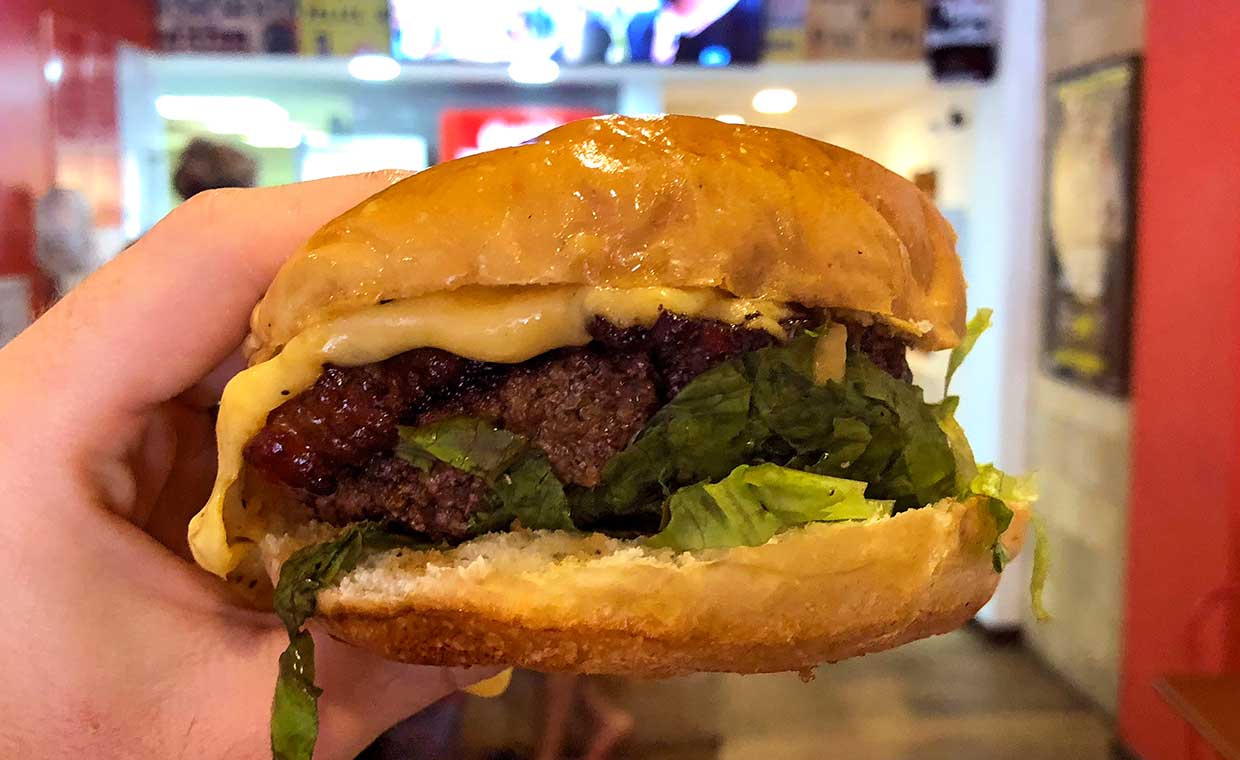 Famous Burger är en brasiliansk franchisekedja som har öppnat flertalet restauranger i Rio de Janeiro. En av deras grundare är den världskände MMA-fightern José Aldo Jr, som pryder många av deras väggar tillsammans med annan fightingrelaterad inredning.
Famous Burger har många fantasifulla burgare på menyn, men om du är något av en puritan så kommer det tyvärr att kännas som "finn ett fel" på samtliga burgare på grund av lustiga ingrediensval. Men lyckligtvis hittade vi en klassisk burgare kallad Dunk Burger, som innehöll en 200-gramsköttpuck, lök, sallad, pickles, tomat och ost för 26 reais (65 kronor). Vi valde att lägga till extra bacon för två reais (5 kronor).
Burgaren vi fick såg tyvärr riktigt ledsen ut, och vi kände redan innan första tuggan att detta inte skulle vara någon trevlig upplevelse. Brödet var galet flottigt och stekhett, och vi brände nästan fingrarna. Köttet var torrt och aningen bränt trots att vi hade beställt det medium, och den osmälta Queijo prato-osten låg som ett otäckt tjockt och tuggigt täcke över allting. Dessutom så var lökskivorna tjocka och dåligt utspridda, salladen var vissen och baconet påminde mest om kassler.
Det finns inte så mycket positivt att säga om burgarna på Famous Burger. Det enda sättet för att få oss att äta här igen skulle vara om en av grundarna hotade oss med stryk i en oktogon-ring, och vi hoppas att det inte händer av flera anledningar.
In English
Famous Burger is a Brazilian franchise with several restaurants in Rio de Janeiro. One of their founders is the world-renowned MMA fighter José Aldo Jr, whose face can be seen on their walls together with other fighting related decorations.
Famous Burger have many interesting menu choices, but most of them contain at least one ingredient that just doesn't fit in. Thankfully we found a classic option called the Dunk Burger, with a 200 gram patty, onions, lettuce, pickles, tomato and cheese for 26 reais (7 USD). We also ordered some bacon for 2 reais (50 cents).
Unfortunately the burger looked really sad and tired, right from the star, and we knew we were in for a bumpy ride. The bun was covered in grease and so hot that we almost burnt our fingers on it. The meat was dry and slightly burnt, despite us ordering it medium, and the unmelted Queijo prato cheese covered everything like a thick and chewy blanket. And to top it all off, the thickly sliced onions were haphazardly placed, the lettuce was soggy and the bacon was a chewy mess.
There aren't many positive things we can say about Famous Burger. The only way to get us to return would be if the founder threatened to beat us up in the Octagon, something we're hoping won't happen for several reasons.