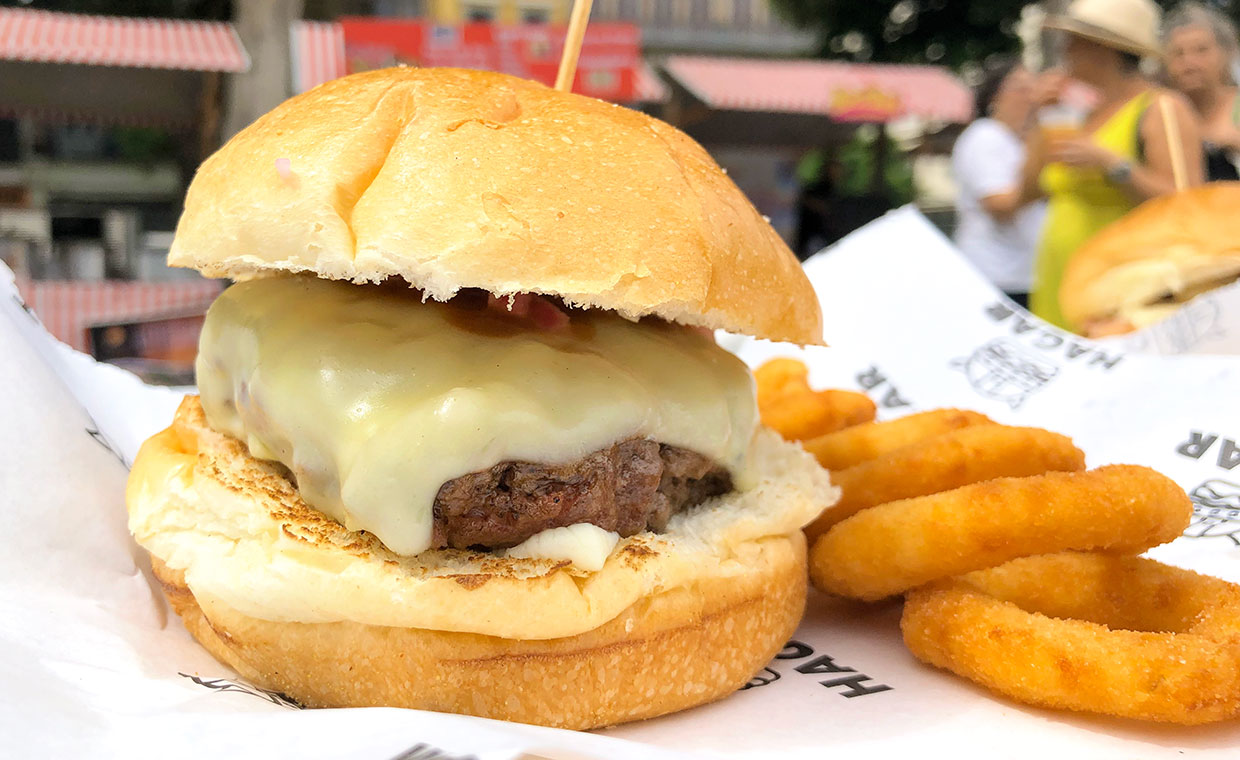 Hagar är ett turnerande burgarhak som slår upp sitt stekbord på olika matmarknader runt om i Rio de Janeiro. Med en enkel och generös prissättning fångade de vår uppmärksamhet. och vi beställde en cheeseburgare med bacon för endast 25 reais (cirka 60 SEK) samt en portion lökringar.
Burgaren vi serverades såg härligt fluffig ut, med ett spänstigt bröd och vackert smält mozzarellaost. Ovanför osten hittade vi även en klick barbecuesås tillsammans med picklad lök. Vi gillade den enkla presentationen av burgaren, även om vi tyckte att pinnen som genomborrade den var helt onödig.
Köttpucken på 180 gram var härligt lös och av hög kvalitet. Vi saknade dock den härligt krispiga stekytan från maillard-reaktionen som vi alltid tjatar om, och vi tyckte även att köttet saknade lite sälta. Brödet var faktiskt oväntat bra och lyckades hålla ihop burgaren exemplariskt under hela måltiden. Baconet, barbecuesåsen och den picklade löken var däremot rätt tama och tillförde tyvärr inte någon större smak eller balans till måltiden. Vi ger i alla fall tummen upp till lökringarna, som var fint krispiga med en rejäl löksmak.
Trots snedstegen så var vi faktiskt riktigt imponerade över burgarna som Hagar serverade, särskilt med tanke till den högst överkomliga prissättningen. De är väl värda att kollas in om du hittar dem nästa gång du är i Brasilien.
In English
Hagar is a touring burger stall who fry their burgers at markets in and around Rio de Janeiro. Their low prices caught our attention, and we ordered a cheeseburger with bacon for just 25 reais (about 7 USD), plus some onion rings.
The burger looked nice and fluffy, and had a bouncy bun and nicely melted mozarella cheese. On top of the cheese we also found some bbq sauce and pickled onions. We liked the simple presentation, but could have done without the unnecessary stick that skewered the burger from the top.
The 6 ounce patty was loosely ground, and of really high quality. But the maillard reaction was completely missing, som we could have done with a better char, and it was a bit underseasoned as well. The bun was sturdy enough to handle all of the ingredients, but still nice and soft, but we didn't really think that the bacon, bbq sauce or pickled onions did that much to make our meal better. However, we did like the crispy and really flavoursome onion rings.
Despite a few missteps, Hagar serve a nice burger – especially at that price point. They're well worth checking out if you find them at a market next time you're in Brazil.