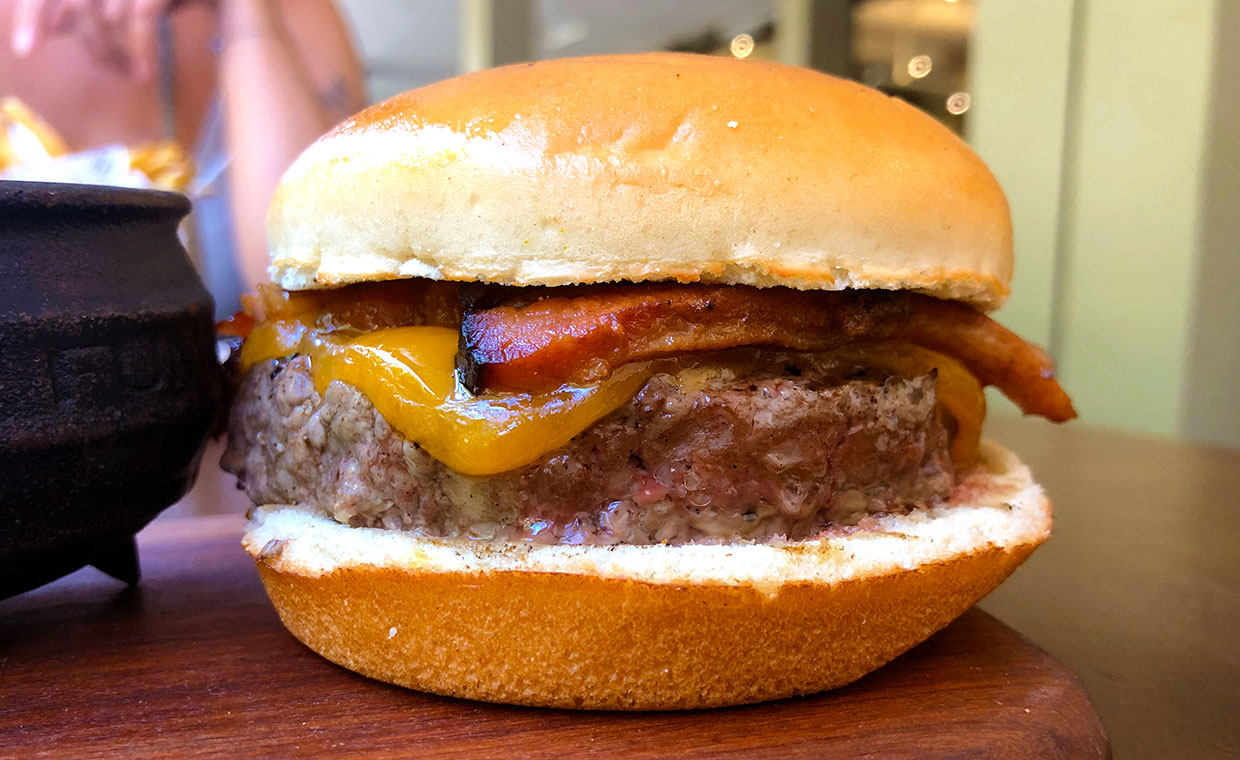 Heat Firehouse har stängt sin verksamhet.
Heat Firehouse är en relativt nyöppnad köttrestaurang i det lyxiga området Leblon i västra delen av Rio de Janeiro. Bakom restaurangen står den välkända restaurangkoncernen Grupo 14zero3, som äger flera högkvalitativa etablissemang runt om i staden.
På deras meny finns endast en burgare att välja på. Hometown Burger, som burgaren heter, är en väldigt enkel cheeseburgare med bröd, kött och lagrad cheddar. Priset för burgaren var högre än vad vi är vana vid i Rio de Janeiro och Brasilien, och kostade 39 reais (ca 95 SEK), och plus sex reais (ca 15 SEK) extra för bacon.
Burgaren serverades snyggt på en mörk träskiva tillsammans med pommes frites och dipp. Redan vid första anblick såg vi att burgaren var konstruerad med kärlek och den passade perfekt i våra händer. Köttet var fantastiskt löst och saftigt, även om det borde ha kryddats med lite mer salt och peppar. Som tur var så hjälpte den smakrika rökta baconskivan på denna front. Och det stadiga brödet gjorde ett utmärkt jobb med att hålla ihop allt, trots alla köttsafter. Pommes fritesen var också av riktigt hög kvalitet; krispiga och med mycket smak. Precis som de ska vara.
Heat Firehouse serverar utan tvekan den bästa burgaren vi har testat i Rio de Janeiro, och det är ett givet besök när du befinner dig i staden. Om de finjusterar kryddningen på köttet har de all potential att bli en riktig fullpoängare i framtiden.
In English
Heat Firehouse is a relatively new meat restaurant in the flashy Leblon district in west parts of Rio de Janeiro. The restaurant is backed by the renowned Grupo 14zero3, who own several upscale establishments throughout the city.
Their menu only has one burger, the Hometown Burger. It's an extremely downscaled cheeseburger with only a bun with meat and aged cheddar. It's priced higher than most burgers in Rio de Janeiro and Brazil, costing 39 reais (about 10 USD), plus 6 reais (about 1.5 USD) extra for some bacon.
The burger came served on a dark wood platter, with an order of french fries and some dip. We could immediately see that it was made with care and love, and it felt great in our hands. And the meat was amazingly soft and juicy, even though it could have done with a bit more salt and pepper. Thankfully our added smoked bacon helped out a bit on this department. The firm bun did a great job holding everything together, despite all the meat juices. The french fries were really tasty too, with a lot of flavours and a nice crispiness to them – just like we like it.
Heat Firehouse serve the best burger we've eaten in Rio de Janeiro, making them an obvious choice the next time you're in the city. And if they'd just perfect their seasoning we're sure that they'd be able to get full marks in the future.