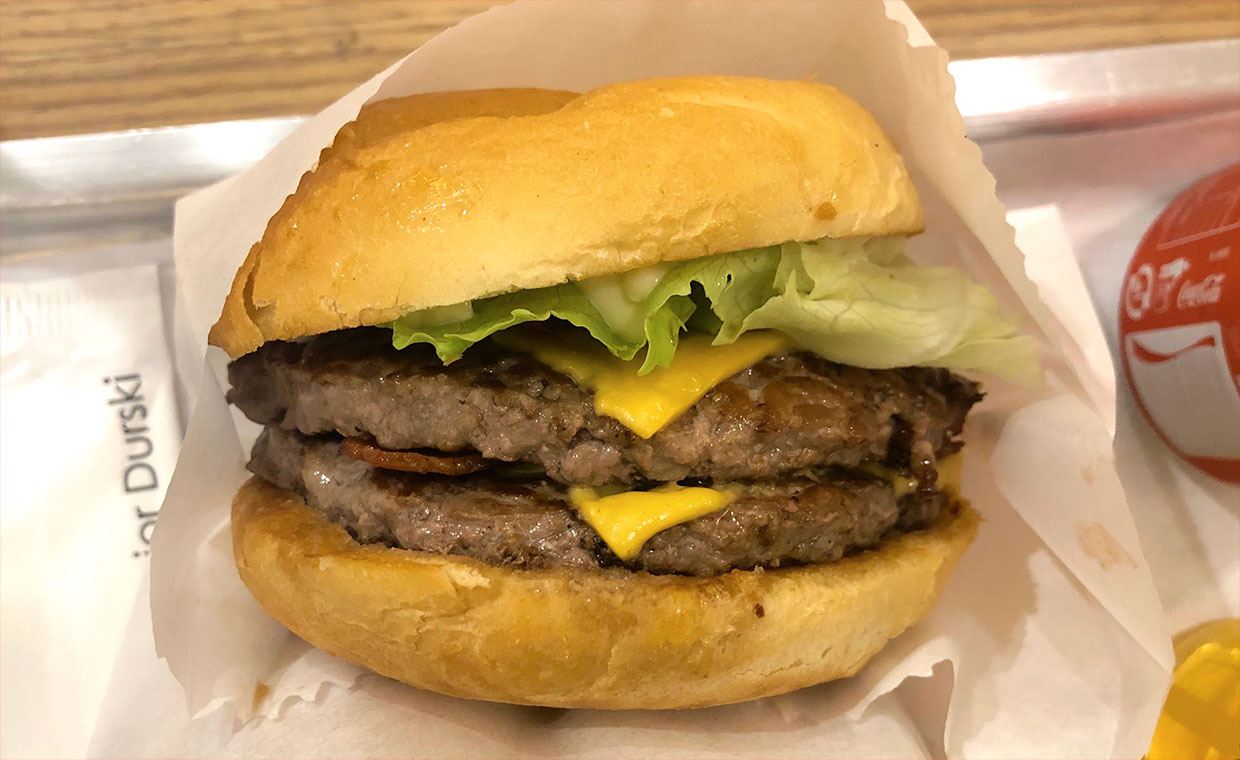 Jeronimo Burger är snabbmatsvarianten av Madero Steak House som finns på flera platser runt om i Brasilien. Vi besökte deras restaurang i köpcentrumet Casa Shopping i Barra da Tijuca – en förort till Rio de Janeiro.
Deras lokal påminde mycket om McDonald's med digitala kiosker där vi fick skräddarsy våra burgare. Mycket smidigt, särskilt i ett land där många talar bristfällig engelska. Vi beställde en Cheese Bacon Double för 29 reais (cirka 70 SEK) tillsammans med pommes frites för 5 reais (cirka 12 SEK).
Burgaren gav tyvärr ett riktigt tråkigt första intryck och kändes direkt oinspirerad. Det smashade köttet hade knappt någon stekyta, och var dessutom kompakt med en tråkig, okryddad smak. Briochebrödet var minst lika problematiskt. Det påminde mer om en kompakt och tuggig fralla än ett härligt smörigt briochebröd, och var varken tillräckligt luftigt eller följsamt. Baconet var också torrt och ganska tråkigt, och salladsbladen kändes vissna och trötta.
Tyvärr räddade inte heller pommes fritisen måltiden, utan hamnade mer i kategorien "papp-pommes", det vill säga torra och fadda. Smashade köttpuckar och briochebröd till brukar vara en oslagbar kombination, men vi blev tyvärr långt ifrån överväldigade av Jeronimo Burger.
In English
Jeronimo Burger is the fast food equivalent of Madero Steak House, can be found throughout Brazil. We visited their restaurant in the Casa Shopping mall in Barra da Tijuca – a suburb of Rio de Janeiro.
Their restaurant reminded us of a McDonald's, with its digital kiosks where we could put in our exact burger order. This worked great, especially since it can be difficult to get specifics across in English in this country. So we ordered a Cheese Bacon Double for 29 reais (about 7 USD) with some french fries for 5 reais (about 1 USD).
Unfortunately, the burger looked really uninspiring and didn't wow us looks-wise. The smashed patty hardly had any sear to it at all, and was compact and unseasoned. The brioche bun was equally boring, and reminded us more of a dry and compact dinner roll than a buttery brioche. The bacon was dry as well, and the lettuce was wilted.
The french fries didn't help either, and were of the "cardboard" variety, i.e. dry and quite tasteless. Smashed patties and brioche buns are usually a great combination, but we were left really disappointed with the dull burgers at Jeronimo Burger.