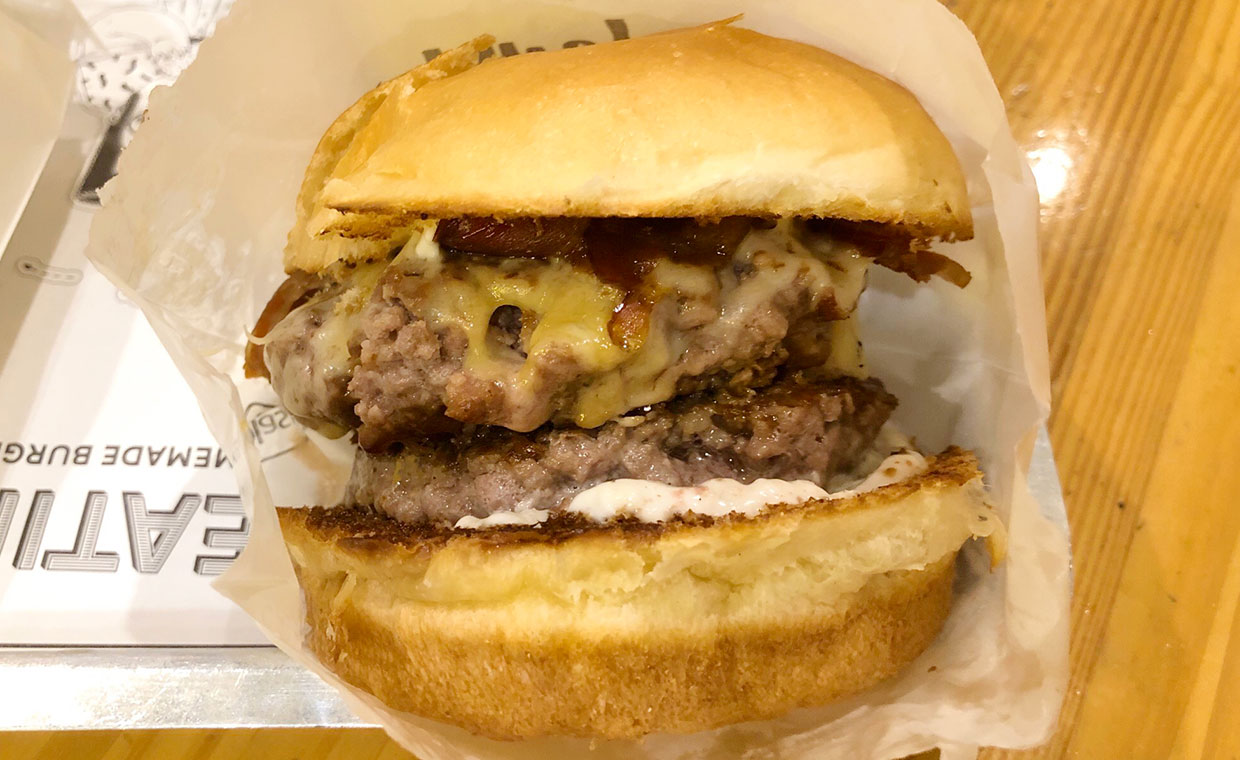 Meating Homemade Burgers har två restauranger i Rio de Janeiro – ett i det lite finare området Gávea och ett i förorten Barra da Tijuca. Vi besökte deras lokal i Gávea, och gillade verkligen känslan i lokalen med stilren inredning, coola väggmålningar, ett roligt ölutbud samt en enkel men genomtänkt meny.
Vi valde deras dubbla Indie Burger för 39 reais (cirka 95 SEK) samt ost- och bacon-pommesfrites för ytterligare 12 reais (cirka 30 SEK). De frågade även om önskad stekgrad på köttet, vilket vi alltid uppskattar.
Burgaren serverades i en pappersficka och innehöll emmentalerost, bacon, Jack Daniel's-karamelliserad lök och aioli. Burgaren fullkomligt dröp av flott, och bottenbrödet var genomblött redan innan vi börjat äta. Köttet var saftigt med en god smak, men var lite väl mjukt och hade behövt mer stekyta för att stabilisera burgaren. Och eftersom brödet inte riktigt höll ihop på grund av flottigheten så blev det onödigt svårt att äta.
Pommes fritesen med ost och bacon lät goda, men var egentligen bara helt okej. Meating Homemade Burgers har absolut potential att förbättra sina burgare med små medel. Att trycka till köttet mer på stekbordet skulle göra mycket, likaså att låta köttpuckarna rinna av något innan de lades i brödet. Men om du inte har något emot flottiga burgare så kommer du att bli nöjd med hamburgarna på Meating Homemade Burgers.
In English
Meating Homemade Burgers have two restaurants in Rio de Janeiro – one in the nicer area Gávea and one in the suburbs of Barra da Tijuca. We visited their restaurant in Gávea, and immediately fell for its nice interior, cool wall paintings, interesting beer list and simply but still thought out menu.
We ordered a double Indie Burger for 39 reais (about 10 USD) and their cheese and bacon fries for 12 reais (about 3 USD). They even asked how we wanted our meat cooked, which is something we always appreciate.
The burger came wrapped in paper and contained Emmenthaler cheese, bacon, Jack Daniel's caramelised onions and aioli. And it was completely drenched in its own juices, and the bottom bun was soaked before we'd even taken our first bite. The meat was juicy and tasted really good, but was a bit soft and could have had a bit more char to give it a bit more structure. And since the bun already was falling apart, eating the burger became a bit of a struggle.
And even though the bacon and cheese fries sounded good on paper, they weren't much more than alright. Meating Homemade Burgers definitely have the potential to do a lot better with just a few adjustments, like smashing the patties a bit more and letting them rest a bit before putting them in the buns. However, if you don't mind a greasy burger you won't be disappointed.