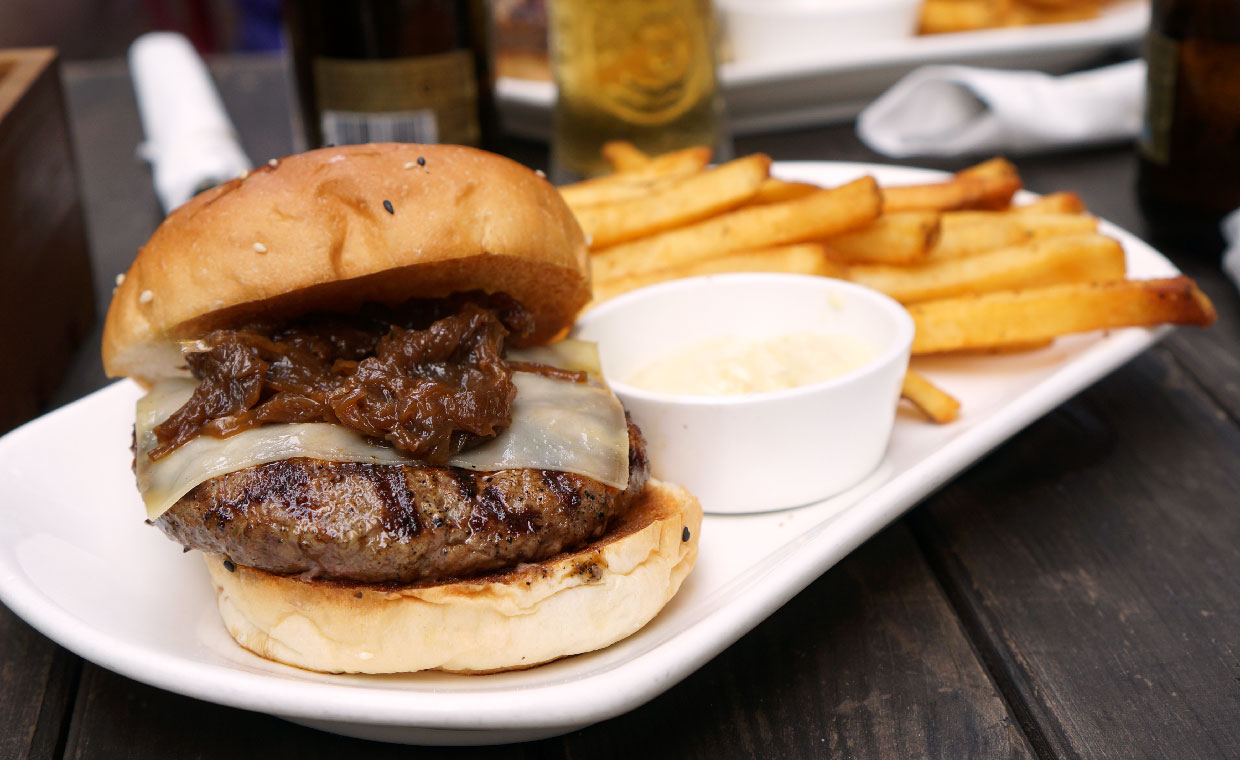 Bistro Burger ligger i Xuhui-området i Shanghai, på gångavstånd från de franska kvarteren French Consession. Restaurangen öppnades ursprungligen av kändiskocken Eduardo Vargas, men han är inte längre inblandad. De serverar burgare gjorda på australiensiskt kött och burgarna på menyn har även det australienska stuket, med många "roliga" alternativ att välja på.
Vi valde att testa deras Bistro Burger med gruyere-ost, karamelliserad lök samt aioli som serverades vid sidan om. Burgaren vi fick såg rätt trött ut, med ljummen lök och ost som inte hade smält. Men den första tuggan bjöd på en överraskning, för vi möttes av riktigt bra smaker med sötma från löken, sälta från osten och en mjuk syra från aiolin. Köttet var dessutom bra stekt med en rosa kärna. Brödet höll inte ihop perfekt, men var fint rostat och smakade helt okej.
Priset låg på motsvarande 75 SEK för burgare samt pommes frites, som smakade klart godkänt. Problemet med burgaren var konsistensen på delarna; den osmälta osten, den oväntat mjuka löken, det lite kompakta köttet och brödet som inte riktigt höll ihop – men allt smakade ändå riktigt gott tillsammans. Vi testade tyvärr aldrig deras milkshakedrinkar, men ryktet säger att de är väldigt bra så är du där på semester så vet du vad du ska dricka till.
In English
Bistro Burger is located in Xuhui, near the French Consession, the french quarters in Shanghai. It was originally opened by the Shanghai celebrity chef Eduardo Vargas, but he is no longer involved. They serve all kind of food, but the focus is on burgers made with Australian beef, and the menu offers several different more or less "funny" burgers. We tried the original Bistro Burger with gruyere cheese, caramelized onions and aioli, and our impression was both positive and negative. On the negative side, the bun couldn't stay together the whole meal, the meat was kinda compact, the onions overly soft and a bit cold, and the cheese wasn't melted. Thankfully everything tasted really nicel together and the included fries had a good texture and nice flavours. The Bistro Burger with fries cost 65 RMB so the price is quite good. Despite some of the issues we had with the burgers, we still enjoyed them and recommend a visit. We never tried their spiked milkshakes, but rumor has it they go perfect with the burgers.