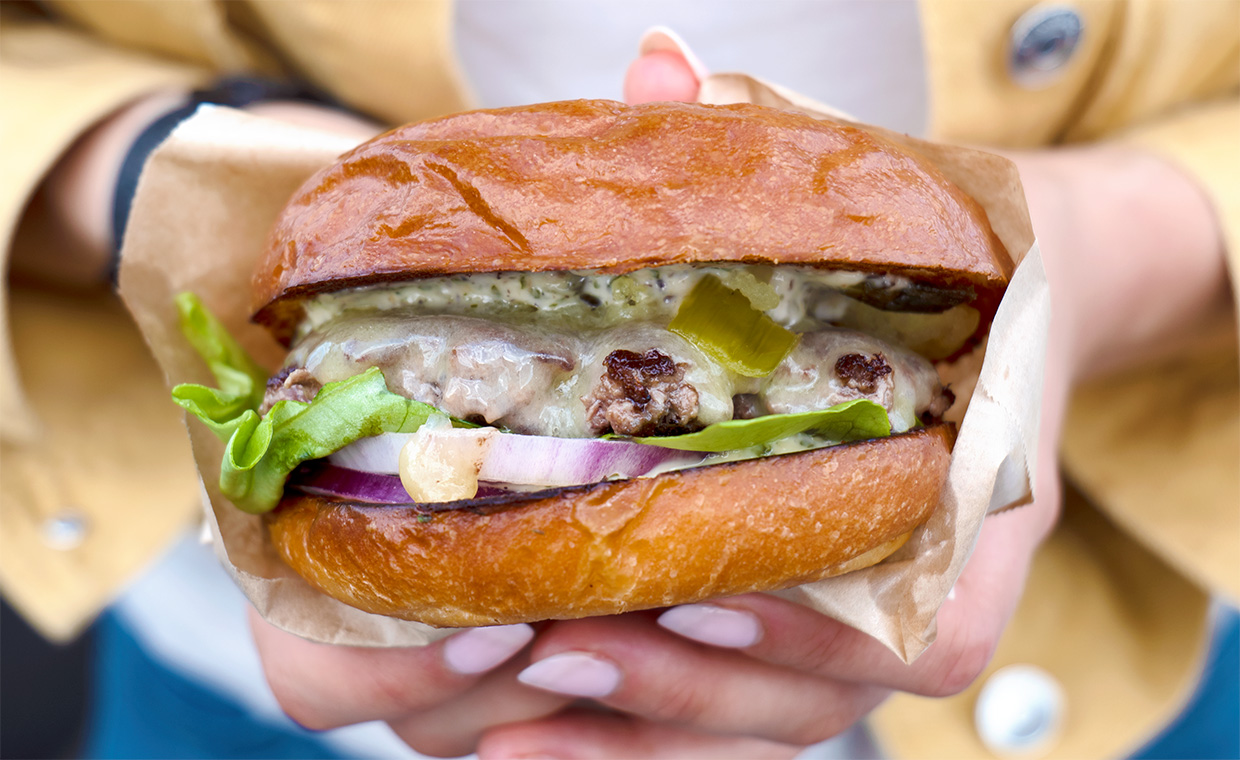 Dandelion Burger öppnade i centrala Köpenhamn under sommaren 2020, och har sedan dess blivit ett av Danmarks mest prominenta burgarhak tack vare sitt fokus på högkvalitativa ingredienser och sin tajta meny. Vi fick chansen att testa deras signaturburgare under tävlingen Danmarks Bedste Burger 2021.
Signaturburgaren, som har samma namn som restaurangen, kostade 75 DKK (12 USD) och innehöll vit cheddarost, dressing, lök, sallad och piccalilli. Burgaren serverades fint i en ficka och konstruktionen kändes riktigt prydlig. Brödet var hypnotiserande fluffigt och satt riktigt bra i handen. Köttet, som bland annat innehöll benmärg, var rejält saftigt med en riktigt fet köttsmak vilket var måltidens toppnotering. Men vi skulle gärna ha sett en mer distinkt stekyta för att hålla ihop den saftiga köttpucken mer. Den vita cheddarosten fungerade förvånansvärt bra tillsammans med den syrliga piccalillin, men det var också här de stora problemen uppenbarade sig.
Piccalilli är en blandning av olika grönsaker, bland annat blomkål och gurka, i en söt och skarp inläggning. Vi brukar uppskatta röran till andra maträtter, men den var direkt uppenbart att detta inte lämpade sig för en burgare. Blomkålen var hård och syrlig, men den grovhackade konsistensen gjorde att den förstörde burgarens textur helt och hållet, vilket resulterade i knastrade tuggor. Ironiskt nog kändes de andra tuggorna, som inte hade någon av de inlagda grönsakerna, alldeles för mjuka.
Dandelion Burger har gott om potential att bli ett av Köpenhamns allra bästa burgarhak, men de måste verkligen fokusera sina recept om de vill komma dit.
In English
Dandelion Burger opened in central Copenhagen in the summer of 2020, and since then they've become one of the most prominent burger joints in Denmark thanks to the ir commitment to high-quality ingredients and a tight menu. We visited their booth to try their signature burger at the Danmarks Bedste Burger 2021 competition.
Their signature burger, which is named after the restaurant itself, cost 75 DKK (12 USD) and contained white cheddar, burger sauce, onions, lettuce and piccalilli. It came neatly served in a paper pocket and was really nicely presented. The bun was hypnotizingly fluffy and felt great in our hand. The beef patty was the highlight of our meal; really juicy with a fatty beefiness, thanks to the bonemarrow content. But we would have liked a more distinct crust to help keep the patty together. The white cheddar worked surprisingly well with the tart piccalilli, but this was also where the real problems showed up.
Piccalilli is a mix of different vegetables, such as cauliflower and cucumber, in a sweet and sharp pickle brine. It's a great side for many meals, but it became immediately obvious that it didn't work in a burger. The cauliflower added an acidic crunch, but since it was chopped into large chunks it completely ruined the texture. Ironically enough, the bites without the pickled vegetables felt far too soft.
Dandelion Burger has a lot of potential to become one of the best burger places in Copenhagen, but they really need to focus their recipes if they want to get there.