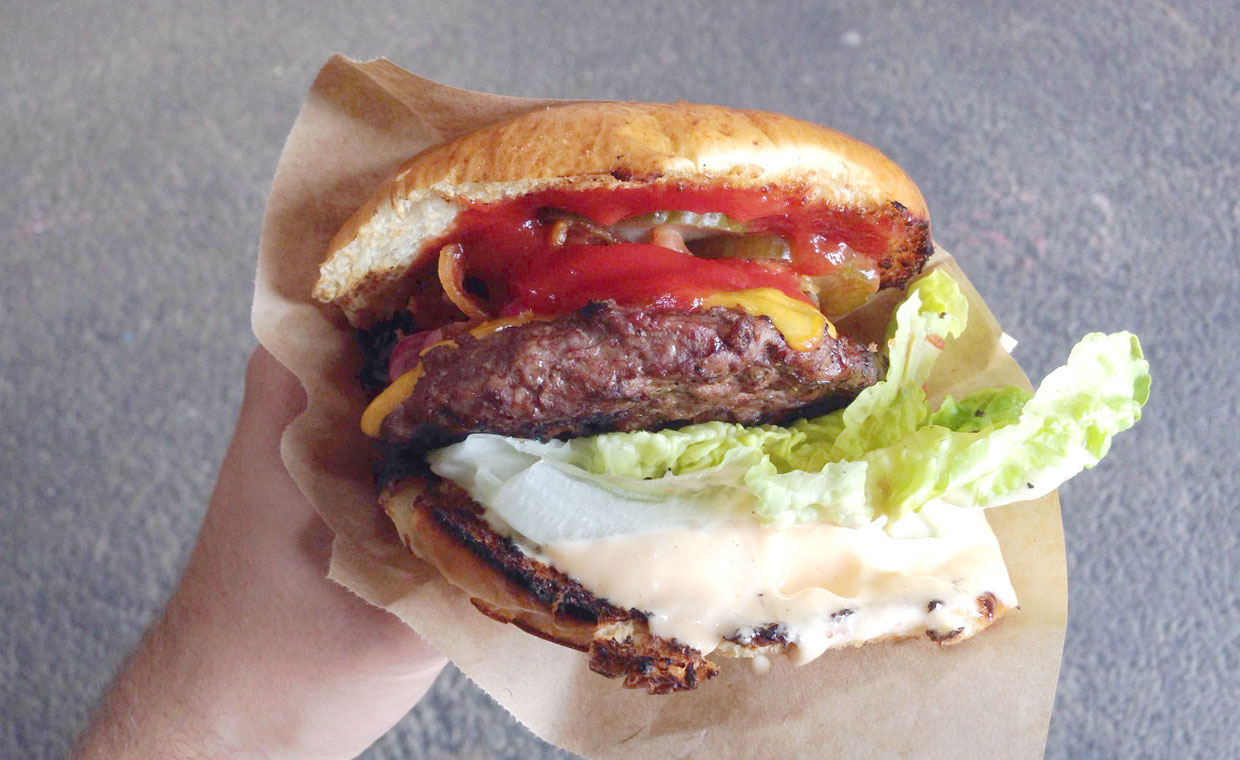 Fat Burger har stängt sin verksamhet.
På PapirØen, ett stenkast från Köpenhamns operahus, huserar den populära matfesten Copenhagen Street Food Festival från april till oktober varje år. Bland de 35 reguljära foodtrucks som serverar maträtter från alla världens hörn finner vi Fat Burger vars koncept är enkla och prisvärda burgare.
På deras avskalade meny kan du välja mellan sliders för 50 danska kronor eller deras paradburgare Fat Burger för 75 DKK. Vi valde en Fat Burger, som består av en 175 grams köttpuck med cheddarost, bacon, marinerad lök, saltgurka, sallad, chilimajonnäs och ketchup.
När burgaren tillagades upptäckte vi tråkigt nog att köttet redan var färdigstekt och enbart lades på stekhällen för att värmas upp. Burgaren serverades sedan med rikliga mängder av ketchup och chilimajonäs vilket resulterade i ett kladdigt kaos som förde tankarna till BonBon Delis burgare.
Burgaren var i all sin enkelhet överraskande god, men den var för söt i smaken på grund av mängden ketchup och chilimajonnäs. Köttet var av bra kvalitet, men tyvärr för kompakt och hårt stekt.
Denna burgare var absolut inget mästerverk, men den var billig, mättande och tillfredsställande.
In English
Fat Burger and the Copenhagen Street Food Festival are located on the Paper island not far from the opera house. Fat Burger serve classic and simple burgers for a good price, but we were disappointed by the pre-cooked patties and their overuse of ketchup and chili mayo. Despite these flaws, they serve a surprisingly good and gooey burger.