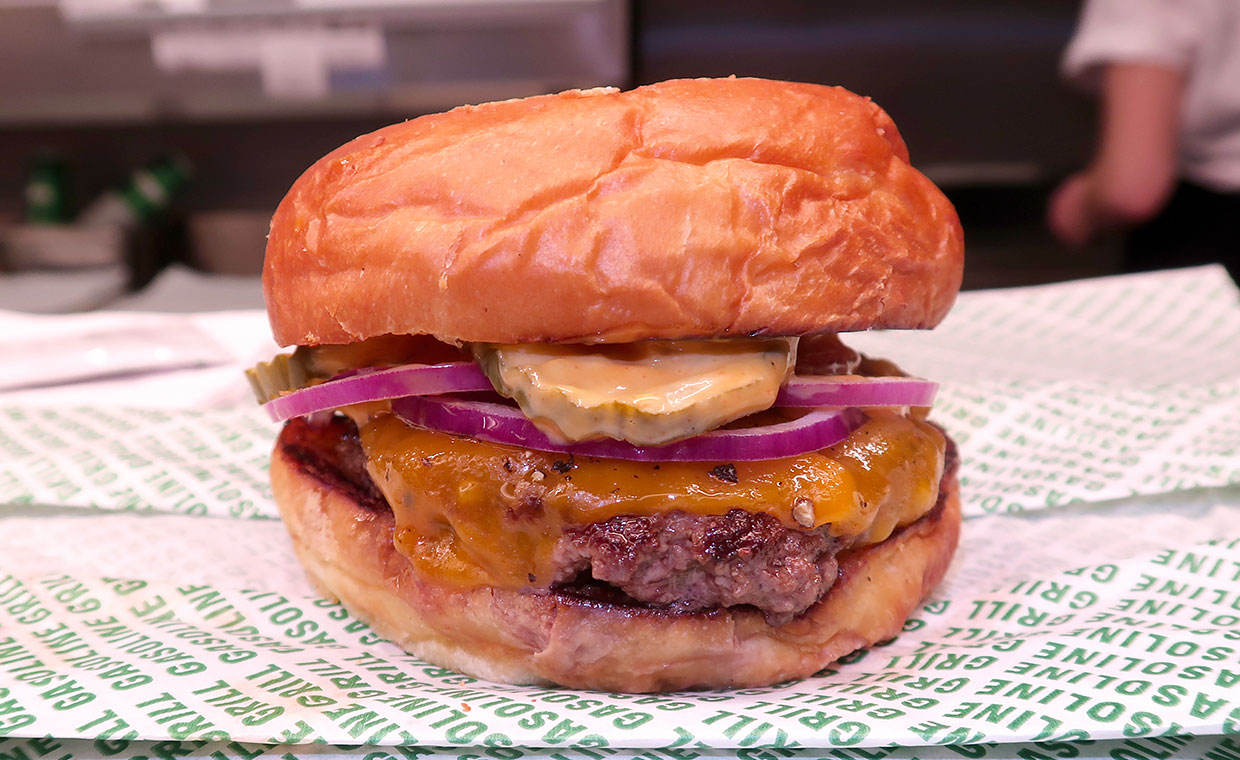 Gasoline Grill öppnade sin första restaurang i en fungerande bensinstation, bara ett stenkast från turiststråket Ströget i Köpenhamn, och har sakta men säkert expanderat över hela staden. Inga av restaurangerna som vi har besökt har haft särskilt många sittplatser, men det finns plats att stå inomhus samt varma filtar att låna på vintern om du vill sitta utomhus. Menyn är enkelt nedskalad till Original Burger, Cheeseburger och Butterburger, samt en vegetarisk burgare. Samtliga burgare kostar humana 75 DKK (cirka 105 SEK) utan tillbehör, som får köpas separat.
Vi har testat både deras Cheeseburger (med ost, Gasoline-dressing, lök och pickles) och deras Butterburger (med pickles, rödlök, ost och en klick smör på toppen). För de som inte provat en "Butterburger" kan vi berätta att denna specialitet härstammar från smörbältet i Wisconsin i USA. Det smälta smöret bidrar med en härligt nötig smak som alla hamburgarälskare där ute borde prova på.
Burgarna serverades raskt i en praktisk pappersficka som fångade upp alla köttsafter som lämnade burgaren. Köttet var stekt perfekt medium rare smakade fantastiskt fint, och var packat med kraftig köttsmak och omsorgsfullt hanterat. Brödet var mjukt och lite frasigt tack vare ett kort besök på stekbordet och inte långt ifrån perfekt. Gasoline-dressingen var riktigt smakrik och klart mycket bättre än en standarddressing, och osten var ordentligt nedsmält över burgaren och smakade härligt krämigt. Och smöret på deras Butterburger var rejält smakrik och tangerade precis gränsen till att vara övermäktig.
Med sina otroligt goda och enkla hamburgare i annorlunda miljö till ett bra pris så kan vi inte annat än att utse Gasoline Grill till burgarkungen i Köpenhamn. Det här är Danmarks bästa burgare.
In English
Gasoline Grill opened their first restaurant in a fully functional gas station, just a stone's throw from Copenhagen's tourist-filled shopping street, and have now expanded throughout the Danish capital. We have visited two of their locations, and they were stylishly furnished without very many seats. Thankfully the gas station restaurant had blankets we could borrow during our winter visit.
Their menu is nice and short, with an Original Burger, a Cheeseburger and a Butterburger, plus a veggie option. The price is a reasonable 75 DKK (appx 11 USD), excluding side orders. We have eaten both their Cheeseburger (with cheese, Gasoline dressing, onions and pickles) and their Butterburger (with cheese, pickles, red onions and a slice of butter under the top bun). The Butterburger originates from the butter belt in the United States, and gives a decadent nutty fattiness that really needs to be experienced.
The burgers were served in a practical paper pocket that collected all of the meat juices from the perfectly medium rare patty that was packed with meaty flavour. The bun's top crust was a bit thicker than we'd expected, but it was super-soft on the inside and had been heated on the griddle. It worked really great with the other ingredients. We enjoyed the slight spicyness of the Gasoline sauce, that set it apart from regular bland burger sauces, and the cheese was melty and creamy. And the rich Butterburger was extremely flavourful and just managed to reign in the flavours without being overpowering.
Gasoline Grill's simple yet tasty burgers, cool setting and reasonable price easily makes them the best hamburger joint in Denmark, and the king of Copenhagen.