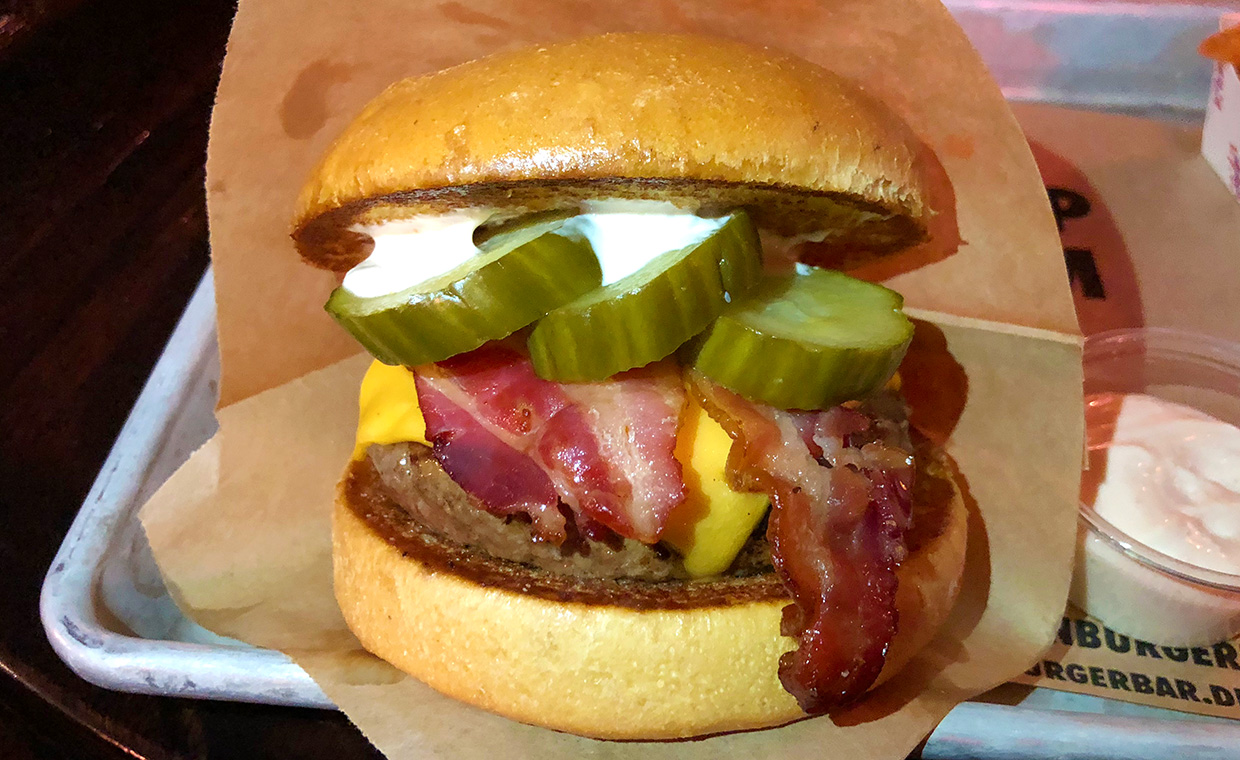 Grillen Burgerbar är en dansk burgarkedja som i skrivande stund finns i fem städer i Danmark. I Köpenhamn har de i skrivande stund fyra burgarhak och en foodtruck, vilket gör dem till ett av landets största premiumkedjor.
Vi besökte en av restaurangerna i centrala Köpenhamn, där vi beställde deras Cheese & Bacon med pommes frites för 89 danska kronor. Vi fick vår måltid efter bara några minuter, men burgarens utseende var minst sagt chockerande då den innehöll de tjockaste picklade gurkorna vi någonsin har sett på en burgare.
För att börja med det positiva så var köttet faktiskt bra, med tillfredsställande kryddning och en rejäl saftighet. Brödet var helt okej men lite stelt, och borde ha varit mer följsamt för att gifta sig mer med köttet och de övriga ingredienserna. Baconet var tyvärr lite för sladdrigt, och osten hade gärna fått smälta lite till.
Men det värsta av allt var såklart de centimetertjocka picklade gurkorna, som dessutom var kylskåpskalla. Vi vet inte varför de har valt att ha en sån besynnerlig ingrediens, och framförallt inte varför de var så kalla. Men de förstörde helt klart en stor del av upplevelsen. En burgare kommer långt på bra kött och okej bröd, men Grillen Burgerbars brister med de övriga ingredienserna sänker tyvärr betyget och gör att vi har svårt att rekommendera dem – åtminstone i Köpenhamn.
In English
Grillen Burgerbar is one of the largest premium burger chains in Denmark, with burger joints in five Danish cities. We visited one of their 4 Copenhagen restaurants, where we ordered the Cheese & Bacon with fries for 89 DKK.
When the burger was served we were in shock, to put it mildly. The centimetre thick pickles, were without the biggest we'd seen on a burger, and they were cold to boot. Thankfully, the patty was actually good with satisfying seasoning and juiciness. The bun was okay, but a bit stale which prevented it from cooperating with all the other ingredients. We would have prefered the bacon to be a bit more crispy and the cheese a bit meltier as well.
Of course, the biggest letdown was the cold and thick pickles, which ruined the meal. The tasty patty and an alright bun helped a lot, but since the other ingredients weren't up to par we're hesitant to recommend them – at least not in Copenhagen.