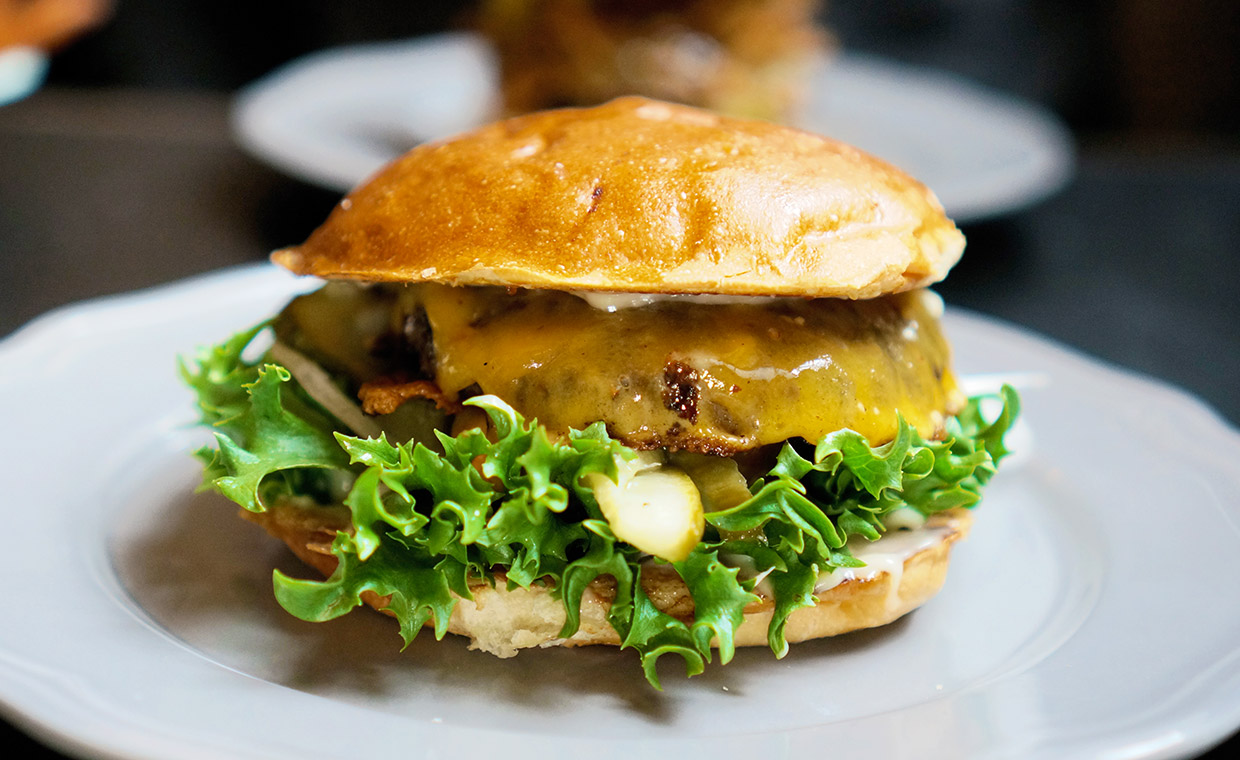 Restaurangkedjan Halifax Burgers öppnade sitt första burgarhak i Köpenhamn 2007, och har i skrivande stund växt till tolv restauranger runt om i Danmark. Vi besökte deras äldsta restaurang i Nørrebro som i huserar i en familjär, men något sliten, lokal. Deras snyggt och humoristiska illustrerade meny innehöll totalt tio olika burgare prissatta mellan 95 och 120 DKK (130–165 SEK).
Valet föll på deras København-burgare med cheddarost, silverlök, pickles, sallad och chipotlemajonnäs för 95 DKK tillsammans med sötpotatispommes som tillbehör för 35 DKK (50 SEK). Burgaren serverades charmigt på ett porslinsfat, vilket väckte nostalgiska minnen från restaurangburgarnas tid, och var vid första anblick omsorgsfullt konstruerad.
Briochebrödet var mjukt och följsamt i våra händer och den första tuggan var en trevlig sådan. Burgaren kändes fräsch och alla grönsaker spelade bra ihop med både köttet samt chipotlemajonnäsen. Den sistnämnda var god och krämig – men borde ha haft lite mer styrka för att sticka ut. Köttet var fint kryddat, saftigt och hade en stekyta som var klart godkänd.
Det enda riktiga stora problemet med burgare var ration mellan de olika ingredienserna. Framförallt var det för mycket pickles och lök som låg staplade på varandra vilket störde både texturen och smakbilden. Men med sagt lyckades de andra kvaliteterna lyfta upp helheten tillräckligt för att vi skulle bli nöjda. Sötpotatispommesfritesen var goda, även om de borde ha friterats lite längre för att få den där efterlängtade krispigheten vi gillar.
Halifax Burgers känns kanske inte lika spännande som många andra burgarhak i Köpenhamn, men de serverar vällagade och lättillgängliga burgare utan krusiduller. Ibland kan det kännas uppfriskande med något lite mer nedtonat som detta.
In English
The Danish chain Halifax Burgers opened their first burger joint in Copenhagen back in 2007, and now boast 12 restaurants throughout the country. We visited their oldest restaurant in the Nørrebro district, which was cozy but a bit worn down. The fun and nicely illustrated menu showed 10 different burgers costing between 95 and 120 DKK (15–20 USD).
We ordered their København burger with cheddar, white onions, pickles, lettuce and a chipotle mayo for 95 DKK, plus an order of sweet potato fries for 35 DKK (6 USD). The burger came served on a porcelain plate, which was a charming touch that reminded us of old-school restaurant burgers, and looked pretty well-assembled.
The brioche bun felt great in our hands, and the first bite was really impressive. The vegetables were fresh and crisp, and complemented both the beef and the chipotle mayo. The latter tasted nice and creamy, but could have done with some more spice in order to stand out more. The beef patty was well-seasoned, juicy and had an acceptable crust.
Our main problem with the burger was the ratio between all the ingredients. There were heaps of onions and pickles, which messed up the texture and most of the flavours. But the other parts were good enough, so the meal wasn't a complete loss. The sweet potato fries were decent enough, but lacked that crispiness we enjoy so much and should have spent a bit longer in the fryer.
Halifax Burgers don't serve super exciting burgers, especially for Copenhagen, but they're well prepared without any frills. And sometimes it's enough with a no nonsense burger place like this.