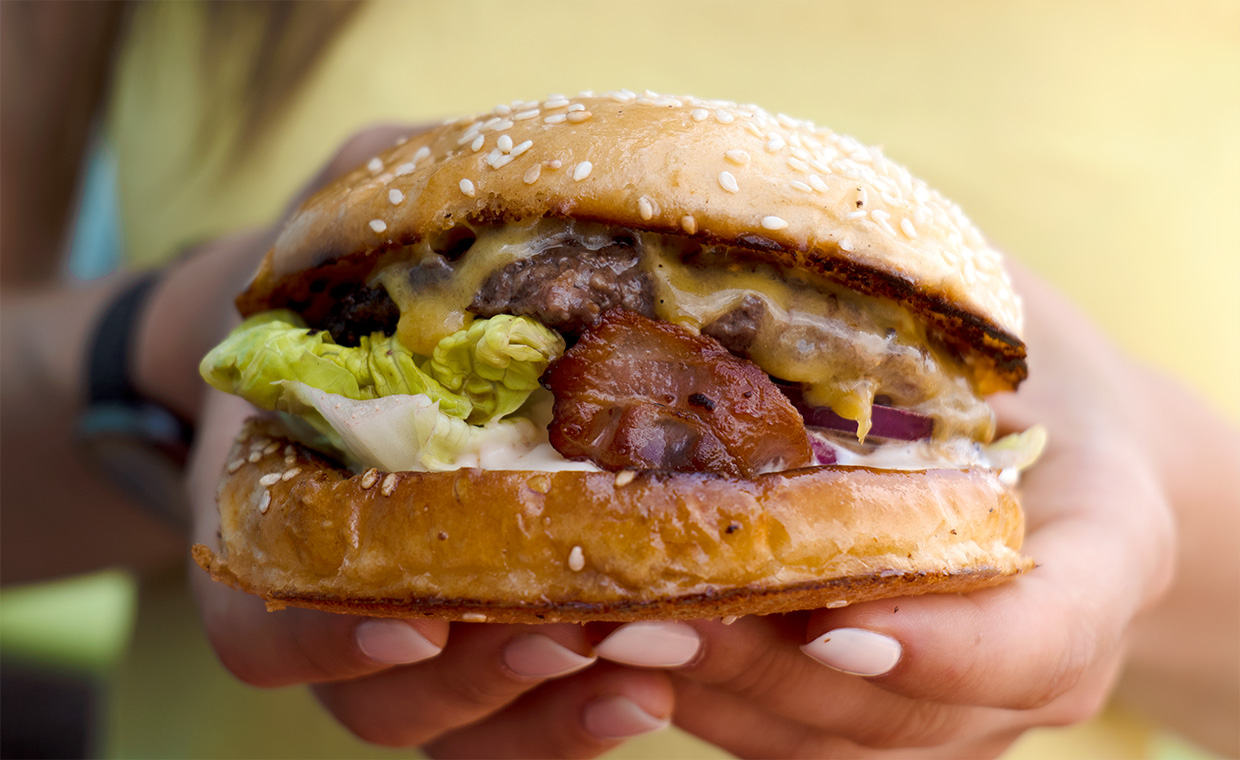 Grundaren bakom Homeburger i Köpenhamn har sagt att han har vigt en stor del av sin karriär åt att utveckla den bästa burgaren och ta fram en unik och hemliga hamburgerdressing. De finns i Østerbro och på matmarknaden Reffen i Danmarks huvudstad, och när vi besökte Reffen så kände vi att vi behövde besöka deras bås. På Reffen fanns endast en köttburgare på menyn, med samma namn som restaurangen. Deras Homeburger kostade 75 DKK (100 SEK) beskrevs som en klassisk cheeseburgare och bestod av en puck på 140 gram kött samt ost, sallad, pickles, rödlök och burgarsås i ett briochebröd. Vi valde även att lägga till bacon för 10 DKK (14 SEK).
Vi vet inte om det var miljön vi befann oss i, men vi fick väldigt starka London-vibbar av vår burgare. Det gällde främst briochebrödet som var riktigt smörigt. Köttet hade en lätt rosa kärna i sig, och en utmärkt konsistens. Pucken kändes nästan lite för liten dock, och hade nog passat bättre som dubbel. Vi gillade krispigheten på grönsakerna, men rödlöken var ganska dominant i smaken. Osten var dock ganska seg och smaklös. Baconet var förstekt och kom från ett tråg, så det kändes lite tråkigt att betala extra för det, särskilt då både temperaturen och konsistensen skvallrade om att den hade legat ett tag. Deras hemliga såsen smakade som en syrlig majonnäs, vilket faktiskt passade ganska bra då syran gav smakerna bättre balans.
Homeburger levererar en klassisk cheeseburgare som inte lämnar dig besviken, och om du dessutom äter den i Reffens härliga matmarknad så får du en upplevelse utöver det vanliga.
In English
The founder of Homeburger in Copenhagen has said that he's spent a large amount of his career in pursuit of the best burger and a unique burger sauce. They're located in Østerbro and in the food market Reffen in the Danish capital, and when we were visiting Reffen we just had to visit their booth. Their Reffen location only had one beef burger, which was simply called Homeburger. It cost 75 DKK (12 USD) and was a classic cheeseburger with a 140-gram beef patty, cheese, lettuce, pickles, red onions and burger sauce. We also ordered some bacon for an additional 10 DKK (1.5 USD).
We're not sure if it was the excellent location, but the burger gave us some serious London vibes. This was mainly due to the brioche bun, that was really nice and buttery. The beef was slightly pink on the inside, and had a great consistency. The patty was a bit on the small side though, and had probably been better with double patties. We liked the crispy vegetables, but the red onions were a bit overpowering. However, the cheese was chewy and didn't taste of much. The bacon came pre-cooked, which was a pity seeing as both its consistency and temperature showed that it wasn't very fresh. Their secret sauce reminded us of an acidic mayo, which actually worked really well seeing as it balanced out the flavours nicely.
Homeburger serve a classic cheeseburger that won't disappoint you, and we definitely recommend a visit to Reffen's amazing food market for an extraordinary dining experience.